Currently Testing: Revlon, Maybelline and Essence Cosmetics
Hello Everyone,
I have been on a makeup buying ban for almost a month now and I can say that it is going good. Though, now I am itching to buy some makeup stuff like the newly launched Diorskin Nude Air Serum Foundation which is being raved by so many bloggers but I am not sure if it will be available in India. Just one look at the bottle and hearts starts flashing in my eyes.. <3. I need that foundation in my life!!
Before I get lost in the dreams of that foundation lets have a quick look at all the new makeup products that made it to my stash, which I will be reviewing and sharing with you this month.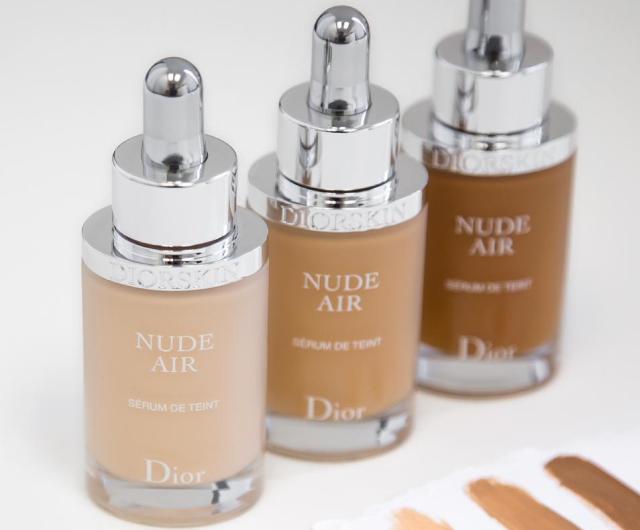 Essence Cosmetics
I have been longing to get my hands on this amazing drugstore brand but the availability issue held me up but finally after a long-long wait I got to try these products.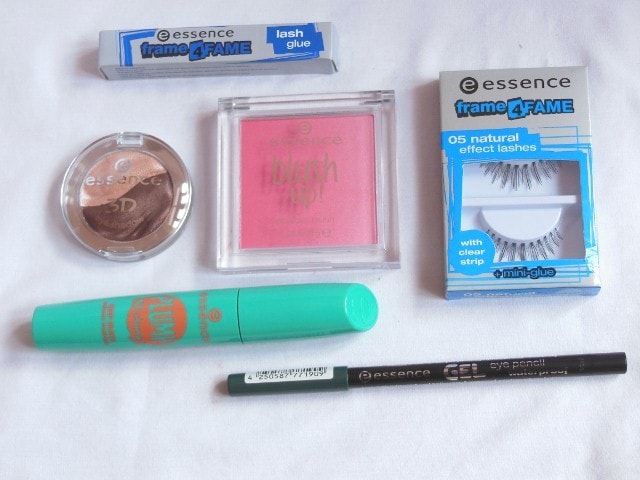 Essence Blush Up Pink Glow Powder Blush: Ombre blushes are catching up on the trend.MAC has released quite a few in their LE launches but now you can get them at a pocket-friendly price… Thanks to Essence!! I am really looking forward to see how this essence blush works for me.
Essence Gel Eye Liner Waterproof: I can never have enough colored eye pencils and this one is just another beauty in my collection.
Essence 3d Eye Shadow – Irresistible Choco cupcake: The eye shadow looks like a molten metal in the pan. It has such a lovely metallic finish plus that wavy pattern which reminds me of the MAC mineralize collection. I am hoping the shade to perform well on lids too.
Essence Plump No Clump! Mascara: If there is one thing that I wouldn't like to invest in Makeup is a "Mascara" but that doesn't mean that I don't to have fuller, dramatic lashes.My past few experiences with Mascara weren't great. So, I am really looking forward to it.
Essence False Lashes : I have tried only Born pretty False lashes till date and I was planning to add few more affordable ones in my stash when these landed in my lap. The lash application could be tricky but I am all geared up to master the art.
Maybelline Makeup
I have to admit that I just can't have enough of "Maybelline". I love the brand to the core and if given an option to choose only one drugstore brand it would be "Maybelline". I won these amazing goodies in a giveaway held by Cosmochics.com 😀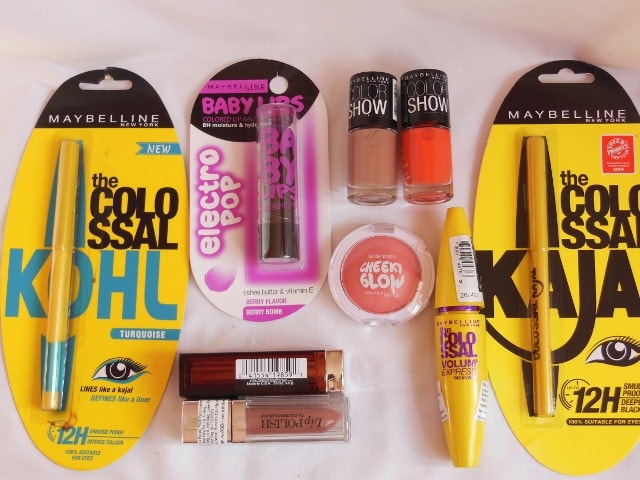 Maybelline Colossal Liner Turquoise: I already have it with me which was about to get over. Now, I don't need to run for a back up of this. A beautiful turquoise blue eye liner is pearly metallic finish with richly pigmented formula and smooth creamy texture.
Maybelline Colossal 12hr Liner Black: Maybelline Colossal Liner doubles up as kohl as well as an eye pencil. May not be blackest Kohl but with the price tag it is quite pigmented and lasts a good time on waterline.
Maybelline Colossal Volume Express Mascara: This one is the non water-proof version. I have used the waterproof version of Maybelline Colossal Mascara and it did a fabulous job on my lashes by adding volume, length and curl but was hard to remove so one looks like a great substitute.
Maybelline Colorsensational Lipstick Warm me up: Maybelline Colorsensational Lipsticks have been here like for years. I have used so many of them with Hooked on Pink being my favorite. I haven't got myself a neutral lip shade in past many months so this is could be a nice addition
Maybelline Lip Polish Glam 14: These lip polishes are a great pick for lip gloss lovers, though not uber pigmented but they feel easy on lips and doesn't have that sticky gooey feeling. I have it in GLAM 16 which is a gorgeous shade and wears well too.
Maybelline Cheeky Glow Blush – Fresh Coral: I wanted this shade since it was launched but I just couldn't get my hands on it. I have Maybelline Cheeky Glow Creamy Cinnamon which is a gorgeous peachy blush. The formula is satiny smooth and blends like a dream on cheeks… cant wait to color my cheeks Coral with this 😉
Maybelline Baby Lips Electro Pop – Berry Bomb: Electro Pops have such a pretty packaging. I loved the Pink Shock on lips for its light weight texture, intense color and moisturizing formula. One of the best tinted lip balms available in India.
Maybelline Color Show Nail Paint – Nude skin and Orange Fix: Maybelline Color Show Nail Paint could be termed as the best nail paints in the price tag. They are available in 40 gorgeous shades with pigmented formula and smooth application. Blackcurrant Pop is my favorite and I am sure these are going to join the list too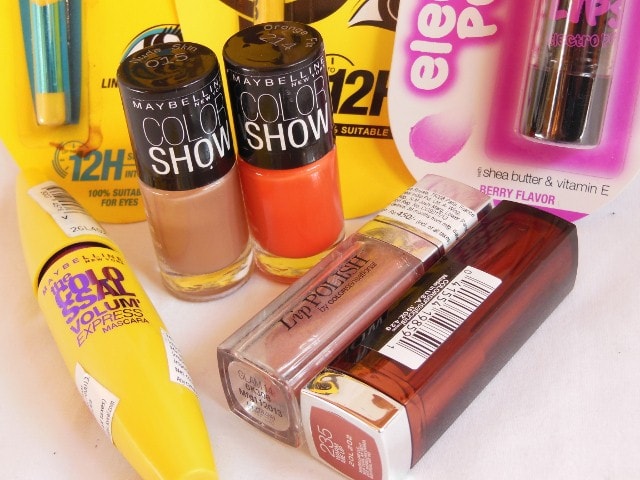 Revlon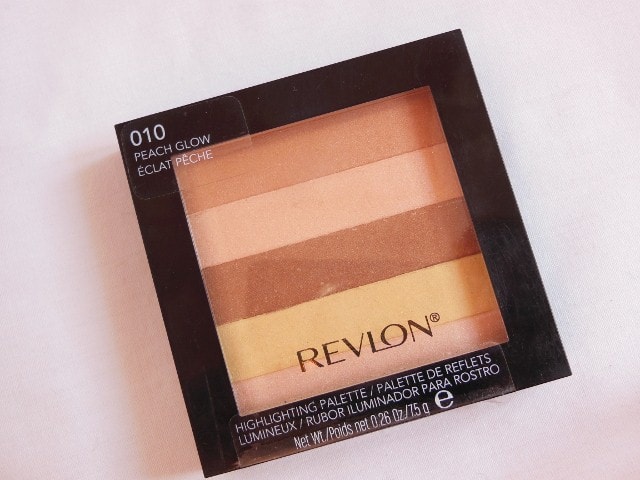 Revlon Shimmer Brick – Peach : Another prizzy, I won this on a discussion forum on "beautyndbest.com". I have tried the Colorbar Shimmer brick in Coral and it was pretty amazing with a nice range of colors and a creamy smooth texture. The shimmer bricks are very versatile and can be used as blushes, cheek highlighters, brow bone highlighters or even eye shadows. I am excited to try this Peach one which is said to be a dupe of the Bobbi Brown one!
What are you buying/hauling this month? Have you tried any of these Makeup products?
PS: Some of the products shown here are sent by brand for consideration