Curatio Triclenz Hair Cleanser Review
Hello Everyone,
Today, I am reviewing a medicated shampoo that was recommended to me by Dermatologists when I was facing severe hair fall and itchy scalp issues. I am about to finish the tube so before trashing it to the bin lets checkout if this, Curatio Triclenz Hair Cleanser really helped in solving my hair issues.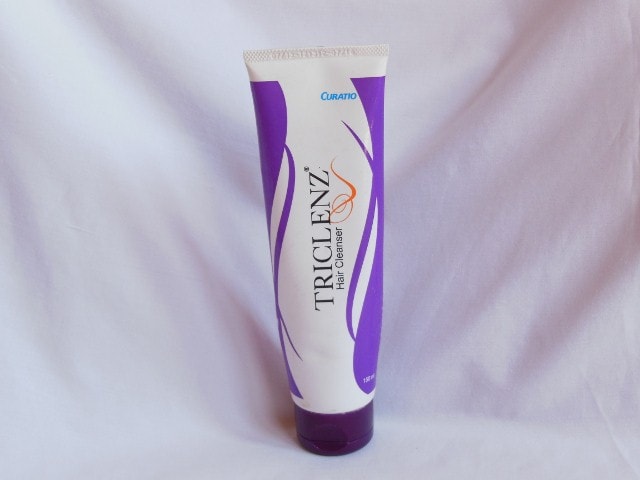 Product Claims: Triclenz is a specially formulated hair cleanser that is gentle on hair and yet effective in cleansing unlike normal shampoos that dry and dull the hair. Triclenz has special ingredients that restore the moisture in the hair and makes your hair shine.
Triclenz softens the cuticles and moisturizes the flaky scalp. It improves hair manageability as it reduces fly away hair.
Ingredients: Sodium Laureth Sulphate, Aqua,Cocoamide MEA, Acrylates crosspolymer, Glycearyl Stearate, Dimethicone, Cocoamidopropylbeatine, TEA Dodecylsulfonate, Polyquaternium-39, Sodium pentasiloxane, Dimethiconol, Dimethicone Crosspolymer, Phenyl Trimethicone, Panthenol, Propylene Glycol, Laureth-3, Diquaternium-10, Methylchlorisothiazolinone and Methylisothiazole, Trietholamine, Perfume,C.I.42090,C.I.17200
Price: Rs. 175 for 150 ml
Packaging: Curatio Triclenz Shampoo comes in white and purple colored tube packaging with flip top cap. The cap shuts very tight and prevents any leakage.
My experience with Curatio Triclenz Hiar Cleanser:
Curatio Triclenz Shampoo is a light purple colored creamy cleanser with medium-thick consistency which spreads nicely. The shampoo has faint fragrance which fades away quite fast, so even sensitive noses can use this shampoo without any concerns.
The formula lathers well even on oiled hair, and gently cleanses all the impurities, oil and dirt from the scalp. The shampoo was not particularly drying for my hair but I have to use a good conditioner to control the dryness if I use it on un-oiled hair. I loved the way my hair felt post hair wash… light, clean and silky smooth.
It did a a great job in keeping my scalp oil-free and I could as far as 4-5 days without washing.. 😛 .. (off late I have been super busy to wash hair every 3 days so)
Now, coming to the point whether it actually controlled the hair fall, well I would say to some extent yes. I have taken Folic acid tablets along with this shampoo and I did notice slight reduction in hair fall with this. The shampoo can't reduce hair fall 100% but it really works in controlling the condition and put a tab on dandruff.
Don't Miss to Checkout:
Pros of Curatio Triclenz Hair Cleanser:
Creamy cleanser which applies easily
Lathers well
Gently cleanses hair
Doesn't leave any residue behind
Leaves hair soft and smooth
Doesn't make hair excessively dry ( but should be followed with a conditioner)
Works on reducing hairfall and dandruff
Keep oil at bay for 4 days easily
Convenient to use packaging
Affordable
Cons of Curatio Triclenz Hair Cleanser:
Availability might be an issue but can be bought from Medical stores
Contains sulphates and silicones.
Need to use generous amount for oiled hair
Dry hair should follow with a conditioner
Recommendation: Curatio Triclenz Hair Cleanser is a mild cleanser that cleanses hair and scalp gently. The formula spreads nicely which gives a good lather and takes off all the oil and dirt without leaving any residue behind. My hair feels light, soft and slightly voluminous post hair-wash. It does not dry out hair and looks pretty good without a conditioner but conditioner amplifies the soft and smoothness. The shampoo is easy on pocket and does a good job at controlling hair fall and dandruff, though you must take folic acid tablets along. Recommended!
Rating: 4/5
Have you tried Curatio Triclenz Hair Cleanser? Which is your favorite shampoo these days?