Cream Eye Shadows/ Eye shadow Crayons You Must try
If you have only been using powder eye shadows then you are surely missing on something.. "Cream Eye shadows". Cream eye shadows concept was launched in India by our very Own "Maybelline" with their Color Tattoo Eye shadow pots which have been an instant and have been taken to another level when "Clinique" came up with Chubby Eye shadow sticks.
Cream Finish eye shadows are not only easy to blend and apply and they also stay for a longer time period. They provide rich colour coverage and provide a crease proof and smudge proof finish. You can work these up with fingers so no need to go brushes as such.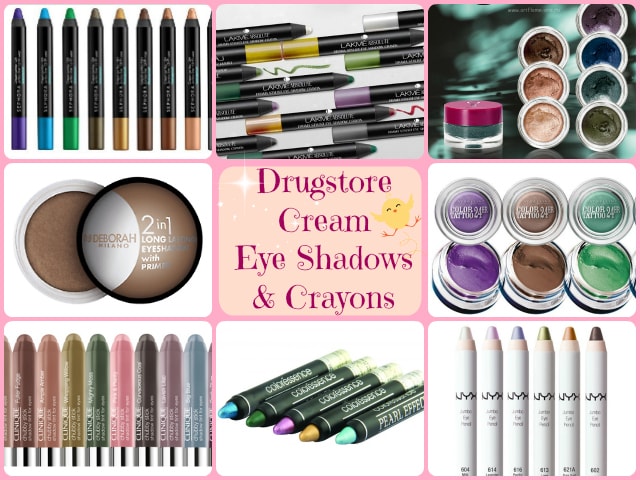 The only downside to creamy eye shadows I feel is they had short life span as they tend to dry up in the pots and sometimes gives a crumbled sheet effect on lids when layered too much. The life span issue has been beautifully covered by these retractable or sharpen-able pencils which requires even less effort and are super easy to apply.
Let's have a look at the available option of Cream Eye Shadows/ Eye shadow Crayons You Must try:
Cream Eye Shadows/ Eye shadow Crayons In India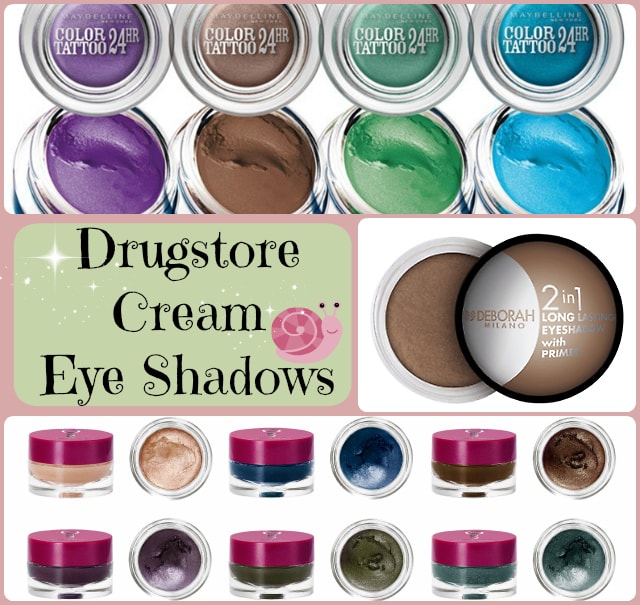 1. Maybelline Color Tattoo Eye Shadows (Rs. 350) – Maybelline is the first brand to launch creamy colored eye shadows in India. Some of the shades in Maybelline Color Tattoo Collection are fabulous and are perfect Eye Shadows for India Skin tones like Pomegranate Punk, Bold Gold. The formula gives sufficient time to blend and sets fast to avoid creasing and stays on my lids for around 8-10 hours with minimal fading/creasing. I have gone crazy seeing those cute colourful post and bought 4 of these.. nodoubt that I wanted them all!
Don't Miss to Checkout: Maybelline Cream Eye Shadow reviews
2. Deborah Milano 2 in 1 Long Lasting Cream Eyeshadow (Rs. 450) –  Deborah Milano Cream Eye shadows also comes packed in a cute tiny jars like Maybeliine Color Tattoo Eye Shadows. Formula wise they are creamier and softer than Maybelline color tattoo eye shadows. They have medium colour pay off which needs to be built up for desired intensity but it may get patchy with layering so better start with a primer and base beneath for improved finish and coverage. Also, they took slightly longer to dry down which may cause creasing in Oily Lids.
3. Oriflame the One Color Impact Cream Eyeshadow (Rs 449) –  Oriflame has recently launched these cream eye shadows as part of their The ONE range. The texture is light, creamy and very easy to apply which blends quickly and transforms to a powder finish. The formula is buildable and stays for around 4-5 hours after which you may notice creasing, so for a primer beneath. These are available in 8 gorgeous shades
4 Drugstore Eye Shadow Crayon In India
1. Lakme Absolute Drama Stylist Eye Shadow Crayon (Rs750) – Lakme Eye Shadow Crayon have soft creamy texture that applies effortlessly and give intense color pay off. They have quick dry formula which stays crease proof and smudge proof whole day making them last longer on lids. They are available in 8 beautiful shades.
2. Sephora Jumbo Liner 12HR Wear Waterproof Pencil (Rs 680) – Sephora Jumbo Liners can be used as eyeliners or blended out as eye shadows.  They are super creamy to apply as they glide smoothly on lids providing intense color in a single swipe. They can be smudged quickly as it sets within few seconds of application. The eye shadow lasts longer without fading and will need a good remover to take it off. Sephora Eye Shadow Crayons are available in more than 20 shades, so you have a lot to choose from 🙂
3. Coloressence Pearl Effect Eye Shadow Pencil (Rs 165) – Coloressence Eye Shadow Pencil comes in a retractable pencil form so no need to sharpen them. They have buttery smooth texture but takes longer to dry so they tend to crease quickly. Also they have a weird crayon smell which isn't pleasurable. They are available in versatile shades but works best as an eye shadow base or with a primer.
4. NYX Jumbo Eye Pencil (Rs 425)- NYX Jumbo Eye Pencils glide on effortlessly and have a super creamy texture so no tugging, or pulling. They work best when used as an eye shadow base as they smudge easily but tend to crease if wore on their own. NYX Eye pencils are available in massive 32 shades
Another brand that needs a mention here is "Clinique". Clinique is not a drugstore brand so I am not including it in the list but it is the only other luxury brand that I know which have come up with eye shadow crayons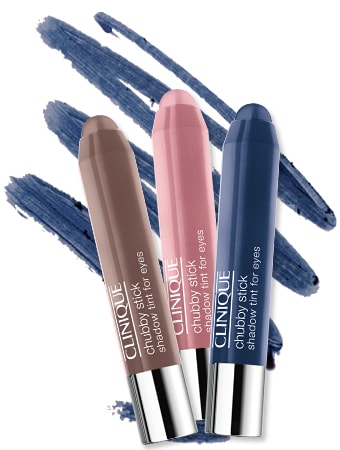 Clinique Chubby Stick Shadow Tint for Eyes (Rs. 1340) – Clinique eye shadow crayons have creamy creamy, buildable texture that applies and blends easily. They have long lasting formula as they last for a day even on oily lids without a primer. Also, they are retractable and come in 12 beautiful colors.
Recommendation: In creamy eye shadows "Maybelline" wins hands down so would suggest to pick Maybelline Color Tattoo Eye Shadows only!

In eye shadow crayons Sephora Jumbo Liner becomes my first pick followed by Lakme Absolute Eye shadow crayon!
Have you tried Creamy Eye Shadows/eye shadow crayons? Do you prefer cream or powder eye shadows?