Conquer Blending with Makeup Geek Eye Shadows – Frappe and Cocoa Bear
Hello everyone,
You can kill me for being so late to share my love for Makeup Geek Eye shadows but better late than never. There is so much already said and written about these Makeup Geek Eye shadows but here are my two cents. Today I am sharing my ultimate favorites from My Makeup Geek Eye Shadow Collection which are great blending shades for Indian Skintones, Makeup Geek Eye Shadows– Frappe and Cocoa Bear.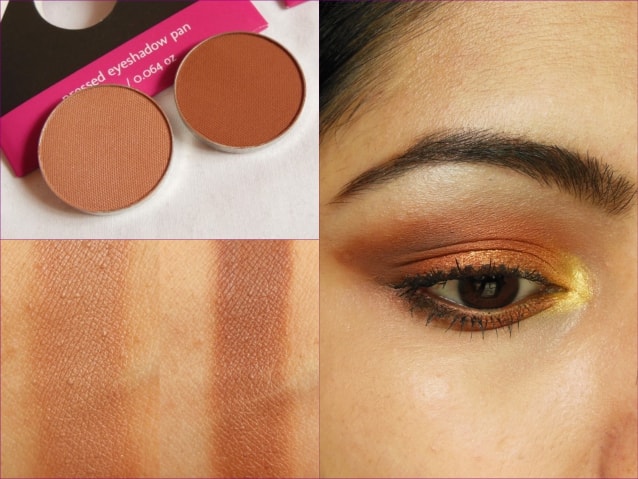 Product Claims:
These are all highly-pigmented – just check out the swatches!
Half the price of high end shadows without sacrificing quality
These pans can be placed in empty palettes such as Z-Palettes.
Eyeshadow pan weight is 1.8G / 0.064 oz
With a separate palette, you can build your own custom palettes
All our shadows are cruelty-free — we do not test our products on animals
These eyeshadows are Talc and Paraben-Free
See full ingredient listing.
We ship worldwide at affordable rates
Price: $6 for 0.064Oz
Packaging: Makeup Geek Eye Shadows comes in round refill pans which are housed in a pretty cardboard packaging carrying all the detail.
My experience with Makeup Geek Eye Shadows- Frappe and Cocoa Bear:
Frappe is described as "Medium maple brown matte" and is a pretty light caramel brown shade in satin matte finish. It is slightly darker than my actual skintone (NC 40) but I love how beautifully it blends out giving a certain depth to my crease area
Cocoa Bear is described as "Matte reddish Brown" and is a pretty warm dark brown shade with red undertones in a matte finish.
Formula: Both the eye shadows have buttery smooth texture which is quite unlike the usual matte eye shadows. They have a silky feel and are pretty soft to touch but aren't powdery or chalky at all. The eye shadows are super blendable and make a perfect combo to blend any sort of crease details to add a little bit of depth and diffusing any harsh lines.
Pigmentation: The color payoff is insane, they are one of the most pigmented powder eye shadows I have ever swatched in life. I just need 2 swipes to pack and make them show their true color in swatches.
Recommendation: Makeup Geek Eye Shadows- Frappe and Cocoa Bear are gorgeous shades of brown with buttery smooth, blendable texture and a pigment packed formula. Frappe and Cocoa Bear make great transition shades for warm Indian skintones. If I just had Creme Brulee more, I would have ruled the world of transition like a Queen! The eye shadows can also be used on lids if you are looking for more of wearable warm brown matte eyes or may be a soft brown ombre look but I love-love using these as blending shades in the crease. I swear I haven't used anything else to do the blending since I got these eye shadows. Hands down the best.. Highly Recommended!
Rating: 5/5
Have you tried Makeup Geek Eye Shadows- Frappe and Cocoa Bear? Which is your favorite Transition/blending Eye Shadows?