Complete Nutrition with Zenith Nutrition Daily Active Multiple One A Day Capsules 
Hello Everyone,
I won't say I am super-active but I hate feeling low on energy anytime of the day and being a mom of 9 months old it is just not allowed. I try to eat good food but I do cheat on days and binge on snacks which definitely don't provide any nutrition to my body but add on few pounds. I have been planning to start with daily supplements to get complete nutrition since long and then these Zenith nutrition capsules came my way and I started with them, Zenith Nutrition Daily Active Multiple.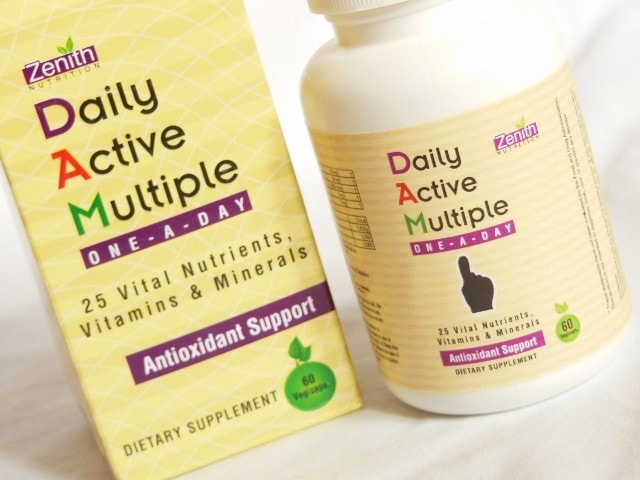 About the Brand: Zenith Nutrition provides Scientifically Advanced Nutritional Supplements. Zenith Nutrition's complete line of nutritional products includes vitamins, minerals, probiotics, standardized herbal concentrates and amino acids.The Company utilizes its industry leading capabilities to produce superior research based formulations that optimize the nutritional value and performance for its customers.
It is vitally important to us to strike a balance between traditional medicine and modern science making us a unique dietary supplement company that can offer traditional herbal supplements, as well as those that are backed by science.
Product Claims:
25 VITAL NUTRIENTS, VITAMINS AND MINERALS
Enriched with Acai Berry, Grape Seed Extract, Lycopene, Piperine and Astaxanthin.
Antioxidant support
Dietary supplement
Achieve a multitude of healthy benefits in one convenient daily multivitamin supplement. Daily Active Multiple (DAM) delivers optimal daily value of 25 vitamins and minerals,including the important natural ingredients with potent anti-oxidant benefits like Acai Berry, Grape Seed Extract, Lycopene, Piperine and Astaxanthin to promote energy utilization and normal red blood cell production in the body.Just one capsule a day gives the support when it comes to immune, stamina,vitality, cardiovascular and nervous system health.
Eating right by making healthy food choices is always best, yet it is not always practical for everyone. In the busy lives that do not leave time for proper meal planning and preparation, which can help to insure that, your families are getting the daily nutrients to prevent disease. Therefore, including a high quality multivitamin and mineral formula into your daily regimen, such as the Daily Active Multiple can help to meet your recommended daily intakes of these necessary nutrients. Daily Active Multiple works on supporting the whole body nutrition with multiple benefits. DAM has the right ingredients in optimal quantities and has been formulated by considering RDA.
Price:- Rs.672 for 60 Capsules
Packaging: Zenith Nutrition Daily Active Multiple One A Day Capsules comes in a white colored plastic bottle with screw lids and are sealed with a silver foil.
My experience with Zenith Nutrition Daily Active Multiple One A Day Capsules:
Zenith Nutrition Daily Active Multiple One A Day is a multi-vitamin capsule which can be consumed daily. I don't think that we get proper nutrition in our daily diet even if we consume healthy food including fruits and green veggies and that is because the way they are grown includes lots of pesticides and chemical fertilizers which doesn't add any nutrition value to the food.
And apart from this, our daily lifestyle doesn't help either as we all are super busy with our daily chores and pay no or a little attention to what we are eating and I am no different. Added responsibility of a toddler is just another reason for me to ignore my diet. So, I must do something to combat for the loss of nutrition and that shouldn't involve much effort because I don't have time for that.. :D. This is where these Zenith Nutrition Daily Active Multiple One A Day Capsules came to my rescue.
I love that these capsules are all vegetarian and are filled with 25 vital nutrients which means it has everything that is required by my body. Also, these contain anti-oxidants from Grape seed and Acai Berry which help in achieving beautiful skin.
These capsules contains No artificial flavors, No Sugar, No milk, No lactose, No soy, No gluten, No Wheat, No yeast, No shellfish and no preservatives which makes these safe for one and all those including those who are prone to allergies.
Disclaimer: These products are not intented to diagnose, treat, cure  or prevent any disease. Always consult with your professional healthcare provider before changing any medication. Pregnant or lactating women shouldn't take it
Have you tried Zenith Nutrition Daily Active Multiple One A Day Capsules? Do you take any supplements?
PS: Product sent by brand for consideration