Combat VitaminB12 Deficiency with Zenith Nutrition Methylcobalamin Capsules
Hello Everyone,
Let's talk about one of the most important nutrient that you might be missing I your daily diet, Vitamin B12. Vitamin B12 is the common name for nutrient known scientifically as methylcobalamin. Vitamin B12 plays an important role in helping the body make red blood cells (RBC's). So, if you are having low levels of Hemoglobin then along with Folic Acid, Vitamin B12 deficiency could also be the cause of it. So, let's see how these Zenith Nutrition Methylcobalamin Capsules help.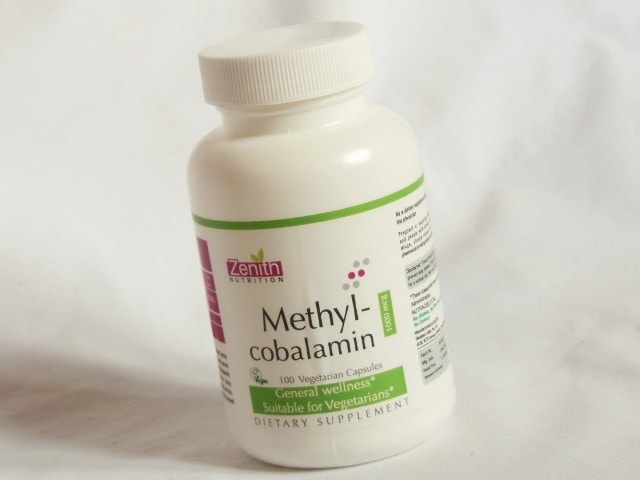 About the Brand: Zenith Nutrition provides Scientifically Advanced Nutritional Supplements. Zenith Nutrition's complete line of nutritional products includes vitamins, minerals, probiotics, standardized herbal concentrates and amino acids. The Company utilizes its industry leading capabilities to produce superior research based formulations that optimize the nutritional value and performance for its customers.
It is vitally important to us to strike a balance between traditional medicine and modern science making us a unique dietary supplement company that can offer traditional herbal supplements, as well as those that are backed by science.
Product Claims:
Methylcobalamin is better absorbed and retained than other forms of B12 (such as cyanocobalamin)
Methylcobalamin protects nerve tissue and brain cells, and promotes better sleep.
Methylcobalamin is a cofactor of methionine synthase, which reduces toxic homocysteine to the essential amino acid methionine.
Methylcobalamin also protects eye function against toxicity caused by excess glutamate.
Price: Rs.429 for 100 Capsules
Packaging: Zenith Nutrition Methylcobalamin Capsules comes in a white colored plastic bottle with screw lids and are sealed with a silver foil.
My experience with Zenith Nutrition Methylcobalamin Capsules:
Zenith Nutrition Methylcobalamin Capsules contain 1000mcg of Methylcobalamin in a single serving. If you are feeling low on energy and not able to concentrate or focus on your work the you might have this Vitamin B12 Deficiency.
Vegan People (who have Plant based diet) are more to this deficiency as Vitamin B12 is naturally found in animal products. So, even if you are a vegetarian the only source for Vitamin B12 for you is dairy products like Milk, Curd and Cheese. Elderly people are also at a higher risk of Vitamin B12 deficiency because the ability to absorb vitamin reduces by age.
So, either add a good amount of dairy products in your diet but if you can't or you are a Vegan than these Zenith Nutrition Methylcobalamin Capsules comes to your rescue and help you have the required Vitamin B12 and combat any deficiency condition.
I am a vegetarian and don't consume anything apart from Dairy products like Milk, Curd and Cheese and sometimes I do miss out on these as well, so now I have these Zenith Nutrition Methylcobalamin Capsules to makeup for the loss Vitamin B12 from Food for me.
I like these capsules are Vegetarian and are free from Sugar, Lactose, Flavour, Salt, Gluten, Color, Fish and other preservatives so they are safe for someone who is prone to allergies as well.
So, if you do plan to add some Vitamin B12 supplements in your routine do checkout Zenith Nutrition Methylcobalamin Capsules
Disclaimer: These products are not intented to diagnose, treat, cure  or prevent any disease. Always consult with your professional healthcare provider before changing any medication. Pregnant or lactating women shouldn't take it.
Have you tried Zenith Nutrition Methylcobalamin Capsules? Do you take any supplements?
PS: Product sent by brand for consideration.