Colorbar Take as I am Lip color Peachy Pink Review
Hello Everyone,
I have been a huge fan of Colorbar blushes but lately didn't quite get to try much stuff from the brand.  So, breaking the ice I have added quite a few of Colorbar products in makeup stash including their eye makeup brushes, lip colors, eye liners and more. Colorbar recently added 5 new shades in the Take me as I am collection and today I have these lip crayon to share with you, Colorbar Take as I am Lip Color in Peachy Pink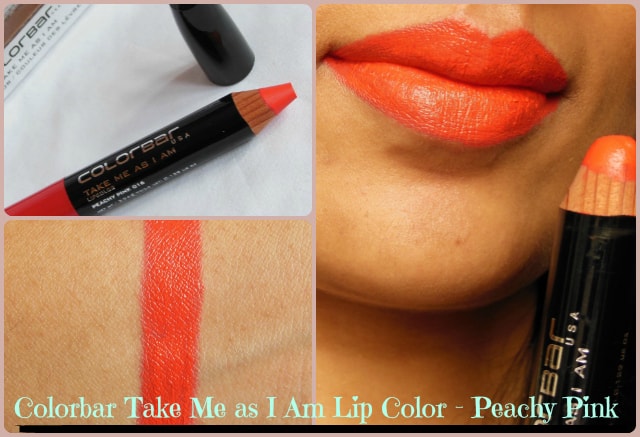 Product Claims: Take me as I am lip color is a unique multi functional product which provides the application of a lipstick combined with the convenience of a pencil in a jumbo crayon design. It is an extra creamy and soft feeling lipstick formula with excellent color pay-off and coverage. Viscous oils and esters create the beautiful shine. Skin conditioning ingredients like Shea butter and vitamin E further enhance the comfortable wearing properties.
Ingredients:-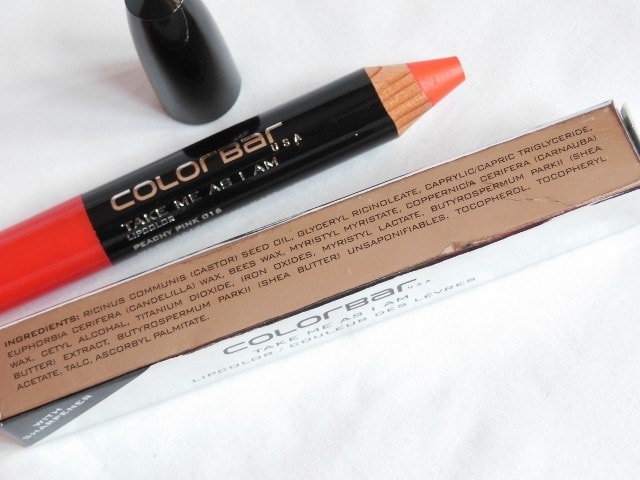 Price:- – Rs 900 (Buy from flipkart)
Shelf Life:- 3 years from the Mfg date.
Packaging:- Colorbar Take as I am lip colors comes in a chubby wooden pencil form with a plastic cap to secure the tip. There is colored band towards the bottom which indicates the shade of the pencil and makes it easy to identify and also name of the color is engraved on the outer body. I was happy to see that it is accompanied by a sharpener so I don't have to spend to buy one for the purpose but as sharpening leads to wastage; it could be a turn off for few.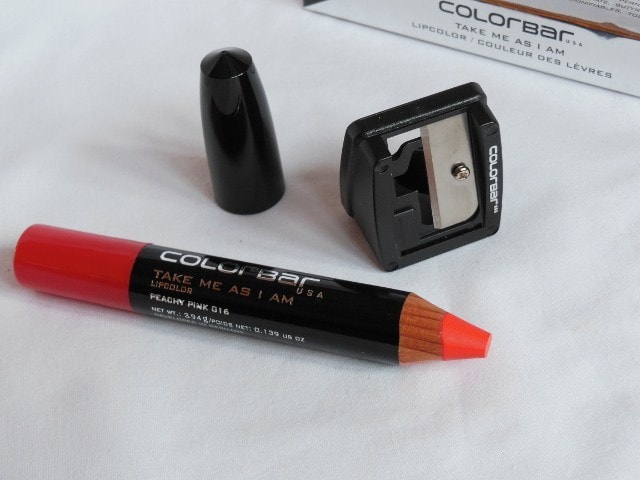 My experience with Colorbar Take Me as I am Lip Color Peachy Pink:-
Shade: Peachy Pink is in absolute contrast to its name as it is a bright orangey shade with subtle red undertones. The shade comes under the bold colors category, so I will not say everyone will like it but bright lip lovers will surely. It can brightens up your day by making all attention diverted to your statement lips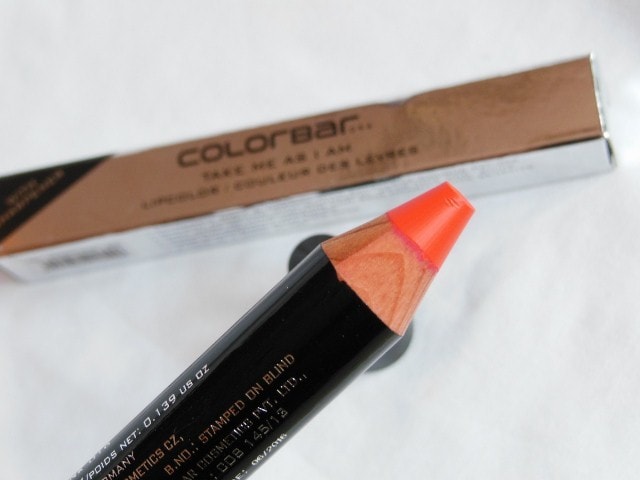 Texture: Take Me as I am has a smooth creamy texture that glides easily across lips. The formula feels moisturizing and has light weight feel, so I don't mind multiple swipes.
Pigmentation: The color pay off is excellent and in one single swipe it give an almost opaque coverage, so even the pigmented lips will get completely covered. Owing to its creaminess it transfers with the slightest touch so I love to dab it or set it with a translucent powder to make it transfer-proof.
Staying Power: As the color transforms from semi-creamy to a semi -matte finish it stays pretty well for 6-7 hours. Though it starts getting flaky and settles in fine lines by the end of day. It doesn't feel particularly drying on my lips but isn't hydrating either once it sets to matte finish. It has staining pigmented which leaves a strong pinkish tint behind which will not go without a makeup remover.
Pros of Colorbar Take Me as I am Lip Color Peachy Pink:-
Smooth creamy texture
Excellent Color pay off
Applies evenly
Perfect for bright summer days
Sets to a semi matte finish.
Long lasting formula
Leaves behind a pink stain
Available in various shades
Cons of Colorbar Take Me as I am Lip Color Peachy Pink:
Transfers easily
Pricey
Settles in fine lines towards the end of day
Recommendation: Colorbar Take Me as I am Lip Color in Peachy Pink is peppy bright orange shade with hint of red. The creamy texture glides smoothly but the application is much smoother and even on exfoliated and moisturised lips. The color payoff is great and it wore comfortably on lips but it is prone to smudging and bleeding if not patted once. The quality is good but considering, its price and texture kept me desiring for more .If you love bright orange on lips this can be given a shot. Recommended!
Rating: 3.8/5
Have you tried Colorbar Take as I Am Lip color Peachy Pink? Do you prefer lip crayons over lipsticks?
PS: Product provided by brand for consideration but opinion is my own