Colorbar Single Eye Shadow- Gorgeous Gold 001 Review, Swatches, EOTD
I have Colorbar Single Eye Shadows in Spearmint and Spicy Brown which have totally different texture and finish and was eagerly waiting to try more of these. I got Gorgeous Gold along with Green Stroke which is also pretty nice. So, here is my review on another eye shadow from Colorbar "Gorgeous Gold".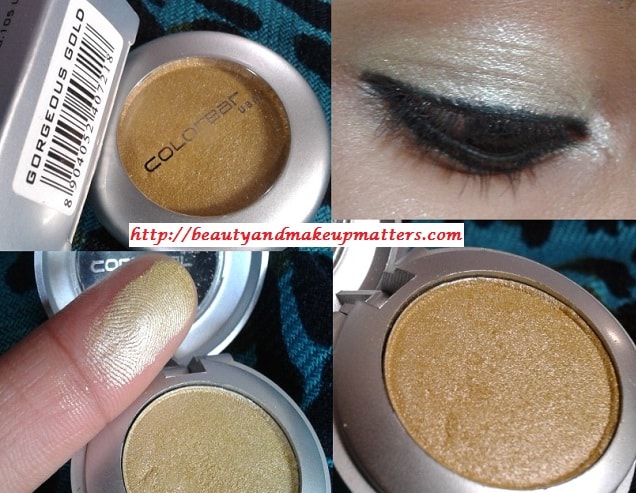 Product Claims:- The Eye Shadow is a pigmented powder that gives the eyes a shine and pearl-like effect. Ultra fine in texture, it is easy to blend while its moisturizing agent keeps your eyelids soft and smooth. This product is long lasting and fade resistant.
Price:- Rs.300 for 3 gms
Shelf Life:- 3 years from the Mfg date.
My experience with Colorbar Single Eye shadow- Gorgeous Gold:-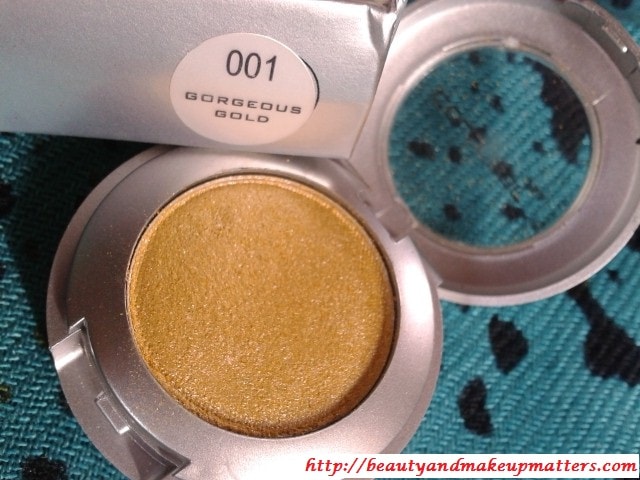 Shade:- Gorgeous Gold is a lighter version of mustard yellow shade with golden tint. It is a frost finish eye shadow with fine specks of shimmers.
Texture:-The eye shadow is silky soft to touch but I was slightly disappointed to see the powdery texture of the eye shadow. The texture isn't as smooth as Spicy Brown but it blends very easily over the lids to give an even coverage without any significant fallout.
Pigmentation:- On its own the color doesn't show up well on lids. The shade looks pigmented in the pan but goes very light on lids and turns to a creamish- silver shade without a base. When used over a base the color shows up better and pretty much holds the yellow base shade of the eye shadow. I used it over NYX Jumbo Eye Pencill in Milk Bean it looked much better as it retained the yellow base color.
Swatch:-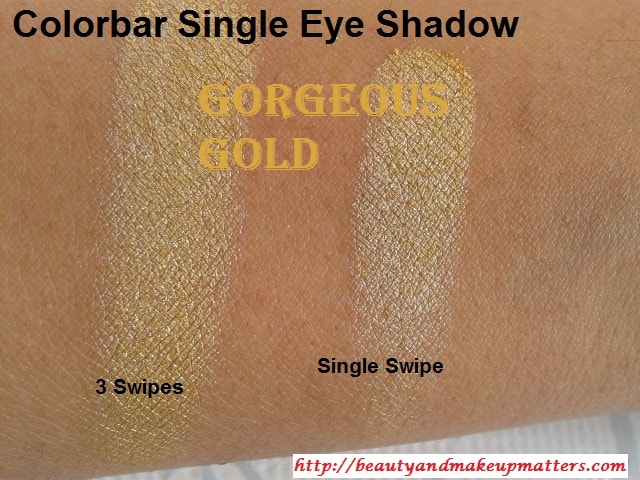 Finish:- The ultra-fine shimmers gives it a shiny pearly finish. The eye shadow comes up as a frosty yellow shade on eyes but lightens to pale yellow pearly finish when blended which makes it suitable to use a highlighter shade.
Staying: The eye shadow lasts long me. It stays for 6-7 hours with slight fading but it isn't crease-proof and starts creasing with an hour of application. The creasing can be delayed to 6-7 hours if used with a base and primer underneath.
Dont Miss to Checkout:
EOTD:-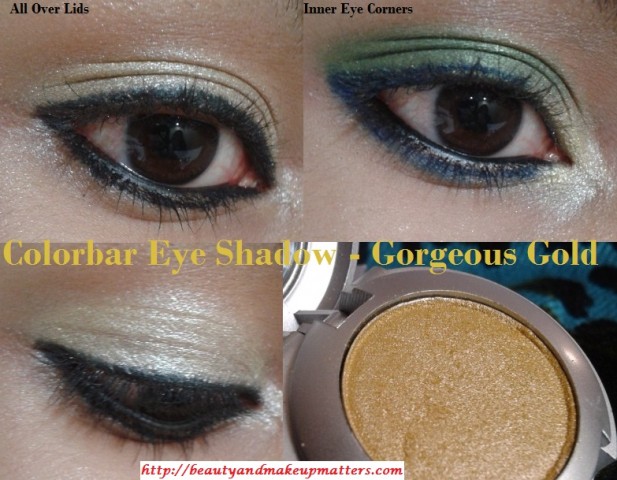 Pros of Colorbar Single Eye shadow- Gorgeous Gold:-
Pretty pearl finish yellow shade
Satiny soft texture
Easy to blends
Works both as an eye shadow and highlighter
Easily lasts for 6-7 hours with a base
No major fall out
Comes with a small mirror and dual-sponge tip applicator.
Decently priced
Cons of Colorbar Single Eye shadow- Gorgeous Gold:-
Slightly powdery texture
Needs a base for a better color pay off
Creases fast on oily base so wear it over a primer
Recommendation:- Colorbar Single Eye shadow- Gorgeous Gold is a lovely pale yellow eye shadow with a pearly sheen. It has satiny soft texture which blends nicely over the lids. I wasn't much happy with its slightly powdery texture but as it doesn't have much fallout and also stays long one me without fading so I'm okay with it.

Gorgeous Gold doesn't look great when used as an all-over lid color but it pairs up beautifully with darker shades of green, bronze and brown. It also does an amazing job as highlighter shade for it soft pearly finish. Recommended!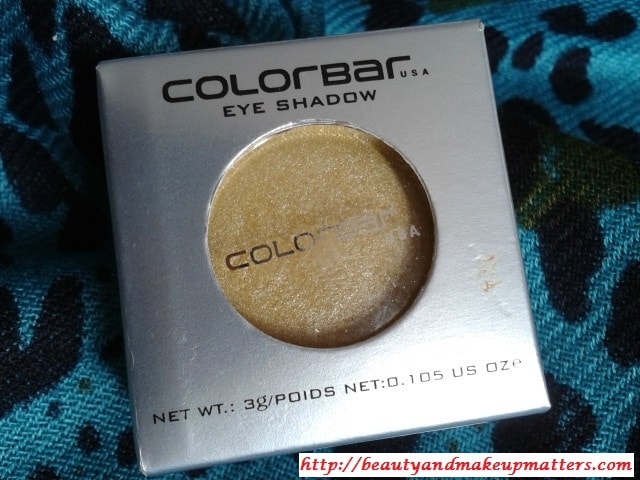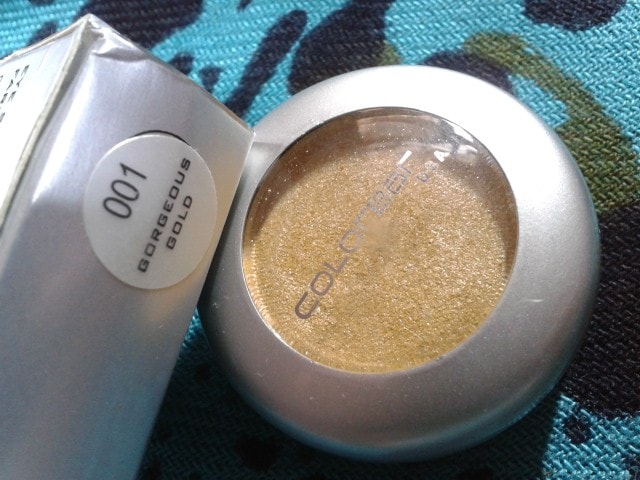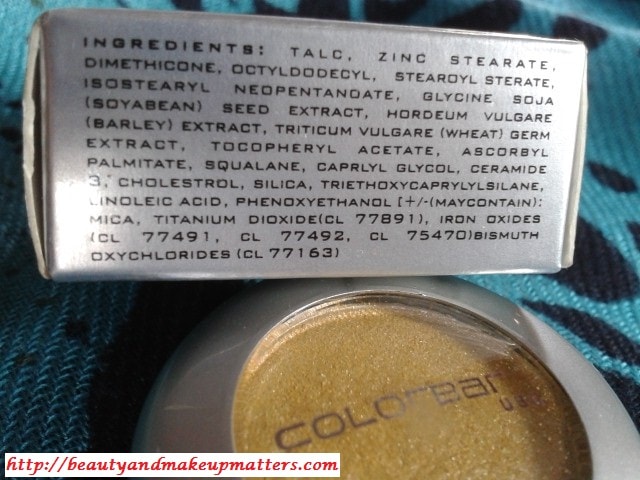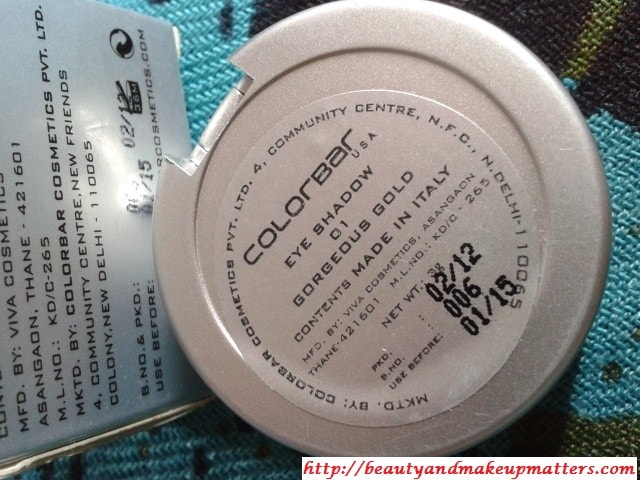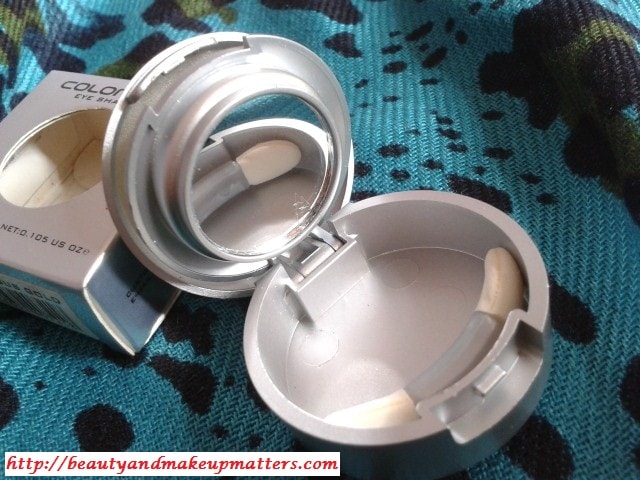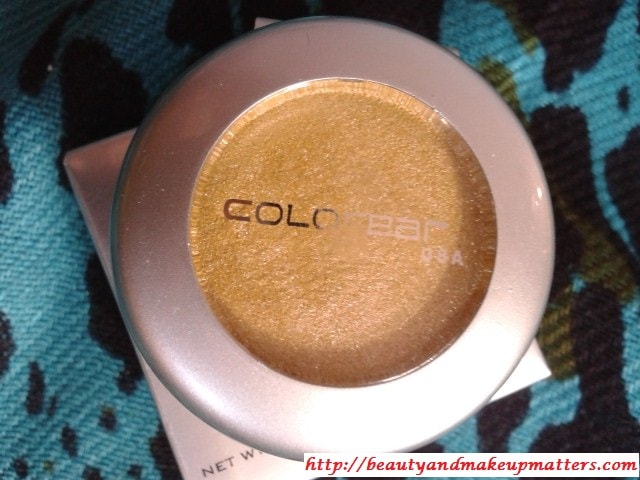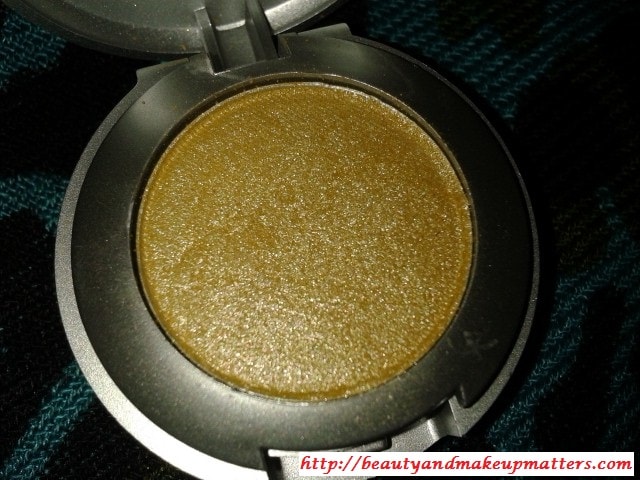 Rating:- 3.7/5
Have you tried Colorbar Single Eye shadow- Gorgeous Gold? Which is your favourite highlighter shade?