Colorbar Shimmer Bar Baked Eye Shadow/Blusher Coral Hint 002 Review, Swatch, FOTD
I saw a stack of shades on some beauty blog long back and instantly made up my mind to that to add that one day but they turned out to be the luxurious Bobbi Brown Shimmer Brick and considering the price I shushed away the thought. But that is not the end of the world and our own Colorbar came up with a similar concept and launched Colorbar Shimmer Bar Baked Eye Shadow. Let's see if it did any justice to the hype of being a dupe of Bobbi Brown Shimmer Brick.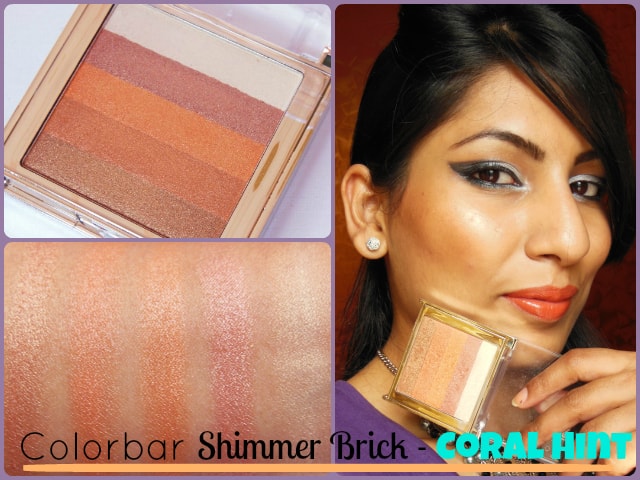 Product Claims: Made in Italy, this multifunctional award-winning editor's favorite baked highlighter with five bars is back on hot demand
These pearlescent shimmer bar has Colorbar's freshest take on spring floral. Features bright pink and icy coral pearl pigments perfect for light to dark skin tones
Direction for Use:-
Sweep the Face Blender Brush through all five shades and dust lightly on cheekbones after blush. Focus on applying shimmer on the top of cheekbones.
As an eye shadow, it goes on smoothly and stays on – does not powder off into your eyes. To add a highlight to eyes, apply the lightest shade in the compact just under browbone with fingertips or the Eye Smudge Brush.
Ingredients: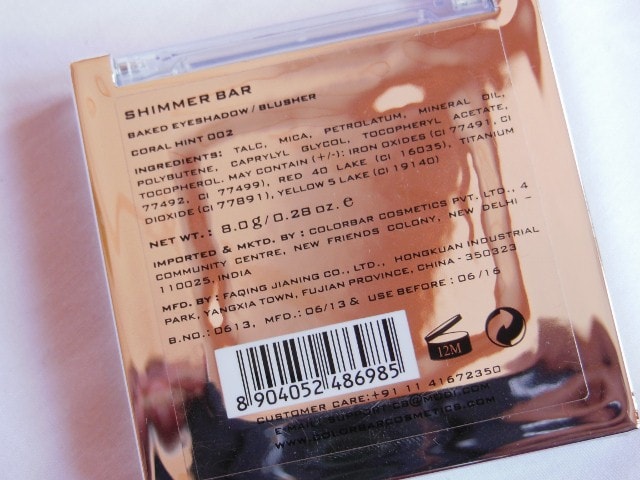 Price:- Rs.950 for 8 gms
Shelf Life:- 3 years from the Mfg date.
Available in 2 shades:
Rosey Glaze
Coral Hint
Packaging:- The shimmer brick comes in a shiny silver cardboard box packaging which keeps the case inside safe and secure. The square shaped brick case has a transparent lid which shuts tightly with the base and gives you a good view of all the shades inside.  The case has a lovely silver metallic finish which gives it a classy touch. The case is sturdy and travel-friendly which can be tossed in the bag before travel. The palette might feel a bit bulky as an eye shadow but it doubles up as blusher which in turn saves your bag space.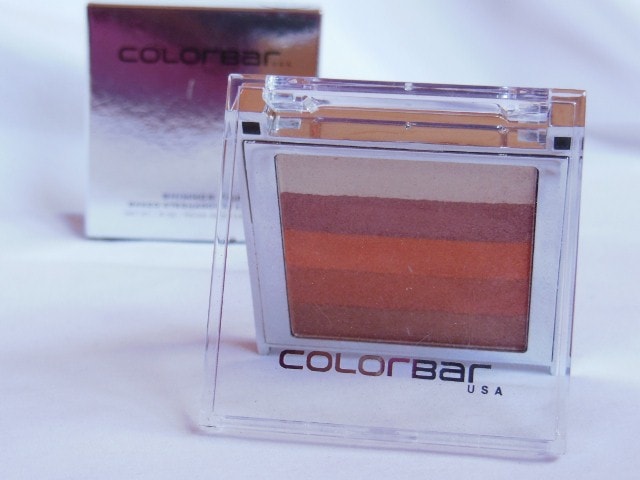 My experience with Colorbar Shimmer Bar Baked Eye Shadow/Blusher Coral Hint:-
The shimmer bar consists of 5 strips of vibrant shimmer enriched pearly shades.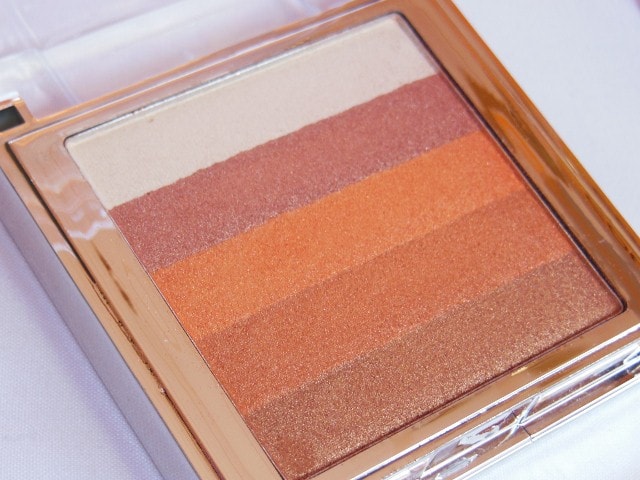 Vicious Gold: It is a duo chrome white shade with golden sheen. One blended it oozes out the hidden golden hint. It will work great as a highlighter shade and even to the inner eye corners I use it with small tapered brush to apply it on cheek bones. The texture is a bit harder than the rest which makes blending slightly difficult.
Conspicuous Copper: It is metallic medium copper brown shade with pink undertones and creamy soft texture which goes on like butter. The shade has lovely pearly metallic finish and can be used as an eye shadow as well for a faint of pearly copper shade on lids.
O'some Orange: It is bright orange shade in slightly shimmery finish. The texture is not as soft as Copper but still quite smooth to work with. The shade is responsible for adding that beautiful orange tint when the brick is used as blusher. The shade however doesn't show well on lids and need to be packed extensively.
Coral cravings: It is a muted peachy coral shade in the same creamy soft texture as copper. The blending is effortless and it also doubles up as eye shadow for an instant bright eye look.
Born to be Bronze: It is a medium bronze shade with a hint of gold. It has foil like finish extremely metallic and with buttery smooth feel. The shade looks quite similar to Coral craving on lids. I like it to use for inner lower lash line to highlight the eyes.
Texture: Other than White Gold all the shades have buttery smooth texture, almost cream like. The shimmers flies around a little but when tapped heavily with brush but nothing bothersome.
Pigmentation: The shades are well pigmented and with 2-3 brush strokes I get a good amount of shine and color to the cheeks. It blends like magic on cheeks all hails to its smooth formula. Though as an eye shadow not all the shades shows up well and need to be layered and packed well to give a hint of color. Better use them as highlighting shades than an all over lid color.
Finish: The finely milled shimmers responsible for its pearly metallic finish which imparts a gleaming shine to the cheeks and beautiful glow. Due to shimmers it does enhances the pores of the skin making them noticeable s o if you already have large don't forget to use a primer to smoothen out the skin first.
Staying Power – The colors have a good staying power of around 6-7 hours with abase underneath. The shimmers travel a little here and there over the face but not in a bad way. Without a base, it creases and fades quite early owing to its creamy texture.
Don't Miss to Checkout: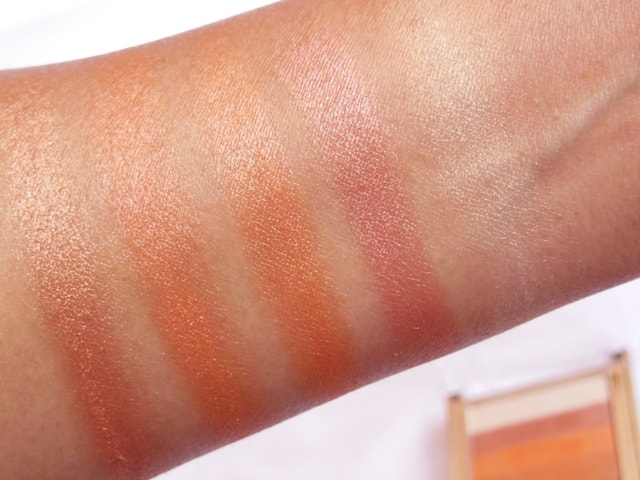 Other than, blush and eye shadow this brick can be used as a bronzer as consists of mostly warm toned shades. I have used it for all of the above mentioned purposes and it does a great job in every department.
Dupe Alert: It is claimed to be quite close to Bobbi Brown Shimmer brick or may be a little better as it doesn't have those sparkly shimmers rather they finely milled in the formula which gives it a lovely pearly metallic duo chrome finish. I do not own the Bobbi Brown shimmer so can't compare formula and shades. 😛
Pros of Colorbar Shimmer Bar Baked Eye Shadow/Blusher Coral Hint:-
Multi-purpose brick which can be used as blushes, highlighter, bronzer and eye shadow
Smooth creamy texture
Finely milled shimmers in the formula
Well pigmented
Blends beautifully
Lasts longer as cheek product
Doesn't look patchy or streaky
Imparts a gorgeous glow to cheeks
Can be used over a regular blush for luminous finish
Cons of Colorbar Shimmer Bar Baked Eye Shadow/Blusher Coral Hint:-
Comes sheer and fades faster on lids
Heavy application may give your cheeks too much shine and shimmers
Doesn't come with a mirror
Recommendation:- Colorbar Shimmer Bar Baked Eye Shadow/Blusher Coral Hint is a versatile product, palette of 5 warm bronzy coral shades which work very well as blusher. The white gold can be used as a cheek and brow bone highlighter, while the rest for as eye shadows as well for metallic look. It comes out as a natural peachy coral blush with subtle brown hints and supreme sheen which compliments Indian skin tones. The shades can be used individually or combines together for multiple looks. It is one product that do it all as your face makeup product but not everything at the same time… 😛 . The price is on the higher side but the quality makes it worth it. Recommended!
Rating:- 4/5
Have you tried Colorbar Shimmer Bar Baked Eye Shadow/Blusher Coral Hint? Which is your favorite shimmery blusher?