Colorbar Sheer Lust Creme Lipstick – Orange Bliss
Hello Everyone,
Are you a lip gloss or a lipstick person? I am more of a lipstick person because I don't like the sticky feel that is inherited in most of the lip glosses and the way hair stick to my lips on a windy day.. ggrrr.. suckhs!! In spite of all these drawbacks it is a tedious task to convince a lip gloss lover to start with lipsticks because the sheer hint of color and the glossy shine is not something commonly found in lipsticks but wait.. I have found something like that!! Yes, I am talking about the recently launched Lust Creme Lipstick collection from Colorbar. I will be reviewing Colorbar Sheer Lust Creme Lipstick – Orange Bliss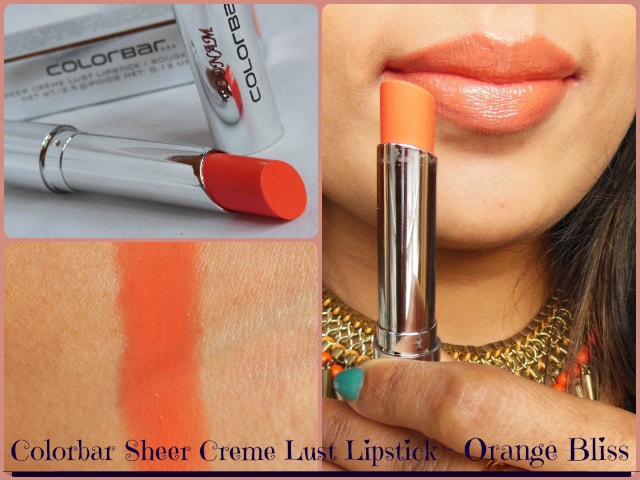 Product Claims: Colorbar's revolutionary new lipstick – Sheer Crème Lust is formulated with a special combination of light oils and groundbreaking polymers that offer soft consistency to enrich your lips with flawless hold and unparalleled luminosity. These range of 12 exciting shades that will add an all new depth, dimension and mirror-like shine to your lips. Ranging from nudes to fashion tones this range offers a silky texture and luxurious finish that makes your lips look fabulous.
This unique range of deliciously bold lip colors will make your lips glisten with the wet look of a gloss and comfort & color purity of a lipstick.
Direction for Use:- Press the stylo bullet to your lips using even pressure to apply color on both upper and lower lips: To refresh and even out, press lips together. Using a lip brush gives a richer and more precise color application
Price:- Rs. 750
Shelf Life:- 3 years from the Mfg date.
Packaging:- Colorbar Sheer Lust Creme Lipsticks comes in a round mirrored metallic silver packaging. The tube is prone to catching finger prints initially but after few usages it isn't that prominent and doesn't bother much. The packaging is sturdy and travel friendly but I wish there had been a shade indicator on the body which would have made it easy to identify shade in case you get more than one!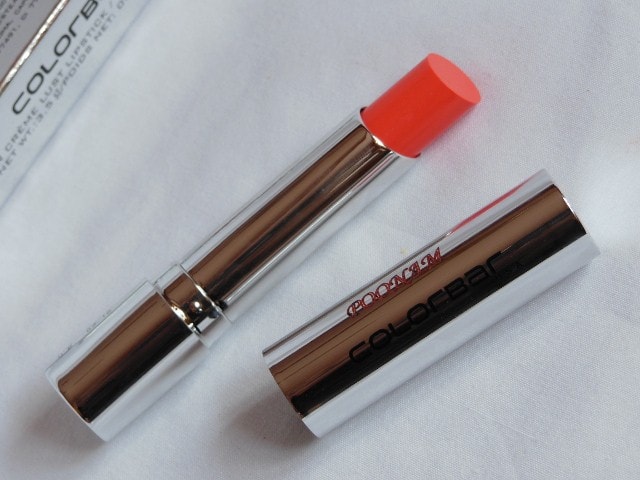 My Experience with Colorbar Sheer Lust Creme Lipstick Orange bliss :
Shade : Orange Bliss is a bright orange in the tube but on application it just adds a little warmth with a slight orange tint to the natural lip color. The shade will be loved by all the teenagers who are looking for a sheer orange lip color that isn't too loud or bright. It also makes a perfect summer lipsticks aka lipgloss. The shade will flatter fair and medium skintones but dusky beauties should give it a miss.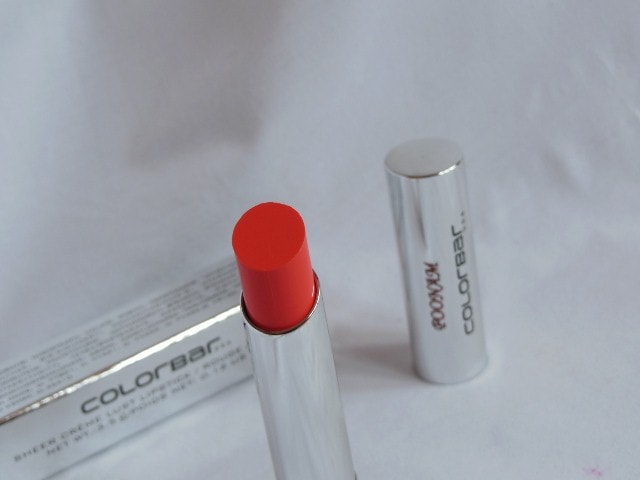 Texture: It has smooth; gel like creamy texture that glides on lips with a little slip.The formula feels light on lips sans any stickiness. It applies almost evenly but will work best on prepped/moisturized lips as it can catch on the lips imperfections easily.
Pigmentation: Sheer Lust Creme Lipsticks have a semi-sheer pigmentation with a high-glossy shine. It goes almost clear in a single stroke but gives a hint of orange on my pigmented lips with another swipe, on clear lips the color will show up better.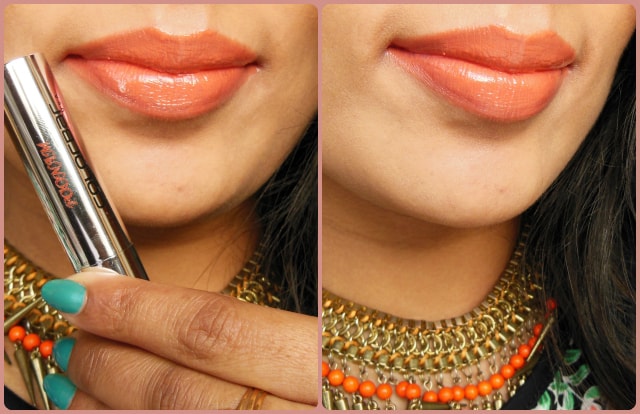 Staying: Being a crème lipstick it doesn't last long on me and the shine fades away within an hour of application or after snacks whichever is earlier ;). It feels a little hydrating immediate after application but after 2 hours I could feel slight dryness, calling for re-application. I wasn't expecting it to stain lips but to my surprise it leaves behind light orange-tint on lips
Don't Miss to Checkout:
Pros of Colorbar Sheer Lust Creme Lipstick – Orange bliss:
Wearable warm orange lip color
Smooth Application
Non-sticky Texture
Lightly hydrating
Comfortable to wear
High glossy finish
Great substitute for lip gloss
Beautiful summer shade
Cons of Colorbar Sheer Lust Creme Lipstick – Orange bliss:
No shade indicator on Packaging
Doesn't last long (2-3 hours on me)
Price is on the higher side
Recommendation: Colorbar Sheer Lust Creme Lipstick – Orange bliss is bright tangy orange lip color which gives a translucent orangey tint on lips with super glossy shine. It has a slippery gel like texture that wears comfortably on lips while providing a semi-sheer coverage. It makes a beautiful orange lipstick shades for fair skin girls. The brand doesn't claim to provide full coverage, so don't expect the color to go opaque. If you are a lip gloss person but don't like the sticky feel, give this Colorbar Sheer Lust Creme Lipsticks a shot. If the price has been a little less, I would have liked it even more because it keeps me wondering how many Maybelline many lips I can buy at this price: P. Overall, a good but pricey substitute for lip glosses.
Rating: 3.8/5
Have you tried Colorbar Sheer Lust Creme Lipstick Orange Bliss? Do you prefer such glossy lipsticks over lip glosses?
PS: Product sent by brand for consideration