Colorbar Sheer Glass Lip Gloss – Coral Embrace Review
Hello Everyone,
Today I will be reviewing a lip gloss from Colorbar. I am not a lip gloss freak as they tend to make my lip look bulkier and heavier..like I just had a botox treatment. I already have fuller lips so the lip glosses just doesn't work well for me but I do like to play with them sometimes by just to dab a little in the middle for glossy shine. Let's see how good are these Colorbar Sheer Glass lip Gloss – Coral Embrace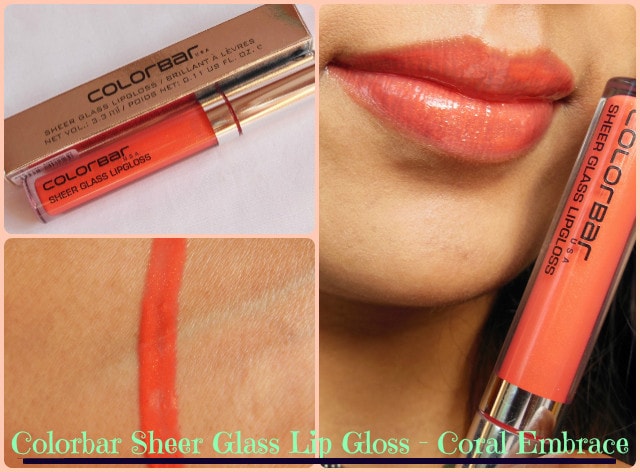 Price: Rs .675 for 3.3 ml.
Packaging: Colorbar Sheer Glass lip Gloss comes in a lovely clear round glass tube with a silver screw cap. It has a straight but flexible doe foot applicator which gives an easy application. The applicator doesn't pick too much of color/formula so for full lips you might need to dip it several times in the tube.
My Experience with Colorbar Sheer Glass lip Gloss – Coral Embrace: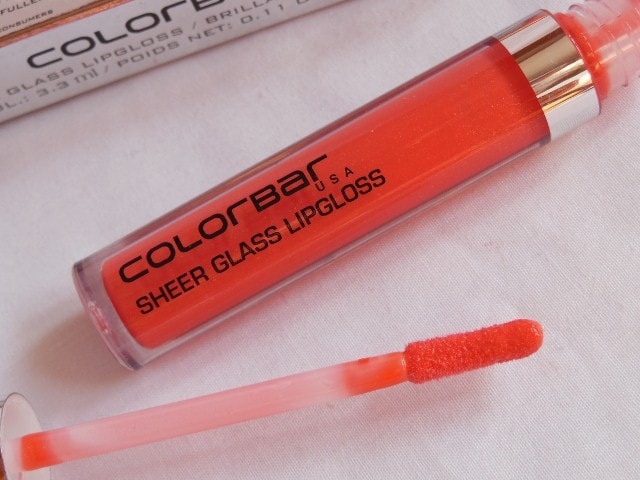 Shade: Coral Embrace is a pretty pink based coral with subtle gold shimmers blended in the formula. The shade would look flattering on fairer skin tones but it does look pretty good on my medium skin as well. The shimmers are fine and never feel chunky or gritty on lips, they are so subtle that I almost forgot that the lip gloss has shimmers.
Formula: Colorbar Sheer Glass lip Gloss applies smoothly providing even coverage to the lips. The formula is infused with lip care benefits and it does feel quite moisturizing to the lips and I could feel my lips still soft and hydrated even after the lip gloss is gone which is not common when I use lip gloss as the lips tends to get dry when the lip gloss starts to fade off.
Pigmentation: The lip gloss has a decent color pay off which can show really well on un-pigmented lips, though on pigmented lips, the color looses most of its charm and the lip pigmentation kind of alters the shade, making it look warmer pink than coral. I shall be layering it with a nude liner beneath or after concealing my lips to hide the pigmentation and let the lip gloss show its true color.
Finish: The lip gloss as the name indicates gives a lovely glass like shine to the lips. The shimmers acts as light reflecting particles and it doesn't look particularly shimmery on lips. It feels really nice on lips.
Don't Miss to Checkout: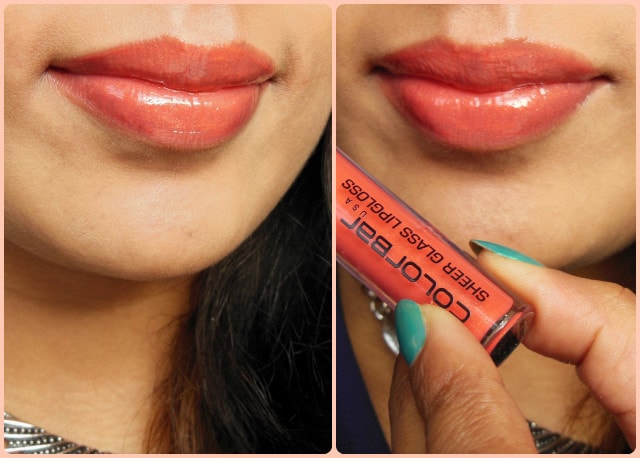 Pros of Colorbar Sheer Glass lip Gloss Coral Embrace:
Gives a smooth dazzling finish
Doesn't feel heavy on lips
Decent pigmentation
Non sticky texture
Wore comfortably
Nourishing formula
It can worn over lipsticks for fuller glossy lips
Free from preservatives and perfumes
No unwanted scent
Available 8 beautiful shades
Cons of Colorbar Sheer Glass lip Gloss Coral Embrace:
Doesn't last long on lips (like any lip gloss)
Shade alters on pigmented lips
Recommendation: Colorbar Sheer Glass lip Gloss – Coral Embrace is a semi-sheer, peachy-coral shade with warm undertones and fine gold shimmer. It had a sheer color coverage that applied fairly evenly and has cushiony soft texture which also nourishes lips with it's moisturizing formula. The gloss lasted for three hours on me and was comfortable to wear. The pigmentation is good but not good enough to cover my pigmented lips. It gives a luxurious shine to the lips and is infused with lip care benefits, so best suited to dry lips. Perfect to instantly glam up your look for any event. Recommended!
Rating : 4/5
Have you tried Colorbar Sheer Glass lip Gloss Coral Embrace? Which is your favourite Lip Gloss formula?