Colorbar Radiant Glow Face Illuminator Pen Review
I started with Powder Highlighter last year and was highly impressed with the results. The highlighter added a beautiful glow to my face and I was decided to explore more of these highlighting options available in Indian Market. I have Revlon Illuminator on my list but watching out to grab it under some good discount/offer but till the time I lay my hands on that found one from Colorbar the "Colorbar Radiant Glow Face Illuminator Pen in shade # Glamour 001″.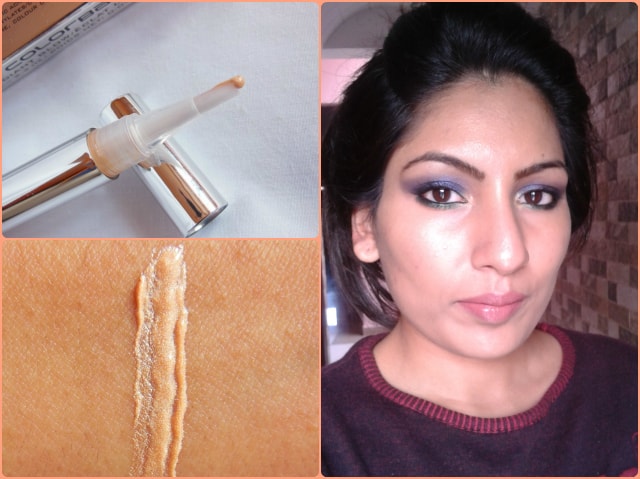 Product Claims: Banish the dull and tired look forever with the Radiant Glow Face Illuminator. A one of a kind product in India, this face highlighter gives the complexion a vibrant and perky look. The Radiant Glow Face Illuminator enhances makeup and brightens the complexion, giving the face a natural glow.
Price:- Rs.475 for 2.2ml
Shelf Life:- 3 years from the Mfg date.
Packaging:- As it can be made out from the name that this highlighter comes in a Click Pen type packaging (Remember using those Rs.2 ball pens which we used to tick-tock whole day, so much that mum's had to finally take them off our hands or pester Teachers in college… the moment they land in hands, thumb automatically starts playing with click-tick ;). The click mechanism is similar but they have superior packaging with shiny silver metallic body and super soft bristles for application. Also once the product comes out, there is no way to put it back, so hold you hands :). The packaging has a opulence feel to it which is also sturdy and travel friendly. The cap shuts nicely and wouldn't open on its own so the pen can be tossed right away into the make up bag without worrying about leaking. The brush applicator is easy to use but not hygienic as residual product will remain on the bristles. Also. see-through packaging would have been better as I could make out the amount left inside.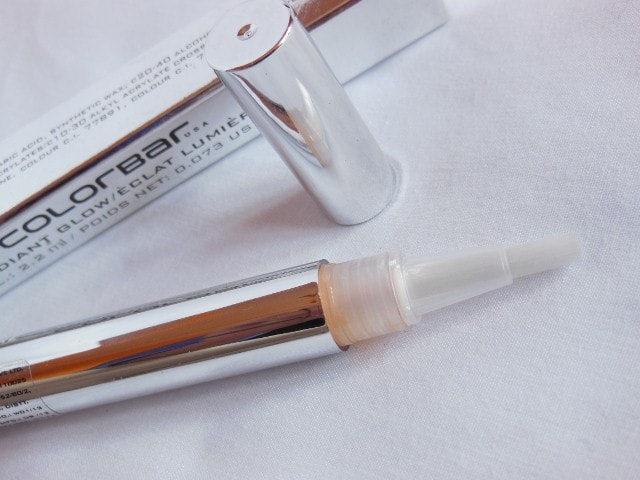 My Experience with Colorbar Radiant Glow Face Illuminator Pen:-
Shade: Colorbar Face Illuminator is a beautiful peachy gold coloured highlighter with subtle orange undertones. The formula is infused with finely milled highlighting particles that give it a gorgeous pearly sheen and never looks glittery/shimmery at all. Think of pearl finish eye shadows where you just can't see the shimmer specks but the pearly shine is imparted on application. Similarly, the microscopic illuminating particles are super-fine and blended extremely well into the formula. As it has shimmer-free formula, it will be liked by everyone and can gracefully work for beauties with open pores too.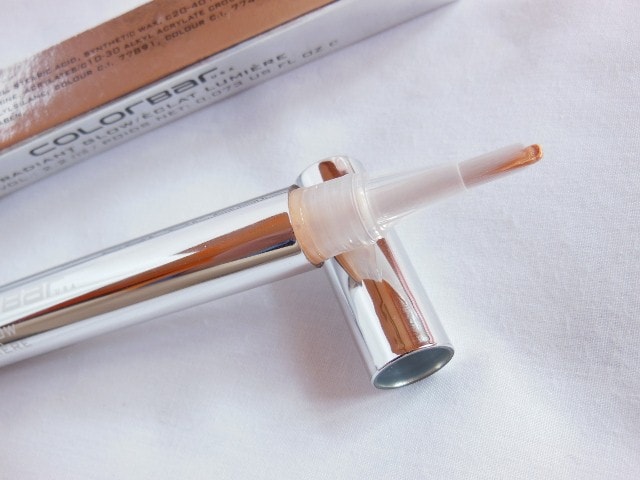 Texture: It has thin creamy texture almost runny which gets applied with utter ease. It just melts into the skin and doesn't feel heavy or creamy. Pen requires multiple clicks for first time usage as it takes time for the liquid to come down to bristles but after that 2-3 clicks (or more depending on the amount required) will be enough for single application When directly applied with the brush it looks slightly streaky so either follow with a brush or finger tips to smoothen out the application. The super light texture blends effortlessly and leaves behind gorgeous pearlescent glistening shine which brightens up the whole look by adding the much needed radiant glow.
Staying: It stays almost whole day on me and doesn't transfer or enhance pores as it is devoid of any shimmers. It doesn't look super shiny and can never make one look like a disco ball even if applied in excess mistakenly though the glow can also be balanced out by dabbing some loose powder or compact.
Swatch: Without Flash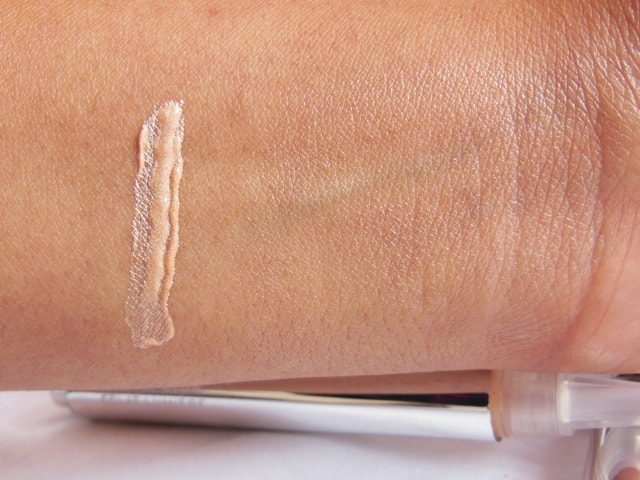 Swatch: With Flash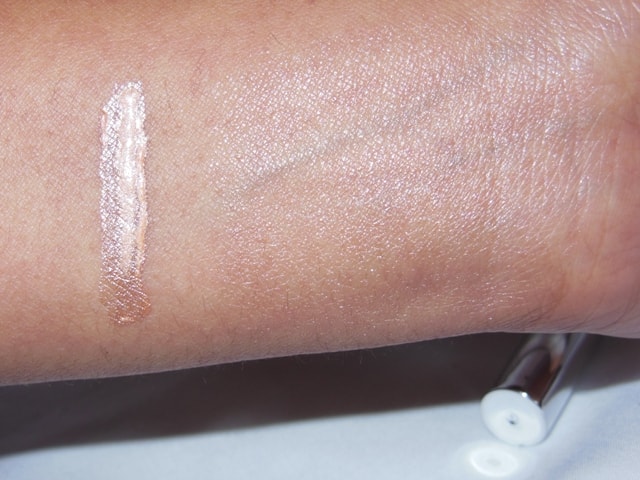 Application: Apply it to upper cheek bones, under the eyes (post concealer application), nose bridge, Cupid's bow, chin and center of forehead for bringing out all the high points and bring definition to your look. If you want to achieve a naturally dewy/glowy skin with a subtle sheen mix it up with your foundation or BB/CC creams and you will get that naturally glowing skin without much effort.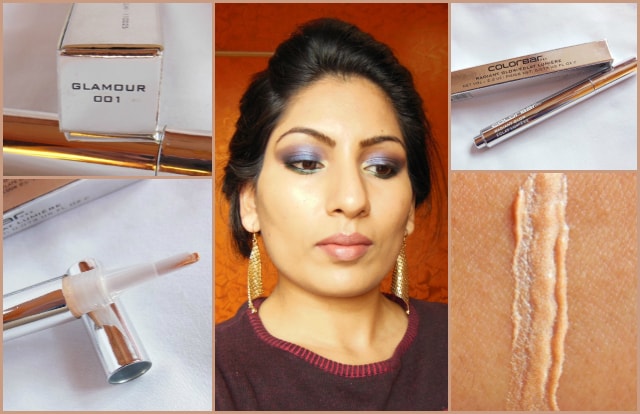 I had a choice between this and the Maybelline Dream Touch Lumi Concealer but had read mixed reviews about the Maybelline one so went ahead with Colorbar. I am super-duper happy with teh results but for the sake of comparison I might get Maybelline next!
Pros of Colorbar Radiant Glow Face Illuminator Pen shade # Glamour 001:-
Fine illuminating particles
Smooth texture
Light creamy texture
Sits comfortably on skin
Blends like a dream
Imparts natural radiant glow (not shimmery types)
Doesn't enhance pores
Stays put whole day
Transfer-proof formula
Suits all skin types
Easy to use Brush Pen Applicator
Comes handy during travel
Cons of Colorbar Radiant Glow Face Illuminator Pen shade # Glamour 001:-
Available in only 1 shade
Bit pricey for the quantity
You wouldn't get to know when you are done with the product.
Pen style might lead to wastage if excess of product is dispensed..
Recommendation:- Colorbar Radiant Glow Face Illuminator Pen in # Glamour 001 is a pretty peachy gold highlighter that will be a perfect pick if you like to flaunt luminous skin especially in winters. The quality is amazing with light weight texture that goes on smoothly and finely milled shimmer particles which imparts healthy glow and never looks glittery or shimmery. The formula refuses to budge and stays in place throughout the day. The shade will work wonderfully for all skin tones (darker skin tones might need to test it at counters). It can be used by oily skinned girls and those who suffer from open pores without any doubt as it is non-greasy and doesn't enhance pores . The packaging is sleek and classy just a bit tricky to use, would have preferred a pump dispenser.
It makes my skin look visibly radiant which beams with natural glow and enhances the overall look! Highlighting and contouring adds definition to face and you must have at least one highlighter in your kit and this could be that! Highly Recommended!
 Rating:- 4.5/5
Have you tried Colorbar Radiant Glow Face Illuminator Pen? Which is your favorite Illuminator/highlighter?
PS: Only in the first pic you can makeout how it works when applied on high points. 🙁 .. I tried hard but without lights I was not able to show you the difference it made to the whole look as I clicked pictures in natural light.
The secret behind this look will  be revealed next.. stay tuned!! 🙂