Colorbar Pout In A Pot Lipcolor – Charming Pink
Today's Guest Of Honour: Manasi from IndianFashionLifestyle
Hello Beauties,
Happy Friendship day! Friendship is a beautiful bond which makes you know people who you have never met. This is story of Poonam and me. We never knew each other in person but we use to communicate by dropping comments on each other's blog. And one fine day we met, at a blogger's meet, exchanged numbers and rest is history. When Poo asked me for a guest post I was more than happy to say yes. So for you my dear Poo and you all lovely people I have review of a lip shade today. This shade is pretty pink color which is an everyday wearable shade. So this friendship week check out this shade of colorbar and go chick.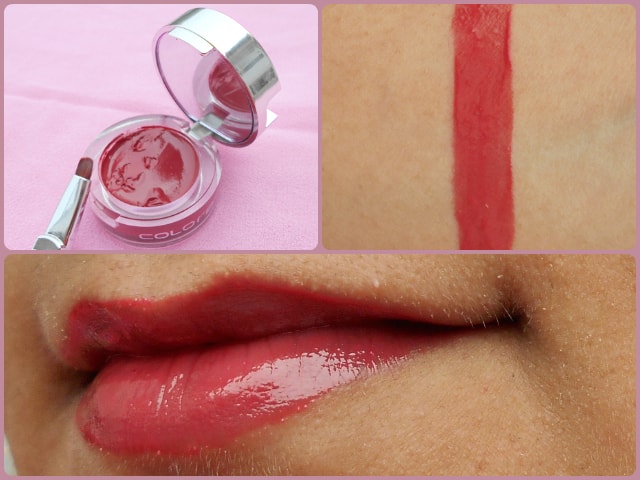 Colorbar is the first brand which I fell in love with and it has been loyal to me all these years without breaking my trust. I own many colorbar products because colorbar as a brand sell quality. The brand might be a little expensive but quality is worth the price. Colorbar products come as a package, by package I mean if you buy a lip pencil then they will give you the sharpener along with the lip pencil which makes it a package. Today I have for you pretty people review of Colorbar charming pink pout in pot lip color.
Price and Quantity: Rs 550 for 6 gm 
My Take on Colorbar Charming Pink Pout In A Pot Lipcolor
Starting with the packaging of the product it comes in silver cardboard box with all details of the product printed on it in black. Lip shade comes in transparent plastic pot with a silver lid. The pot looks luxury. As I have previously mentioned that colorbar believes in making a product as a complete package, so they make this one a package too. The lid has an applicator brush and a mirror which gives bonus points as it becomes travel friendly.
The texture is creamy and is so smooth that it glides like butter over lips and is very hydrating. It is much pigmented and gives pretty warm pink color to your lips in just two applications. The color will go with approx 70% of your outfits and suit wide range of skin tones. In spite of being creamy in texture it does not bleed giving glossy finish to your lips.
The color stays for decent 5 hours without meal. As it fades it leaves behind light tint of pink color which is even prettier.
Overall I am in love with the shade as it is pretty pink and is very hydrating as I don't have to wear a lip balm before applying the lip color. Even the lip stain is makes your lips look seductive
What I like about this product..
Lovely shade, you can use it daily.
Creamy and glossy texture.
Nice pigmentation.
Non- Sticky.
It has mirror and brush.
Moisturizes.
Stays for good time.
What I don't like about this product..
Brush is difficult to take out.
Final Word: Lovely product comes in 8 different shades. I am in love with this color. Go ahead and try it!! Happy Friendship day!
Rating: 4.75/5
With Love,
Manasi
BMM Says: Hey Manasi, thank you so much for you lovely words.. It was wonderful to meet you in person. I love colorbar for quality but its prices freak me out.. I have been thinking about these cutie lip color pots.. such a lovely name they got "Pout in a Pot".. 😀 . I want at least one of them in my stash now!! Gotta checkout at the counters for shades.. 😉 ..  Charming Pink looks lovely on you.. <3