Colorbar Nail Lacquer – Rasmopolitan Review, NOTD
I was looking for the most famous shade from the ColorBar Nail Lacquer Exclusive range the Apple Martini but sadly it wasn't available. I was upset to see that all other shades were available from this range except that. But all the shades were super-cool that it was difficult to choose one from the online swatches.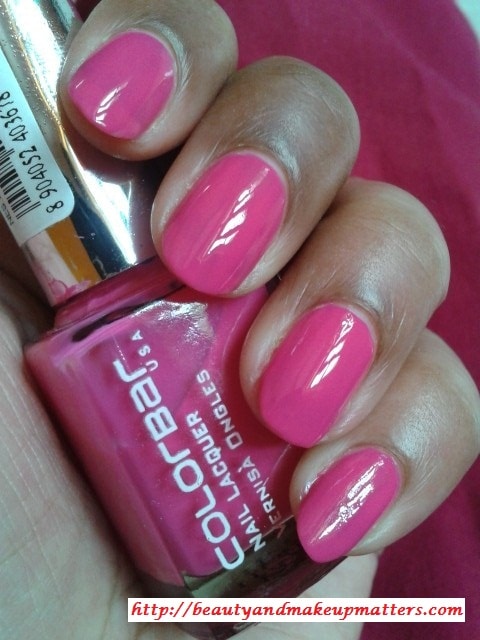 Other Gorgeous shades from this range:-
Orange Mimosa
Lemon Drop
Grape Sangria
Apple martini
Blue lagoon
To be on the safer side I chose Pink. Lets see how I liked "Colorbar Nail Lacquer – Rasmopolitan"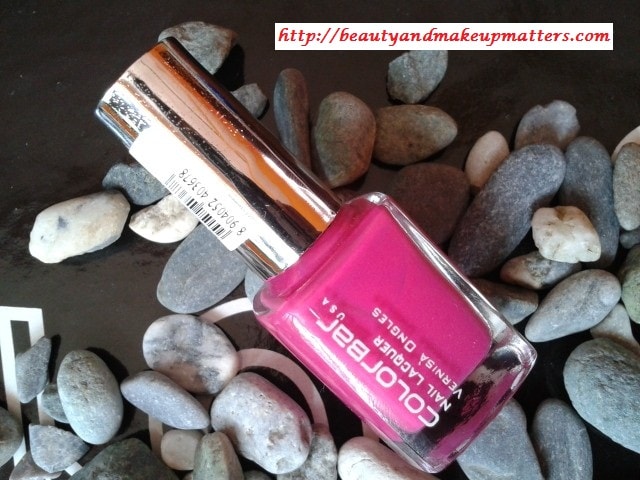 Product Claims: The Exclusive Nail Polish is unique formulation combines intense color with incredible shine to create perfection and impeccable hold. Its rich color and high sheen formula strengthens nails and keeps them moisturized. The nail polish gives excellent glossy color payoff. Its toluene and DBP free and does not yellow out nails. It makes your hands look neat and salon perfect!
Price:- Rs.150 for 9ml
Shelf Life:- 2 years from the Mfg date.
Packaging:- The nail lacquer comes in the signature Colorbar cubical bottle with a shiny silver handle. The handle is slightly shorter in length compared to the Lotus Herbals Nail Enamels. The brush is of medium length with thin densely packed bristles. The nail lacquer looks absolutely juicy from the see-through glass bottle.
My experience with Colorbar Nail Lacquer – Rasmopolitan:-
Shade:-Rasmopolitan is a bright hot pink shade which can draw a lot of attention to your nails. It is blue toned pink which looks absolutely gorgeous on nails.
Consistency/Color Payoff:-The consistency is slightly runny but gets applied easily with the no-fuss applicator. It doesn't give a streaky or patchy application and goes evenly on nails. The color payoff is also good. The first coat goes slightly sheer but gives an opaque finish and full intensity of the shade with 2-3 coats.
Finish:-It goes creamy and dries to a shiny-glossy finish that you can easily skip on the top-coat but you will feel the need of top-coat by 2nd day. It takes about normal time to dry but to set completely it requires another 10-15 minutes. It takes so long to dry completely that in hurry I end up with fabric impressions.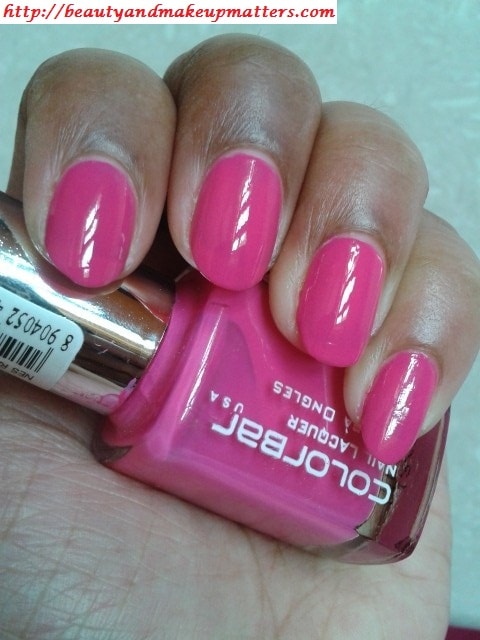 Staying:- I was slightly disappointed that it doesn't perform well in this area. No doubt, the nail lacquers dries to a creamy glossy finish but the gloss and shines fades by 2-3 day of application. It also starts fading from the tips within 2 days off application and then it starts chipping.
Bright Pink colors have a tendency to make medium skin tones look darker but Rasmopolitan is such an awesome shade that I can't resist painting my nail with this. Maybelline Coloroma Sexy Nail Polish  is another hot pink shade which looks pretty much similar to Colorbar Rasmopolitan Nail Lacquer.
Don't Miss to Checkout:
NOTD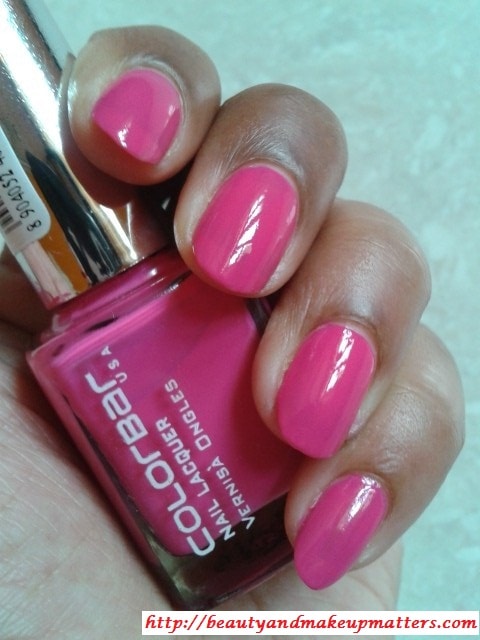 With Flash:-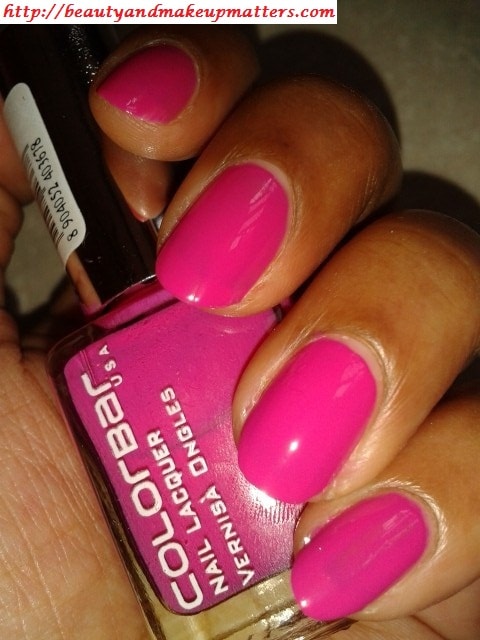 Pros of Colorbar Nail Lacquer – Rasmopolitan :-
Gorgeous hot pink shade
Non-streaky application
Decent quality brush
Good color payoff
dries to a creamy glossy finish
Doesn't give patchy application
Attractive shades to choose from
Cons of Colorbar Nail Lacquer – Rasmopolitan :-
With thick coats it takes long to set completely
Losses its shine and gloss with each passing day
Doesn't stay for long and starts chipping in 2-3 days.
Might not be the best choice for dusky beauties
Recommendation:- I love the color so much that I can easily ignore the cons but you can  try the following tips to like it better as I did.

Let the first coat dry completely before going for a 2nd one, which makes it dry quickly and give flawless finish.
To seal-in the gloss and shine, the nail lacquer can be followed with a top coat which also increases its life on nails.

If you are crazy for pinks than Colorbar Nail Lacquer – Rasmopolitan must be given a try and I am pretty sure that you are gonna love it. It is a sexy bright pink shade which looks flattering on fair hands.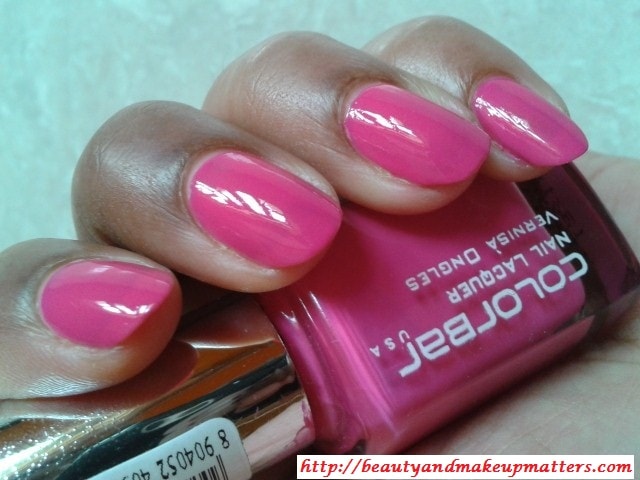 Rating:- 3.8/5
Have you tried Colorbar Nail Lacquer – Rasmopolitan? Do you like neon pinks on nails or lips more?