ColorBar Lip Liner – Plum Review, Swatches, LOTD
I was looking for a nice Plum lip color but the hunt failed with disastrous results. The horrible Faces Moisture Rich Absolute Plum lipstick was a complete setback for me.
But without loosing heart I gave another try and this time I got ColorBar Lip Liner in Plum.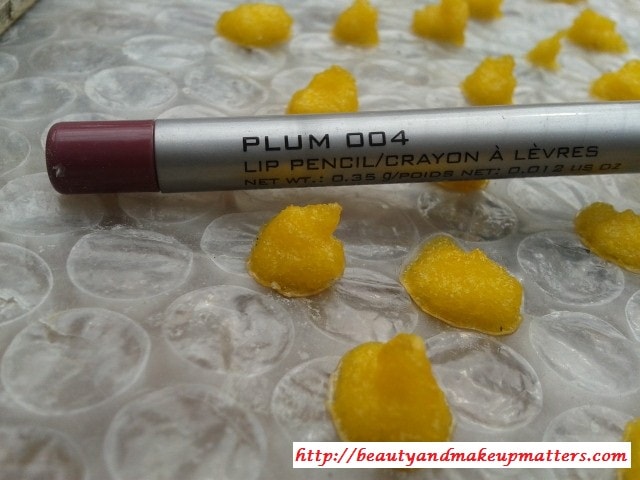 No doubt that Angelina Jolie has got the sexiest lips but not everybody in world is blessed with such luscious and absolutely kissable lips including me L. No matter what type of lips we have like thin, thick or even pigmented we want them to look beautiful. A lipstick does the trick of adding color but to define the lips and to get that perfect polished look we need lip liners.
I started with the budget lip liners from Maybelline but they have failed their purpose of holding the lipstick in place. They were creamy and smudge around the lip-corners. Sometimes, the liner may fade away even before the lipstick. So, this time I wanted to try my hands on some better liners that smudges less and have a long staying power. Lets see how it fared on me.
Product Claims: Give your lips a fuller, healthier look with our Waterproof Lip Liner. Waterproof and long-lasting, it keeps the lipstick in place without smudging it. Smooth and soft to apply in a single stroke, this retractable Waterproof Lip Liner enhances the lips while keeping them nourished and moisturized with Vitamin E and C.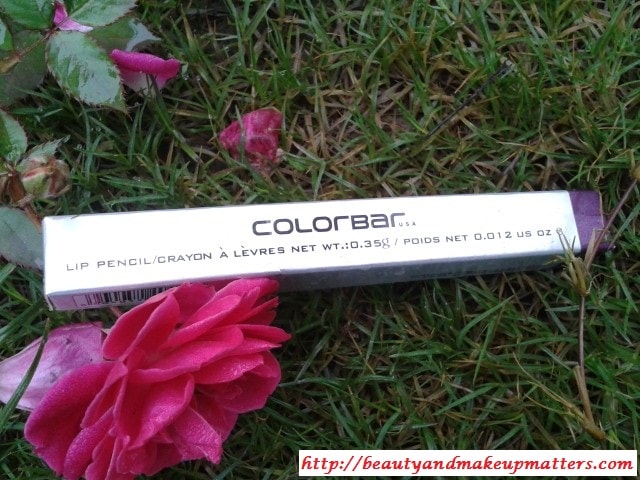 Ingredients:-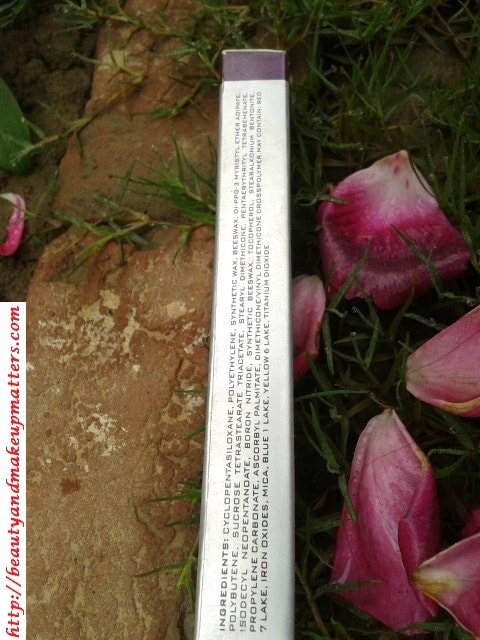 Price:- Rs.325 for .35 gms
Shelf Life:-  3 years from the Mfg date.
Available in 8 beautiful shades:-
Hot Chocolate
Moody Maroon
Coffee
Plum
Wild berry
Nude Pink
Black Berry
Very Cherry
Packaging:- The lip liner comes in a mechanical retractable pencil form. The pencil is packed in a sleek cardboard box which mentions information about the pencil. The outer casing has the band at the bottom which carries the shade of the liner. The grayish-silver colored plastic packaging with a similar colored cap holds the liner for you. The long cap shuts tight with a click sound.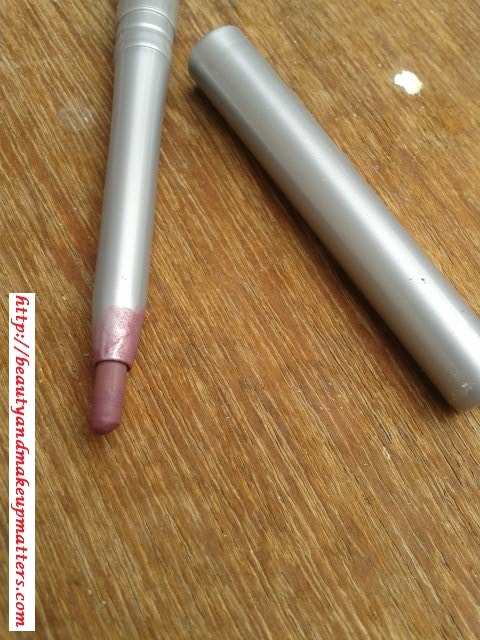 My experience with ColorBar Lip Liner – Plum:-
Shade:- Thankfully, this time the shade turned out to be the one I was looking for. ColorBar Lip Liner – Plum is a deep plum shade. It is a true plummy plum shade with a purple hue and doesn't have any brown undertones.
Texture/Finish:-The lip liner has a smooth texture which glides easily on the lips and shapes them well. But it is neither creamy nor a moisturizing lip liner. The lip liner is a plain shade and gives a nice matte finish on the lips. It gets slightly drying when used as a base either wear a light lip balm underneath or top-up with a gloss.
Swatches:-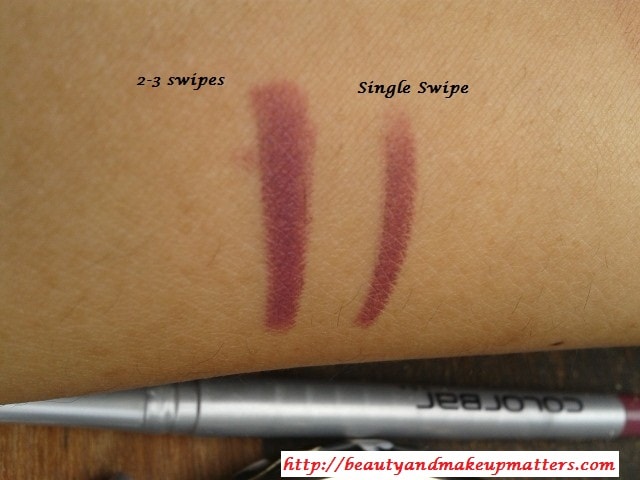 Pigmentation:- The liner is super-duper pigmented and no more than single swipe will be required to get the good-enough color on lips. When used as lip filler, I start filling the lower lip and press the lip together which transfers a decent amount to the upper lip too. Dab a little more color to both the lips and you are good to go.
Staying Power:-The lip liner stays in its place and doesn't transfer much but once patted lightly with a tissue it becomes completely transfer-proof. The lip liner doesn't smudge or smear. It can also be used as a base on lips which increases the staying power of the lipsticks and also prevent them from bleeding. It is long-wear lip liner which stays for 6-8 hours easily and doesn't fade off completely leaving us looking washed out. It leaves a nice tint on the lips which will stay for another 2-3 hours. Hence no need to rush for touch-ups in the middle of the party.
Don't Miss to Checkout:
LOTD:-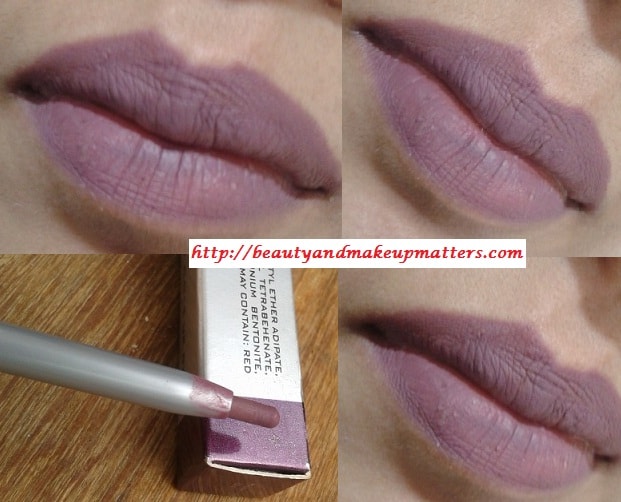 Pros of ColorBar Lip Liner Plum:-
Beautiful matte deep plum shade.
Amazing staying power.
Easy to use retractable pencil type packaging. So no wastage of the product while sharpening
Can be very well used as a liner or lipstick.
Extremely pigmented
If used as a base it increases the staying power of the lipstick.
Can be topped up with a gloss for luscious looking lips 😉
Doesn't settle into fine lines
Pretty much survived full meals and snacks, leaving behind a hint of color.
The colored band at the base makes it easy to locate the pencil.
Cons of ColorBar Lip Liner Plum:-
ColorBar counters have limited presence and not well maintained as most of the times they are out of stock of the items.
Expensive for a lipliner. I can very well get a Maybelline Colorsenstion lipstick at a lesser price.
Slightly drying and dry lips may need to go a balm before this liner.
Need to remove it with a good makeup remover to get rid of them
No mention of ingredients list
Recommendation: ColorBar Lip Liner – Plum is a pretty decent lip liner considering the pigmentation and lasting power but it is on the expensive side. I just loved this rich plum shade of liner. It glides easily on lips and shapes my lips perfectly. It is not a creamy or moisturizing liner but that increases the lasting power of the liner and easily survives the meals. I was happy to see that it doesn't settle into fine lines nor it accentuates the lip imperfections

If you are looking for a long-wear lip color and don't mind paying the price then go –ahead and get these. As I own the liner now I want a matching lipstick. Any suggestion for Plum lipstick?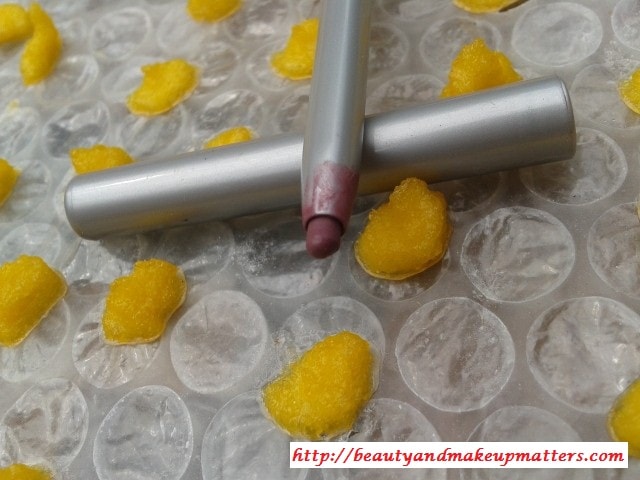 Rating:- 3.8/5
Have you tried ColorBar Lip Liner – Plum? Do you like wearing plum shades?