Colorbar Just Smoky Kajal Just Green Review
I had Bourjois Smoky Eye pencils in my wish list but as most of the Bourjois pencils are prone to smudging I postponed my plan but then I came across these Smoky Eye Pencil versions from Colorbar and couldn't resist but to give these a shot. So, today I am sharing this Colorbar Just Smoky Kajal – Just Green Review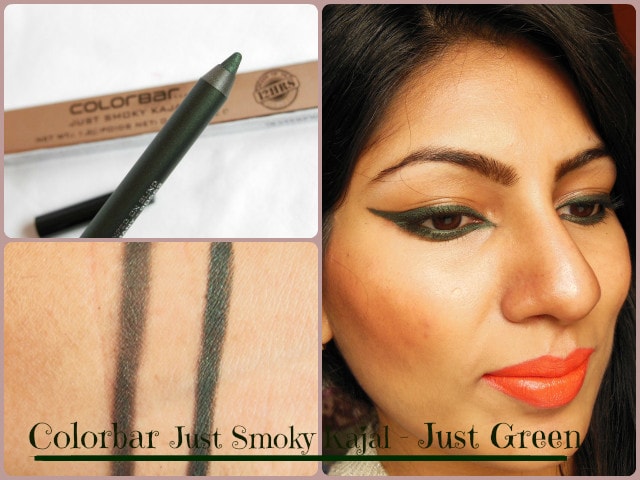 Product Claims: Just Smoky Kajal gets you Glam ready in just 50 seconds. This long-lasting, multi-tasking eye pencil gives you 3-in-1 benefits of an Eyeliner, Kajal and an Eye Shadow. It helps you to achieve the mysterious smoky-eyed look which will last for up to 12 hours. It comes with a built-in smudger that is as soft as a cushion which can be used to demystify the art of smoky eyes. The intense color and matte texture of the pencil adds definition and drama to your eyes. It has waterproof property and does not transfer
Direction for Use:- After a few strokes of the soft liner along your top and bottom lashes, use the sponge smudger to blend out the color to the desired level of strength for the perfect smoky eye look.
Price:- Rs 650
Shelf Life:- 3 years from the Mfg date.
Available in 5 shades:
Just Black
Just Blue
Just Green
Just Teal
Just Grey
Packaging:- The kajal comes in a sharpenable dual ended  pencil form with smudger tip (sponge tip applicator) on one side. The sponge is bit stiff which I feel is ok for me but a softer version would have been better. The packaging is color coded, so it's easy to identify the shade in case you own more than one from the same family.
My experience with Colorbar Just Smoky Kajal Just Green:
Shade: Just Green is dark shimmery forest green shade with metallic shine. It has mix of silver and golden flecks which are extremely smooth and doesn't feel gritty at all. The pencil comes off as blackish green on lids which make it pretty unique than the usual forest green pencils. The shade is well suited for all occasions and will flatter all skin tones.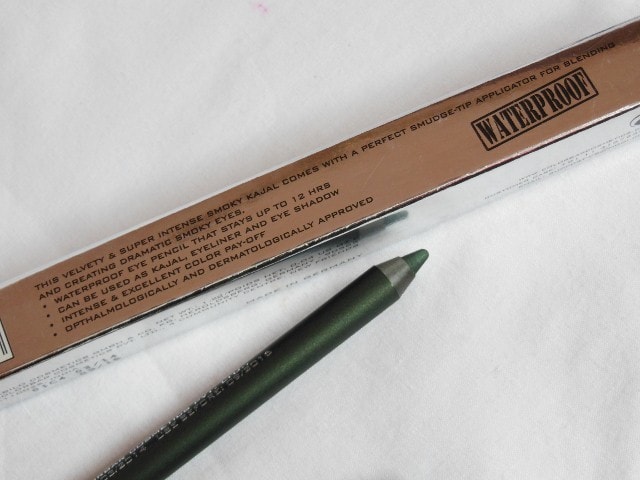 Texture: The texture is super creamy which glides smoothly on lids with no push or pull and isn't crumbling soft either. Pencil tip consumes extremely fast and doesn't last more than 2 applications, so I guess I will finish it up pretty soon.
Pigmentation: Pencil imparts rich, intense color in single stroke. If you plan to smoke out the application you have to be super quick with smudging as the formula sets super fast and once set it refuses to budge. If you push it further it will start flaking, so best way would be to apply in smaller portions and smudge immediately, rather than going for a complete application in one go.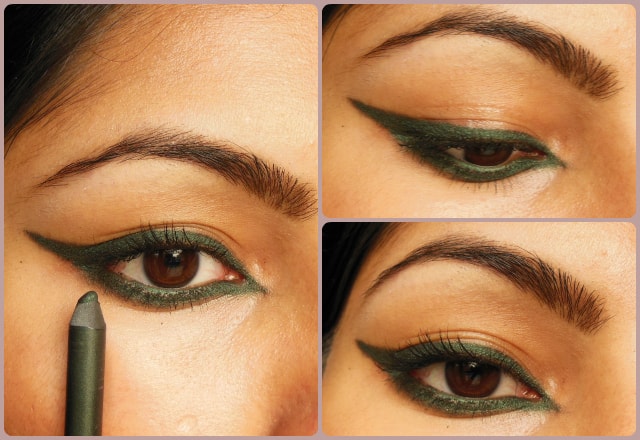 Staying Power: It wore pretty well on me and lasted throughout the day with barely any transfer or smudging on upper lids. On lower lash line and water line I could see slight transfer after 3-4 hours but it stays put very much in place.
Pros of Colorbar Just Smoky Kajal Just Green:-
Gorgeous Shimmery green shade
Silky smooth texture
Easy to apply
Insanely pigmented
Sets to a transfer proof finish in few seconds
Long lasting formula
Available in 5 variants
Cons of Colorbar Just Smoky Kajal Just Green:
Expensive
Sets super quick, leaving barely any scope for smudging
Pencil finishes faster
Recommendation: Colorbar Smokey Kajal in Just Green is a pretty metallic green shade with shimmer specks. Formula is extremely smooth, creamy which feels soft and comfortable on lids. It is richly pigmented and sets fast to a transfer proof finish which stays put whole day but it may not be the best option if you are looking for a smoky eye pencil as creating smoky eye look isn't the easiest thing to achieve with this formula. Other than that I have no qualms with this eye pencil, It is one of the best formulas for a transfer-proof and smudge-proof finish, so you can choose according to your requirements. Recommended!
Rating: 4/5
Have you tried Colorbar Smokey Kajal Just Green? Which is your favorite brand for colored kajals/eye pencils?
 PS: Product provided by Brand but opinion us my own.