Colorbar Indian Eye Kohl (Kajal)-Black Review, Swatches, EOTD
I have been using Faces Kajal for around a month or two and had no issues with it rather quite liked its smudge-resistant finish and long staying power but I was just bored of using the same Kajal daily and wanted a change. I have been buying lots of Colorbar nail paints (Autumn Rose, Mulberry including others ) off late but haven't explored its eye make up range much except it's Eyeshadow in Spicy Brown which I am totally enjoying. So, I bought Colorbar Indian Eye Kohl – Black to give it a shot.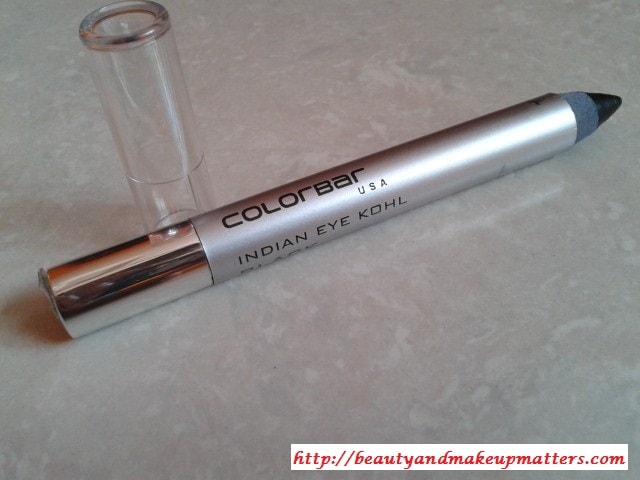 Product Claims: The Kajal is smooth to apply and gives the eyes a dramatic jet black colour. It is wax based and creamy, making it easy and soft to apply on the eyes, it also contains camphor, which cools the eyes while Vitamin E and castor oil keeps the skin smooth and conditioned. It is available in Black.
Ingredients:-
Price:- Rs.150 for 4gm
Shelf Life:- 2 years from the Mfg date.
Packaging:- The Kohl is packed in the grayish-silver cardboard box with a black band at the base to indicate the color of the Kohl inside. It is a thick jumbo pencil with a fat and long tip of kohl at the top. The kohl is covered with a see-through but sturdy glass cap. I like the shiny silver metallic band at the bottom of the pencil. The pencil is wrapped with the similar colored grey paper as the outer packaging.
My experience with Colorbar Indian Eye Kohl (Kajal) – Black:-
Colorbar Indian Eye Kohl (Kajal)- is another jumbo pencil kajal. The kajal appeared to be creamy as it glides easily on the hands and gives a rich and intense dark black color in a single swipe.
Swatches:-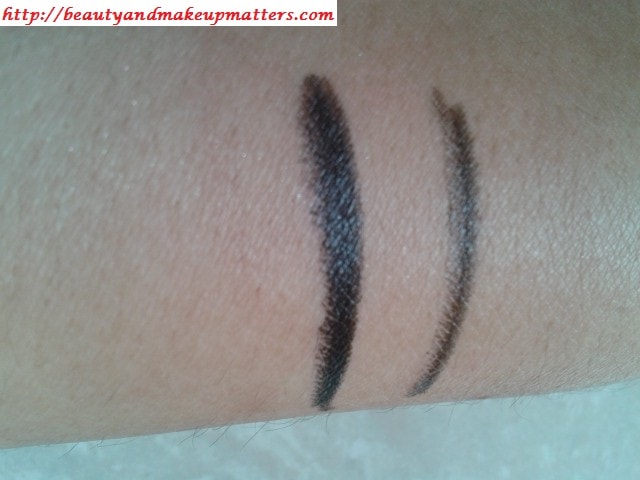 But on eyes it goes pretty sheer, I have to swipe it multiple times to get a decent black color on my eyes. I was quite disappointed to see that even after making so many efforts and multiple swipes it didn't gave me the desired dark black look. This made me believe that the formula of the Kohl is rather hard which refuses to give color on my eyes. I would have loved to get the same intensity of kohl on my eyes as it goes on my hands but the kohl doesn't work well on my eyes and gave a very light black color on the water line.
I feel that Colorbar totally forgot the idea behind Kohl's which are made to be applied on the delicate waterline areas and not on hands where we can apply only bare minimum pressure.
The kajal however doesn't smudge easily and won't go all over the eyes. It is a smudge-resistant formula which won't give you raccoon eyes and hence the kajal does stay for long but with the light color it looks like it has faded away.
Don't Miss to Checkout:
EOTD:-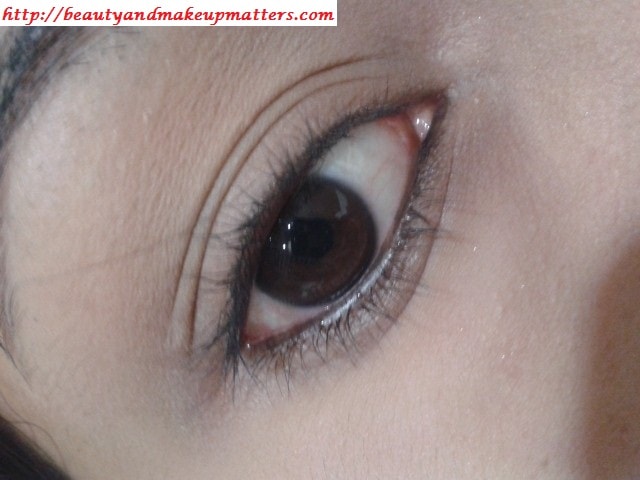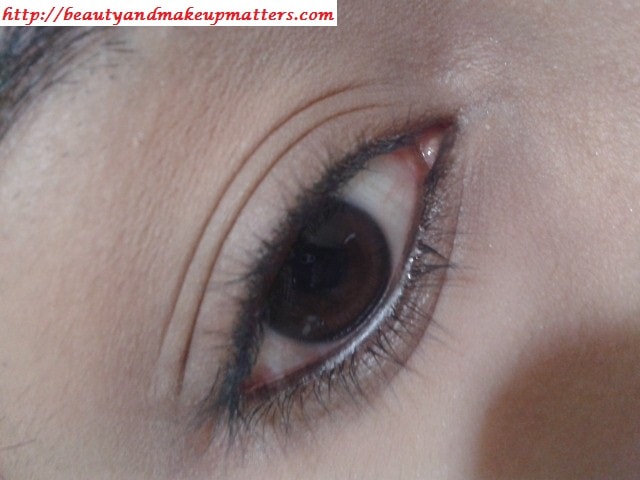 Pros of Colorbar Indian Eye Kohl (Kajal) – Black:-
Decently priced
Smudge-resistant as it moves only a little
Stays for long
Pretty grey and silver color packaging and sturdy glass cap
Claims to contain Vitamin –E and castor Oil
Cons of Colorbar Indian Eye Kohl (Kajal) – Black:-
Formula is a bit hard which refuses to give color on eyes
Color payoff is bad on eyes and need to swipe it again and again to get a decent enough intensity.
Not a herbal Kajal and contains lot of chemicals.
Sharpening is going to be a difficult task with this jumbo pencil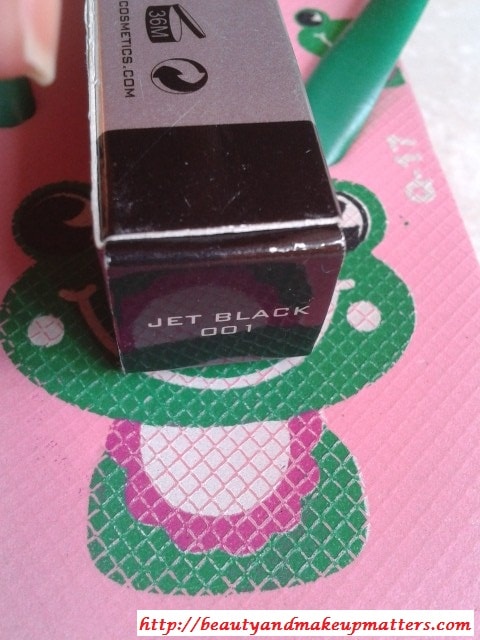 Recommendation:- Colorbar Kajal left me expecting much from it. The hard texture doesn't let the color show up on my waterline which glides smoothly over hands. I was disappointed for its poor color pay off on eyes. The few good points of the kohl are its smudge-resistant texture and attractive packaging. Though it stay for long but due to its light color it looks like it has faded away. I have swiped it endlessly over my eyes but getting dark-kohled eyes is like a distant dream with this kajal and hence won't recommend this to anyone.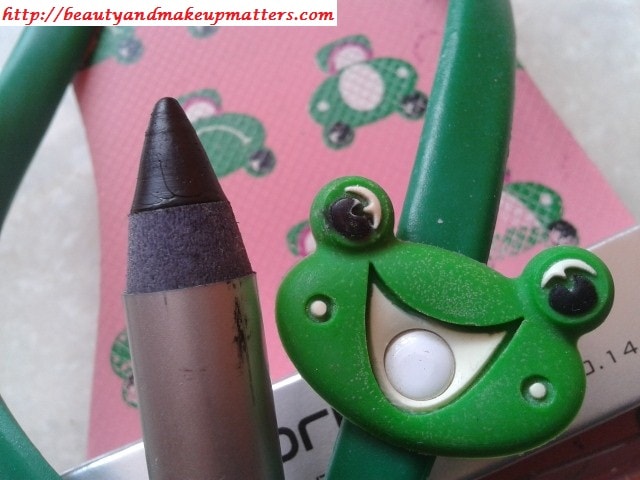 Rating:- 2.1/5
Have you tried Colorbar Indian Eye Kohl (Kajal)- Black ? Do you prefer sharpenable pencils or bullet type kajals?