ColorBar Eye Shadow – Spicy Brown Review, Swatches, EOTD
Product Claims: The Eye Shadow is a pigmented powder that gives the eyes a shine and pearl-like effect. Ultra fine in texture, it is easy to blend while its moisturizing agent keeps your eyelids soft and smooth. This product is long lasting and fade resistant.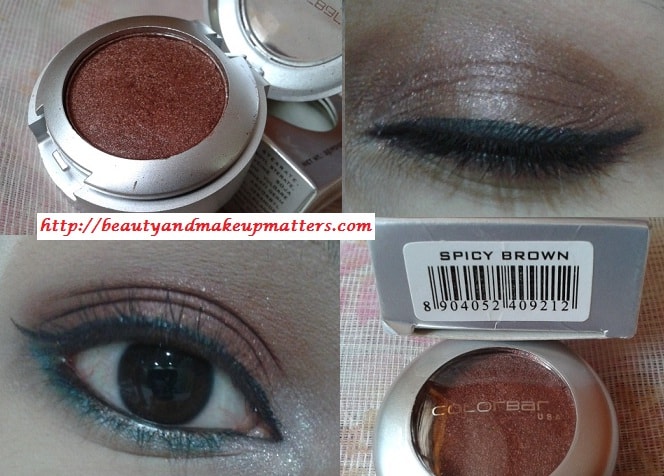 Other Gorgeous shades in the range:-
Really Rose
Her Majesty
Secrets
Black Tie
Purple Passion
Spearmint
Brownie
Potte's clay
Heat wave
Proudy purple
Expensive pink
Copper crush
Gorgeous gold
Spicy brown
Green stroke
Aqua marine
Ingredients:-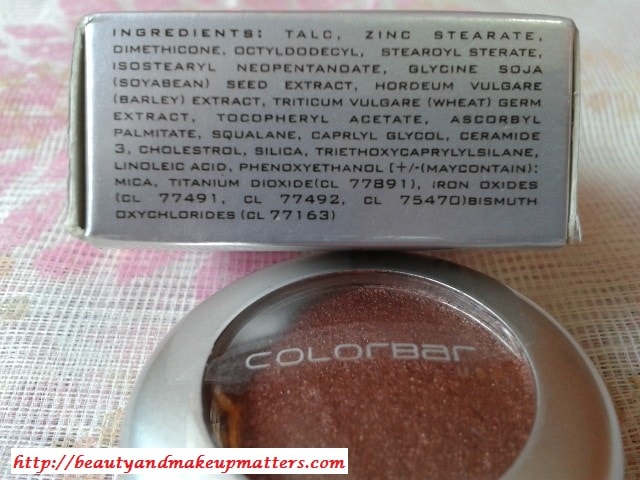 Price:- Rs.300 for 3gm
Shelf Life:-3 years from the Mfg date.
Packaging:- The eye shadow comes a silver color thin cardboard box packaging with a large hole cut in the center which showcases the color of the eye shadow. The eye shadow is contained in a round pan which is covered with a see-through lid which makes it easy to identify the shade.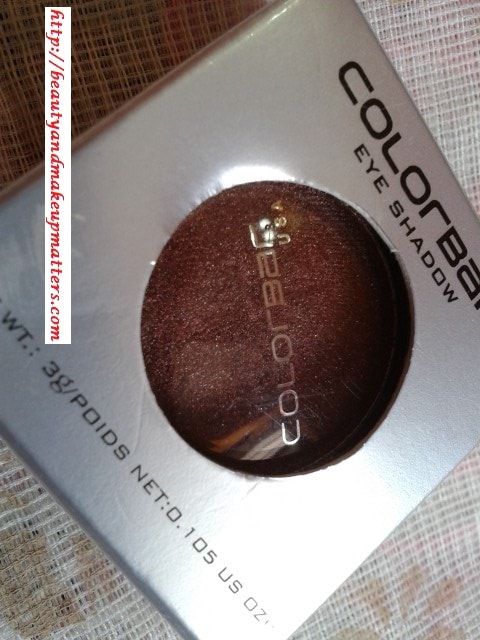 The pan has two compartments with the top holding the eye shadow pan and the one at the base has a small applicator brush and a mirror. The applicator brush is thin and I don't think I would ever be putting it to any use.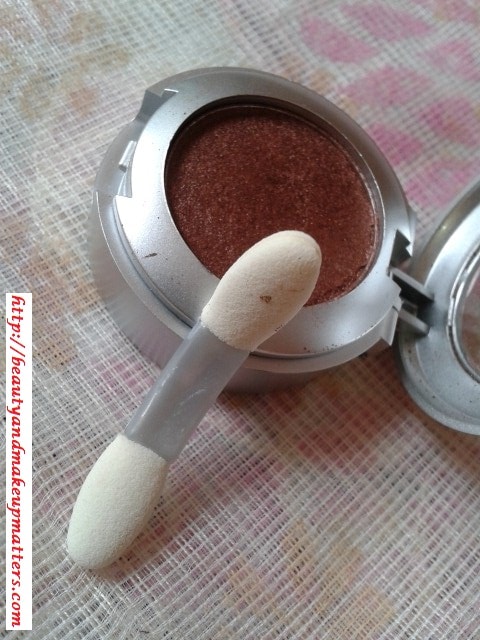 The packaging is similar as the Colorbar blushes(check review here) with a difference in the size of the pan as the eye shadow pans are much smaller in size.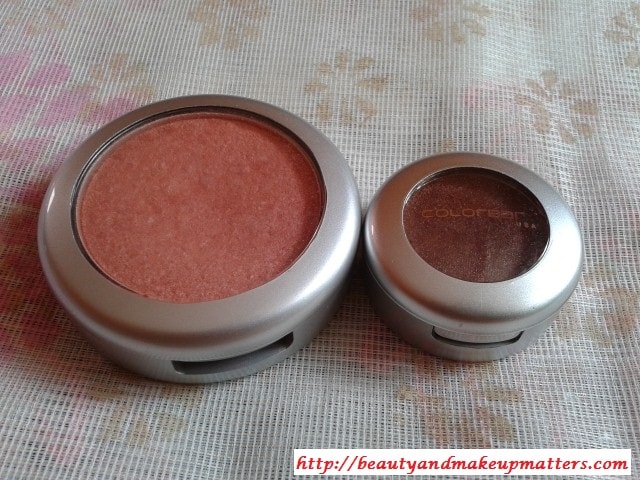 My experience with Colorbar Eye shadow –Spicy Brown:-
Shade:-It is a gorgeous shimmery brown shade with brown, copper and slight green colored shimmers. It is not a neutral or earthy brown but a vibrant dark pinkish-brown shade which will suit all skin tones. The shade looks some what similar to the pinkish-copper shade of Chambor Eye Shadow Trio-Dazzling Sphinx just that Spicy Brown is more brown and intense than that
It is pearly finish eye shadow with loads of shimmers which are smooth and don't feel scratchy on the skin. It can be paired with black for black brown smokey eyes and can also be used as a single color all over the lids.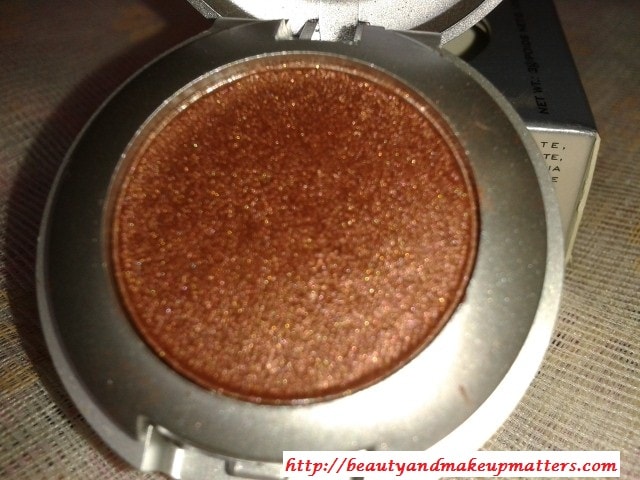 Texture:-The texture is extremely soft which blends easily on the lids. The eye shadow gets picked up easily on the brush in a single stroke over the pan. Texture is soft but not powdery which prevents the powder form running all over the case and falling over the face during application.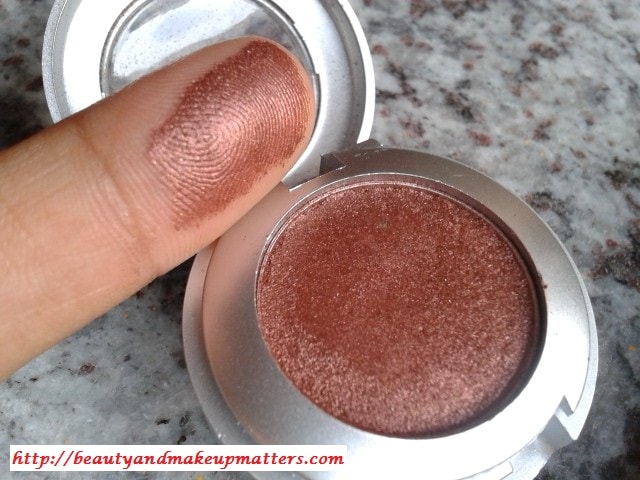 Color Payoff:-The color pay off of the eye shadow is just amazing. It shows up well on my eyes without a primer and the color can be intensified with a primer/base underneath but I don't feel the need of using a base with this eye shadow as it gives rich pink-brown color to my slightly pigmented on its own
Swatches:- In Natural Light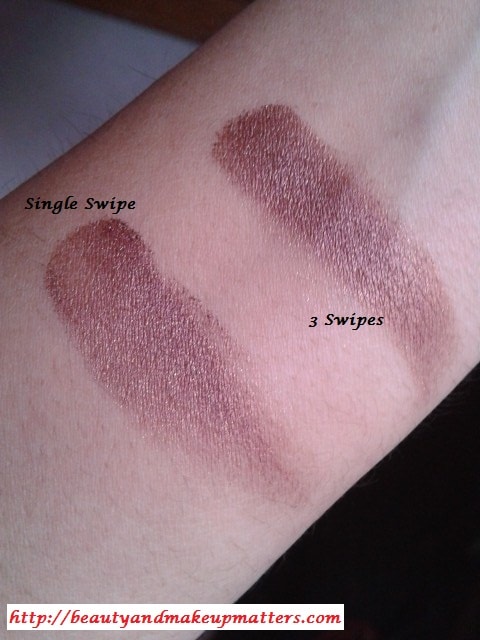 With Flash:-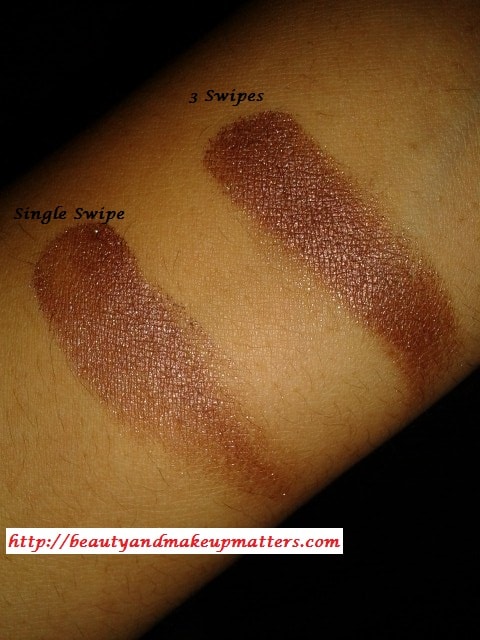 Wearablility:-The eye shadow stayed intact on my lids for more than 8 hours after which it faded lightly. I was impressed to see that even after hours of application it doesn't crease at all even without a base. It stayed day long on my eyes without any significant fallout.
Eyes Of The Day:- I used Lakme Fantasy Shimmer Eye Liner -Midnight Moon on upper lashline and Faces Long Wear Eye Pencil Aqua Blue on lower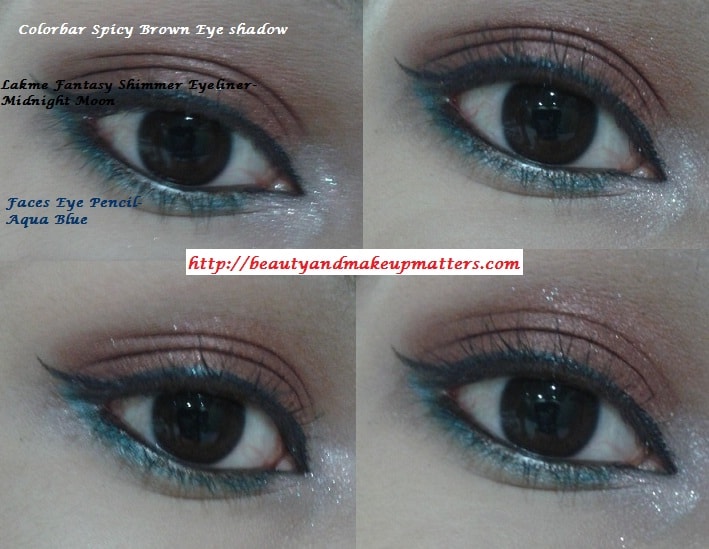 Look:-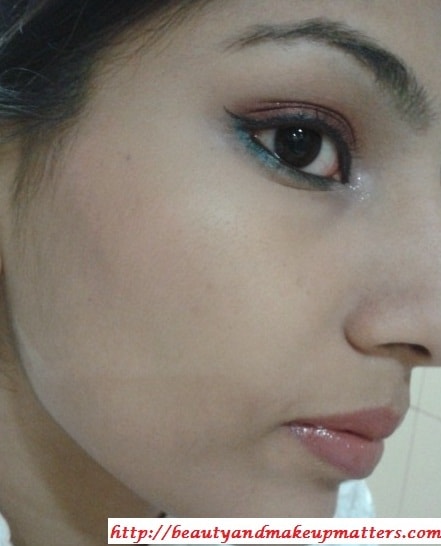 Pros of Colorbar Eye shadow –Spicy Brown:-
Excellent pigmented
Pretty brown shade with pearly finish
Fine shimmers which are not chunky
Soft and smooth texture
Blends easily
Negligible fallout
Stays through out the day without any creasing
See through packaging with a small mirror
Can be paired up with eye shadow or as a single color all over the lid
Very wearable shade
Cons of Colorbar Eye shadow –Spicy Brown:-
Packaging is fragile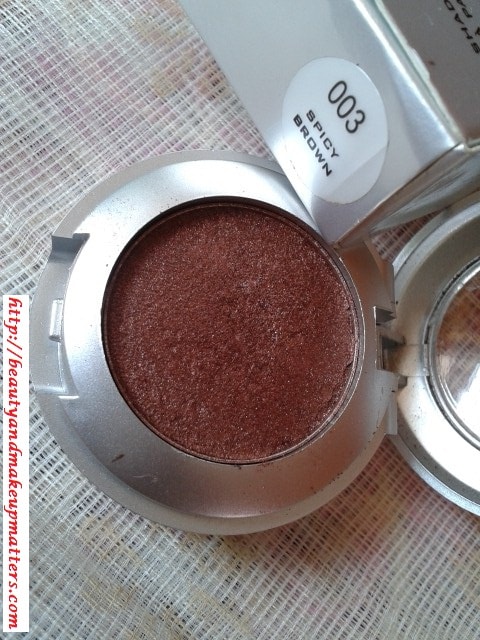 Recommendation:- ColorBar Eye shadow –Spicy Brown is a very pretty pinkish-brown shade with pearly finish and fine shimmer which makes it more vibrant that a plain brown shade. I absolutely love this shade. It blends easily and super pigmented formula gives a rich color without any primer. The staying power of the eye shadow is just wow. It easily lasts 7-8 hours on my eyes without any considerable fading or fallout. It is a touch-up free eye shadow as it lasts long without any creasing. I love to pair this up with my Faces Metal Brown Pencil and Maybelline gel liner when used all over the lid. It is a wearable shade that will go easily with any outfit and look.

A must have eye shadow and would recommend it to all.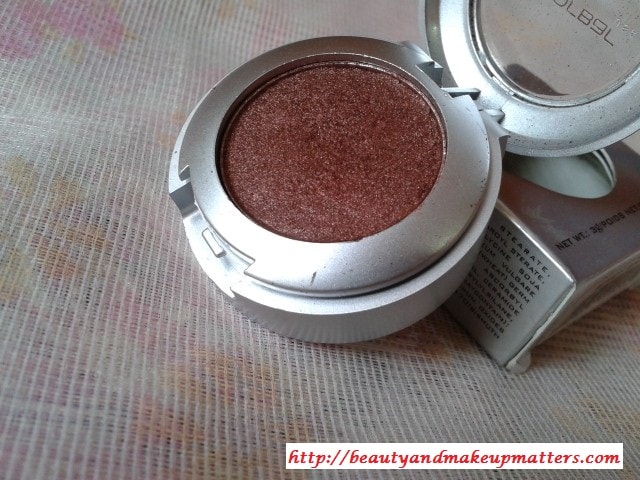 Rating:- 4.3/5
Have you tried ColorBar Eye shadow –Spicy Brown? Which is your favorite brown eye shadow?