Colorbar Blush – Just Earth Review, Swatches, FOTD

Today I am going to review my first ever blush. I have seen so many women overdoing with their blush and end up looking a colorful pallete, I feared for the same and hence stayed away from blushes. But off late I have been so much into make-up that it was hard to steer clear of blushers. So, shedding all the fears I tried to indulge myself in blushes , started with this neutral Colorbar Blush – Just Earth shade.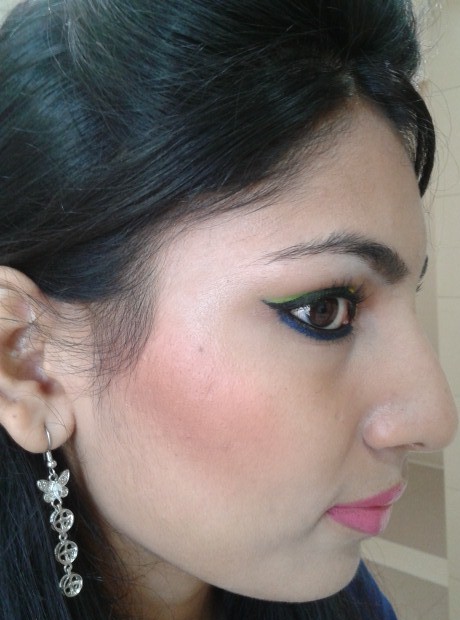 Product Claims: The Blusher accentuates the cheek area giving a glow to the face. This talc free, silky powder contains a moisture balance formula that is easy to blend and keeps the skin smooth, hydrated and nourished for soft cheeks with just the right hint of color.
Ingredients:-Talc, Aluminium starch, octenylsuccinate, Nylon 6, Isostearyl, Neopentandate Polybutene, Cyclohexasiloxane, Butyl Stearate, Ethyhexyl, Methoxycinnmate, Tocopheryl Acetate, Cyclopentasiloxane, , Phenoxyethanol, Methylparaben, Ethylparaben, Propylparaben,
Available in five shades:
Plum Brown
Cosmic Rose
Fuchsia
Peachy Rose
Just Earth
Price:- Rs.375 for 5 gm . They have hiked their price I got it for Rs. 300 few months back.
Shelf Life:- 3 years from the Mfg date.
Packaging:- The blush comes packaged nicely into a silver colored box with a big hole on the front which shows the color of the blush. The blush pan is safely packed in a round plastic casing. The casing is divided into 2 layers and has a small brush kept safely at the bottom. The brush however is absolutely useless. The pan carrying the blush is covered with a transparent glass cap which makes it easy to identify the shade. The base of pan carries a small mirror which is helpful for touch-ups.
My experience with Colorbar Blush – Just Earth:-
Just Earth is light peachy brown shade free from shimmers. The blush isnt powdery and goes on smoothly with a brush. Decent amount gets picked up by the brush in a single swipe. The formula is soft and smooth which gets applied easily on the cheeks. The color is buildable and can be intensified for the desired look.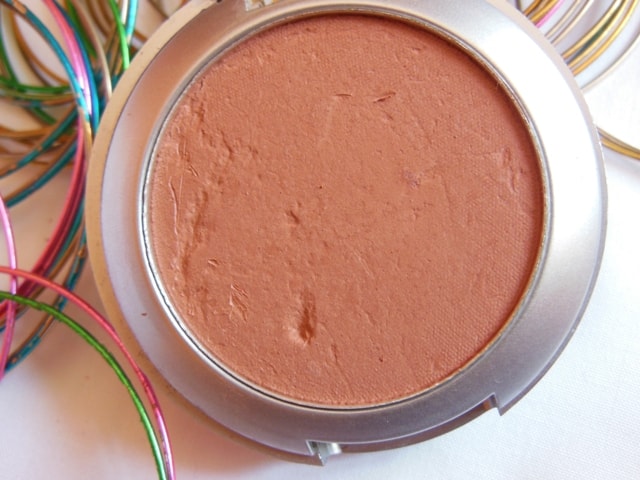 The blush can be used for contouring on lighter skin tones and also it can be used as a natural cheek color on dusky skin tones for that soft sun-kissed look.
Being a matte shade it can be used to neutralize glittery/shimmers eye makeup. The blush is decently pigmented and gives a nice neutral brown color on cheeks.  However, the staying power of the blush is less. The blush stays for a maximum of 4 hours and fades away evenly after that. I was impressed by the texture and pigmentation of the blush but staying power of the blush left me disappointed.
Don't Miss to Checkout:
Look-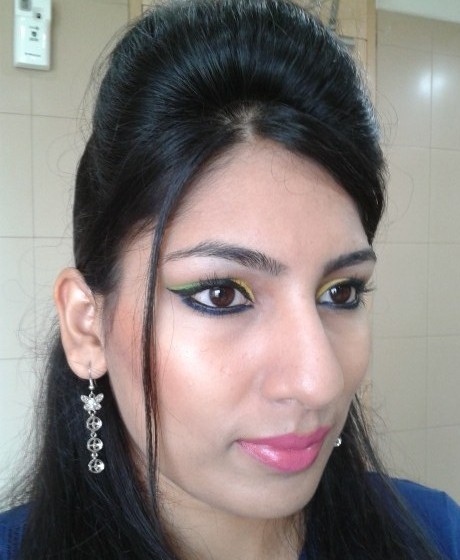 Pros of  Colorbar Blush – Just Earth:-
Soft powdery texture which blends smoothly.
Well pigmented
Gives a very warm natural looking colour to cheeks.
Buildable shade which doesn't look cakey or uneven.
Can be used as a bronzer
Matte blush which can be easily worn during daytime
Small mirror beneath the pan can be helpful in touch-ups while travelling.
Reasonably prices
Available in 5 beautiful shades.
Cons of Colorbar Blush – Just Earth:-
Stays for a maximum of 4 hours on me (dry skin). On oily skin it might fade-off even earlier than that.
Though the packaging appears to be good but it is not sturdy and breaks easily if dropped. Sadly, I dropped my pan and it broke immediately leaving me with 3 pieces.
Recommendation:- Just Earth is a versatile shade which can used as a regular blush for a natural flush of color and also for contouring or as a bronzer for soft sun-kissed look. The texture is soft and gets applied evenly without looking powdery or chalky. The Colorbar Just Earth Blush is well-pigmented and decent amount is picked up in a single swipe. The blush is also free from shimmers or frosts which makes it a perfect choice as an office–wearable shade.

I was slightly disheartened by it low staying power and flimsy packaging which is prone to breakage. Overall, it is a good blush especially for beginners. Recommended!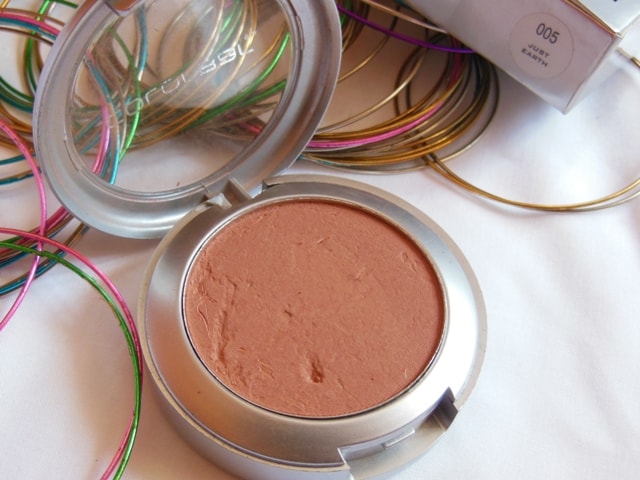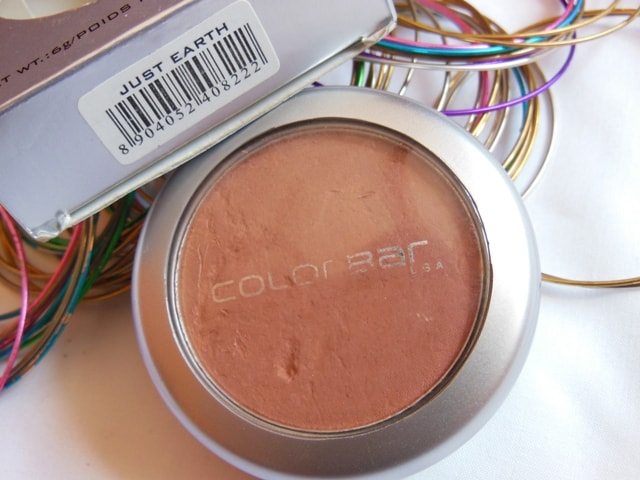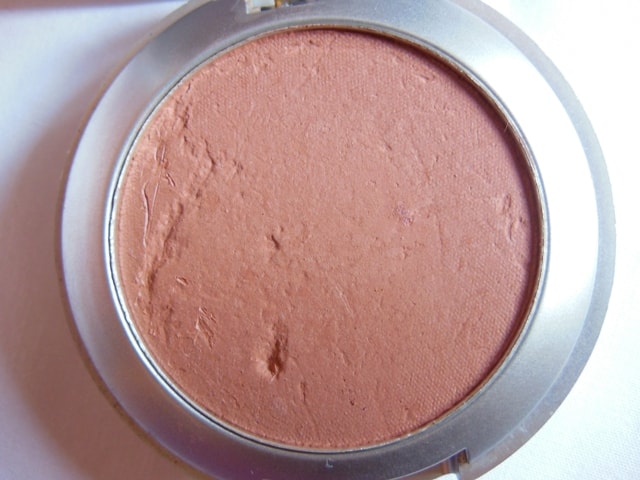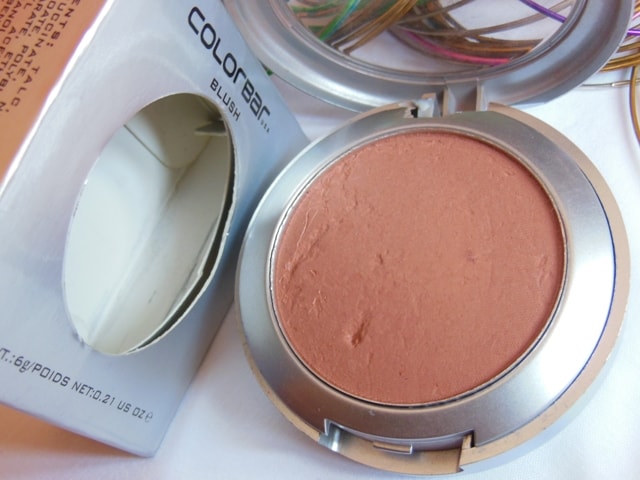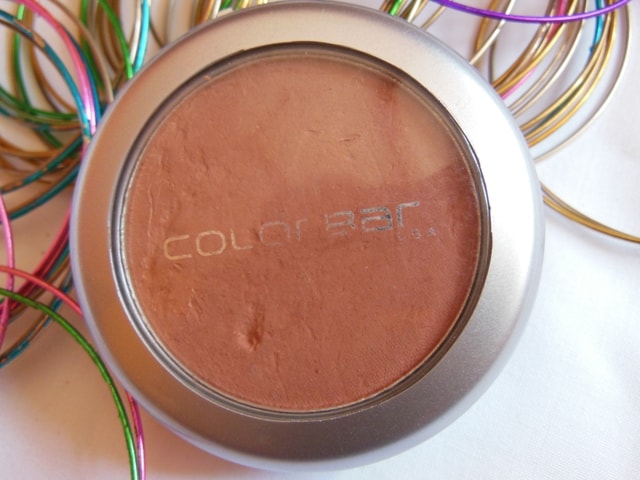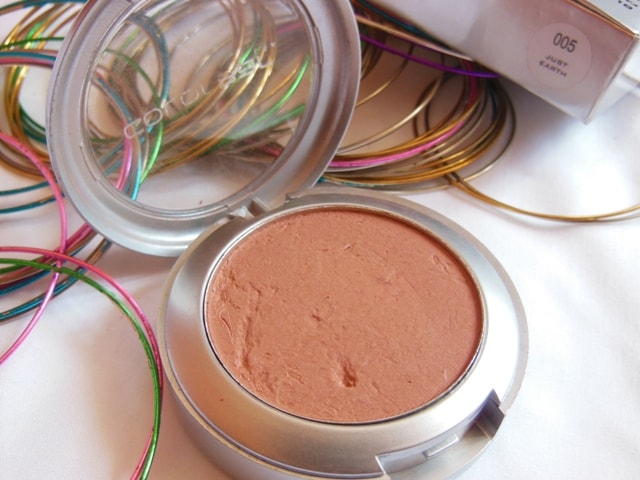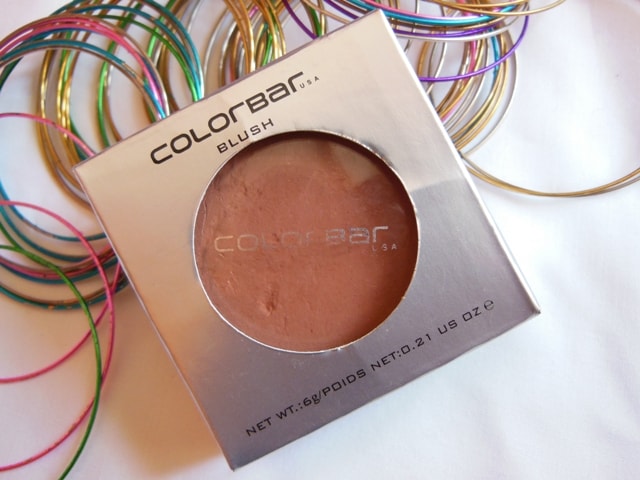 Rating:- 3.5/5
Have you tried Colorbar Blush – Just Earth? Which is your favorite peachy blush?