Color at Home with Prem Heena Enega Brilliance Crème Hair Color
Hello Dolls,
Today, I am sharing my own experience with hair color at home. I don't have much of grey hair but as the clock is ticking towards 30's and I can a good amount of grey hair roaming around so I decided make them less visible by coloring them. This is the first time I used a hair color (other than that I got my ombre hair at Geetanjali Salon last year) on my own at home. So, lets see how this worked for me, Prem Heena Enega Brilliance Crème Hair Color.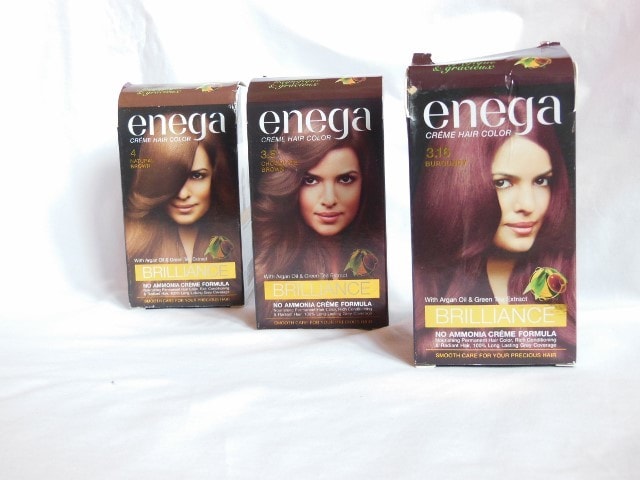 About the brand, Prem Henna- "Prem Henna is a leading manufacturer and supplier of premium quality hair color products & skin care products. Our wide range of hair color products like powder and crème hair colors in various shades provide consumers with a wide range of options to cover their greys. Our henna and henna-based hair color products are absolutely free from ammonia (no ammonia)."
This brand has a variety of products for hair care and skin care. Their Kaveri and Prem Dulhan henna cones are for your hands and feet, they have creme-based hair colour named Nisha and Enega Brilliance, henna-based hair colour named Kaveri, So Silk shampoo and Elois hair removal cream.
Product Claims: Enega Brilliance is a nourishing permanent hair color. This is not just an ordinary crème hair color, but a superior quality, innovative hair color product in as many as 10 fashion color shades.
Enega Brilliance is available as do-it-yourself kit with a hair color crème tube, developer bottle, brush, gloves & instruction leaflet for hassle-free user experience. The added advantage is that this product is provided with Enega color protecting conditioner, which confirms prolonged stay of color on your hair. Enega conditioner adds shine to hair, while making them glossy & silky.
Price: Rs.55 for 20gms+30ml
Shelf Life: 3 years from the Mfg date.
My experience with Enega Brilliance Crème Hair Color:-
Enega Brilliance Crème Hair Color comes in a small cardboard box packaging similar to other brands' hair colors but just slightly smaller in size. The coloring crème is packaged in a metallic squeeze tube and the developer comes in a tiny plastic bottle. I loved that it comes with disposable gloves and a hair brush to apply the color.. a perfect hair coloring kit.
Enega Brilliance is said to be available in 10shades but I could only find 5 on the website. I chose "Burgundy" to start with as I love purple tones in hair. It is claimed to be a nourishing permanent hair color with benefits of argan oil and green tea extract. Also, the formula is free from Ammonia so you won't feel choked while applying this hair color.
Application: The contents come with pre measured quantities of both Color and Developer and I just need to pour them in a bowl to mix. One packet will be enough for touchups over the scalp and I would require at least 2 packets for my middle length hair.
Results: I don't have much gray hair so I could barely see any burgundy color on my hair but just a purply sheen which is slightly visible under sunlight but otherwise it is undetectable. I am not able to locate those gray hairs on my scalp post hair color so I am assuming that the color did a good job in camouflaging them. I do get a purple color darin every time I wash my hair but I feel my hair remain soft and smooth and there is no dryness or hair fall issue. It has been 2 weeks that I colored my hair and the color is still there. Will update you guys how long it last on me.
Recommendation: Enega Brilliance Crème Hair Color is a great affordable option for hair color at home to cover those gray hairs without loading too many chemicals. I like that the formula is Ammonia Free and contains argan oil and green tea extract which will nourish hair simultaneously. Also, the packaging is a total hit for me because it comes with everything I need to prepare and apply the hair color (except the mixing bowl). The color doesn't show up much on dark black hair but I can see the sheen in sunlight. Overall, a good pick for someone looking for budget hair color with less chemicals.
Rating: 4.5/5
Have you tried Enega Brilliance Crème Hair Color? Which is your favorite affordable hair color option?