#CloserToYourself Giveaway: 3 winners
Hey Guys,
Do you remember the days when we used to love our hair and the way our mom pampered us with her beauty essentials. Every time we go and checkout in the mirror, how am I looking even without doing any makeup and blush at our prettiness. Love how beautiful and flawless our skin was without even a tiniest bit of foundation.
But now all of that pampering and flawless skin days are gone. We are busy with our jobs and daily chores with absolutely no time to look at our self in the mirror and at least compliment our own self. We just curse how pathetic and tired we are looking, dry lips, dark under eye area, wrinkles, hair fall concerns and much more, everything engulfs our mind and we helpless.
We forget that there is someone who is spending hours and hours, researching about the best skincare products that will help rejuvenate our skin and bring back the glory of old school days. The products are manufactured in factories but the composition is made by someone who is constantly putting efforts to develop a wonderful product that can help us and bring a smile on our face
One brand who is following this is "Ethicare remedies", which is trying to "Bring you Closer to Yourself".
To help you with the same, Here is a giveaway so that you can experience Ethicare remedies amazing products.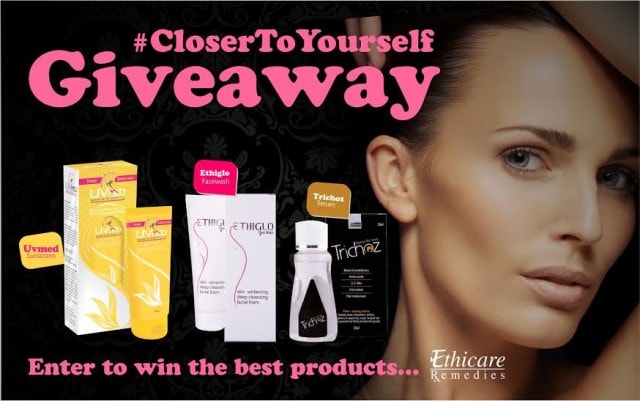 So here are some simple rules to participate 🙂
Giveaway Rules:
The contest runs for 2 weeks and we have 3 winners.
Each winner will receive the products shown in picture above
Contest starts today and ends on 2nd April.
Open to Indian residents only
Rules for participation:
Like BeautyandMakeupMatters and EthicareRemedies on facebook
Follow @Poonam_BMM  and @EthicareRemedie on Twitter.
Subscribe to my channel here
Share this Video on your social media channel tagging 5 of your friends and @Poonam_BMM using #CloserToYourselfGiveaway hashtag. Keep sharing to increase your chances of winning!

Follow @Poonam_BMM  & win  Ethicare Hamper here

http://

wp.me/p4sZLE-5AB

 

#CloserToYourselfGiveaway

http://

bit.ly/1MtgUwV

 
Leave a comment below with the following details:
Comment "Done" after following all the steps above.
Contact Email-
PS:Thanks to Ethicare Remedies for sponsoring this giveaway!
!!! Good luck Girlzz!!!:)
UPDATE: Thank you all for participating in this giveaway.. here are the winners . Email me your address details

Meena mehta
Avni Jain
Dr. Swati Bhargava Shilpa Majumdar