Clinique Dramatically Different Moisturizing Lotion Review
Hello Everyone,
I have been quite irregular with skin care stuff so couldn't actually make judgement on the product about which one is working and which one is not. But since last month I am back on track and started taking care of my skin better. So, Today I have this much pending Clinique Dramatically Different Moisturizing Lotion review.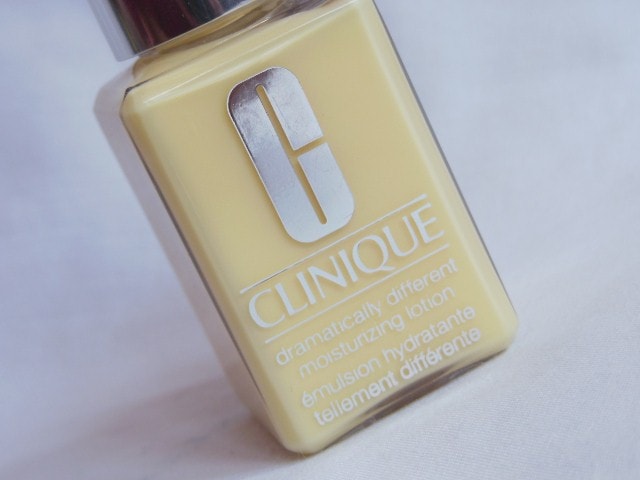 Product Claims: A luxurious moisturizer that promotes smooth, healthy-looking skin.
Ingredients:- Water, Mineral Oil, Glycerin, Petrolatum, Steric Acid, Glyceryl Sterate, Sesamum Indicum (Sesame) Oil, Urea, Lanolin Alchohol, Triethanolamne, Hordeum Vulgare (Barley) Extract/Extriat D'Orage, Cucumis Savitus (Cucumber) Fruit Extract, Helanthus Annuus (Sunflower) Seedcake, Propylene Glycol, Dicaprate, Sodium Hyaluronate, Butylene Glycol, Pentylene Glycol, Trisodium EDTA, Phenoxyethanol, Yellow 6 (CI 15985), Yellow 5 (C1 19140), Red 33 (C1 17200)
Price:- Rs. 2999 for 125 ml
Packaging:- The moisturizer comes in a clear square shaped plastic bottle. I got the sample version so it dididn'tave any pump dispenser rather a screw cap but the actual bottle comes with a nice pump to control the amount of product. The packaging is travel friendly and convenient to use.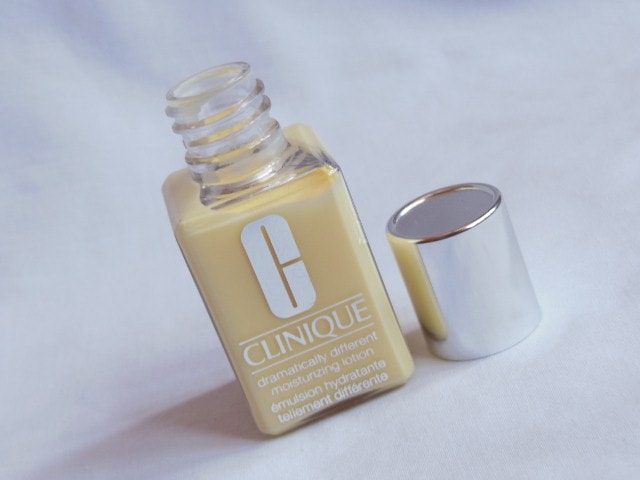 My experience with Clinique Dramatically Different Moisturising Lotion:-
The lotion is named as "Dramatically Different" which I find quite intriguing and was wondering how could it be different from the rest .. should I expect dramatical changes in my skin after 1st use.. lets see how it actually worked on me.
Clinique Dramatically Different Moisturizing Lotion is a yellow colored creamy liquid with a medium –thick consistency that spreads easily.  I need just a little amount of the lotion to quench the thirst of my super dry skin. It takes a little time to sink completely into the skin and it does that automatically once spread evenly all over the face saving me from that extra-effort of massaging it till it's gone.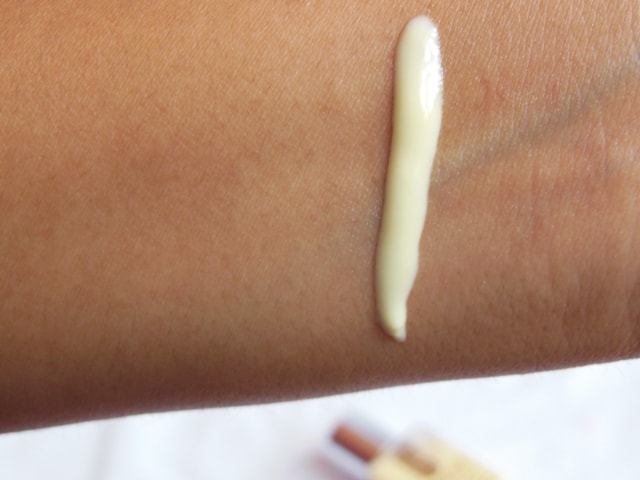 It makes a great moisturizer for dry skin but nothing more than that. I didn't experience any dramatic difference in my skin texture other than that it feels super smooth and hydrated post application.. no long term benefits.
Pros of Clinique Dramatically Different Moisturizing Lotion:-
Spreads nicely
Small amount is enough
Lightweight formula
Absorbs completely
Doesn't feel heavy or greasy
Skin feels soft and hydrated
Hygienic and convenient to use pakcaging
Great for Dry skin
No irritation or breakouts
Cons of Clinique Dramatically Different Moisturizing Lotion:-
Might not work for oily combi skin but in winters it might just provide enough hydration
Expensive for just a moisturizer
Contains Mineral Oil .. ( 🙁 )
Recommendation:- Clinique Dramatically Different Moisturizing Lotion is my first skincare product from Clinique and I have really set my expectation high for this but it just turned out to be usual moisturizer. It works nicely on my skin providing it enough moisturization and keeps it soft and plump. It absorbs pretty soon without any oily or greasy feel but no additional benefits. I will not be re-purchasing it and would better invest in something that does deliver more than just moisturization.
Rating:- 3.5/5
Have you tried Clinique Dramatically Different Moisturizing Lotion? Which is your favorite face moisturizers this winters?