Claims Vs Reality: Ethicare Remedies Epishine Vitamin C Serum
Hello Everyone,
I have read amazing reviews about Vitamin C serums from various brands, everyone seems to love them so I was super duper excited to try this Vitamin C serum from Ethicare remedies. But did I fall in love with this, Ethicare Remedies Epishine Vitamin C Serum.. lets checkout!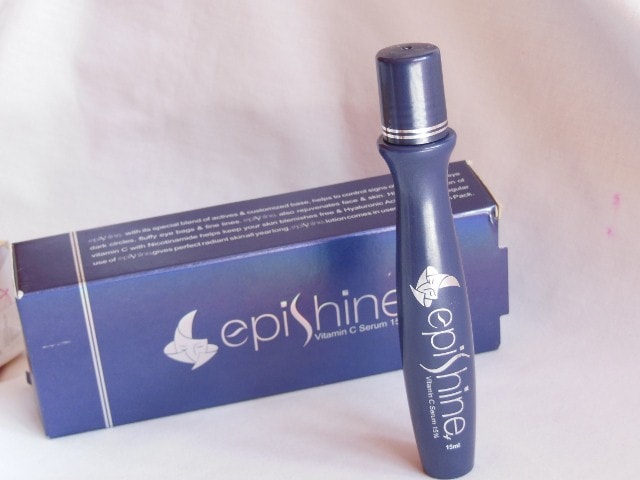 Product Claims: Epishine, With its special blend of actives & customized base., helps to control signs of ageing, under eye dark circles., fluffy eye bags & fine lines. Epishine, also rejuvenates face & skin. High concentration of Vitamin C with Nicotinamide helps keep your skin blemishes free & Hyaluronic Acid adds to it. Regular use of epishine, gives perfect radiant skin all year long. Epishine, lotion comes in user friendly Roll-on Pack.
Ingredients:-
Vitamin C -15.00% (Ascorbic Acid, Ascorbyl Glocoside)
Nicotinamide- 6.00%
Sodium Hyaluronic-1.00%
Price:- Rs.1080 for 15 ml
Shelf Life:- 18 months from the Mfg date.
Packaging:- Epishine Vitamin C Serum comes in a sleek blue colored tube with a screw cap and metallic roller ball for application. The packaging is similar to the Garnier serum. I quite liked the roller ball packaging as it gives a cooling sensation on application but you know there are hygienic issues with the packaging
My Experience with Epishine Vitamin C Serum:-
Epishine Vitamin C Serum is a clear gel liquid that spreads easily but with the roller ball it takes me a little bit more effort and time to cover full face. It felt slightly sticky like a gel coating on the face but still quite comfortable.
First time when I tried this serum I felt slight itching sensation but I ignored it, thinking may be it is the way serum works. I felt itching on my face next day as well but could not pin point which product caused it or is it just the sweaty summers so I stopped using everything.
I gave it another shot after almost 2 weeks when my skin was behaving good. I rolled this serum over my face and even before I could finish I felt strong itching sensation. I kept my calm and bore the pain just to see the results on me but after 2 hours I saw my face in the mirror and was horrified to see the redness all over my face. I immediately washed it off but my facial skin was itching badly.
The serum triggered an allergic reaction to me.. 🙁 . I do not have sensitive skin and I haven't had any allergy with any of the skin care products in the past.
Vitamin C serum is supposed to be a magic product from Fine lines, wrinkles and age spots by stimulating Collagen production. Vitamin C is proven to repair skin damaged by free radicals, protects skin from harmful sun rays. It is a complete anti – aging solution that helps with a younger looking skin but I am heartbroken that this formulation is not for me. I am not sure if it is just this serum or I am allergic to Vitamin C serums in general as I haven't used any other yet.
Don't Miss to Checkout:
If you have tried any of the Vitamin C serums/tablets or any other formulation, do share your experience. I would love to know what works for you and will give Vitamin C another shot based on your recommendations.(Fingers crossed!!)
Rating:- 0/5
Have you tried Epishine Vitamin C Serum? Which is your favorite Vitamin C serum?
PS: Product sent by brand for consideration