Christmas Party Perfect Warm Smokey Eyes – Makeup Forever Makeover
Hello Dolls,
I am super excited for this..not only because I got a chance to get my face done by a professional makeup artist but because I waited for months to finally get this done!! Being a new mom I couldn't step out of the house forget going all the way to mall and getting the makeover done.. phewww 😛
But finally I made it this month and met Ajoy Sen Gupta, National Makeup Artists and Training head for Givenchy and Makeup Forever at the Sephora Counter, Promenade Mall – Vasant Kunj. I asked him to give me some warm smokey eye kinda look which isn't too much for day time but perfect for evening celebration especially for the upcoming Christmas time. It is least to say that I loved the makeover he gave me and some of the makeup tricks he shared with me which I will list down, so you can also benefit from them!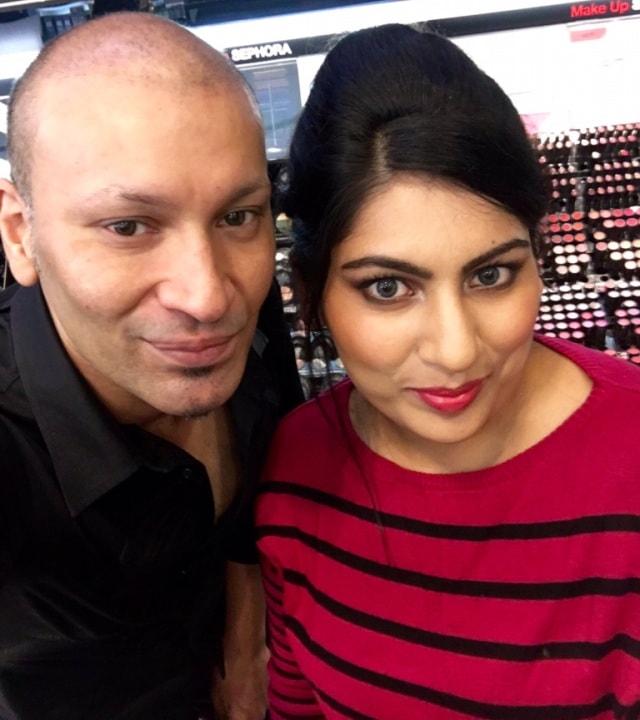 I was looking for a warm brown eye makeup that is not over the top but still looks glamorous and good enough for Christmas parties. He started with my face as we were not going to use much dark colors on the eyes. He cleansed my face with Makeup Forever Makeup Remover and then used a light moisturizer to hydrate my skin.
He mixed 2 primers Yellow+ Green to cut any redness on face and brighten it up. He matched me perfectly with a Makeup Forever HD foundation and then buffed a next to skin color on my skin.
As I have a dry skin he used Makeup Forever Loose powder to set the base just around me T-Zone. Then he bronzed and lightly contoured my face with a powder bronzer. He used the same to lightly contour my nose.
Time to do the eyes, as he has already applied primer and foundation on lids, they were ready to work with. So, starting with a dark brown eye pencil he lined my lids and then blended it softly to act as base for next colors. With a chocolate matte brown shade he defined my crease and blended it till we get the desired shape and depth. He has left my inner and centre of the lids clean where we decided to put some pop of color and chose to mix a pink and an orange eye shadow to get that warm coral shade.
He gently smudged the same brown liner on my lower lash line and then blended it with the chocolate brown shade for a soft diffused look. To give an open eye effect he added a beige-golden liner on my waterline and finished off with 2-3 coats of mascara to curl my lashes. We were feeling to do something more so added a Star powder in the inner corners to brighten up the eye look.
Coming back to the face, he used a peachy-orange blush on my cheeks then gave me a soft ombre lip using a medium berry pink and an orange lipstick in the centre of the lips. Finished up with a face mist aka finishing spray..wwuuppp!! We are done and ready to rock 😀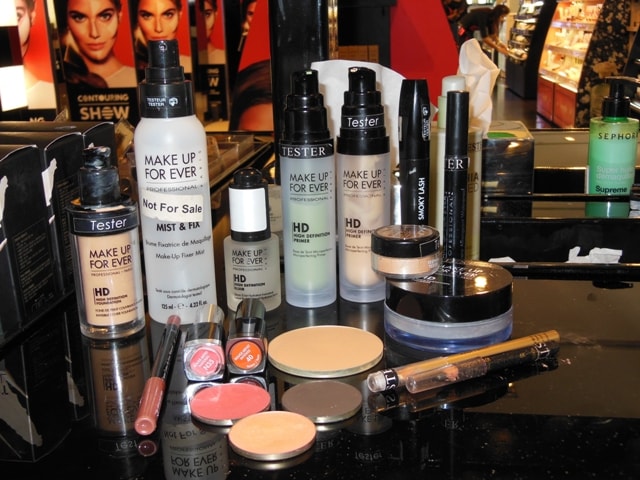 Products Used On Me:
Face
Hd foundation #125
Hd primer #1 & #6
Hd elixir
Hd loose powder
Bronzer
Blush 22 peach
Mist and fix
Eye
Khol 6k
Khol 7k
Shadow peach 025
Shadow d brown 166
Shadow 806
Star powder 946
Mascara
Smokey lash mascara
Lower lash lengthening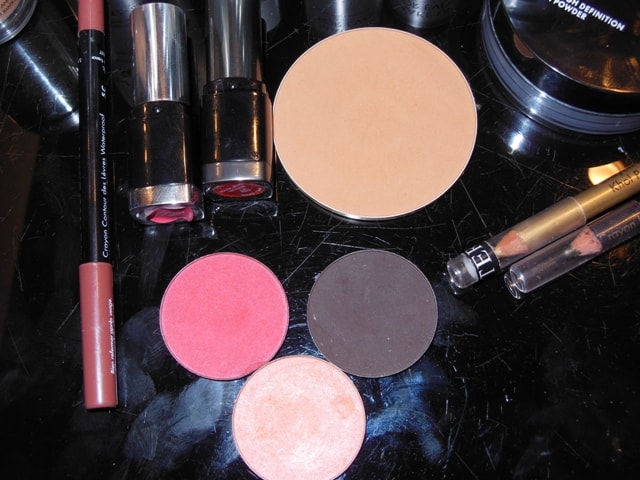 Lip
Aqua lip 5c
RAI 40
RAN N35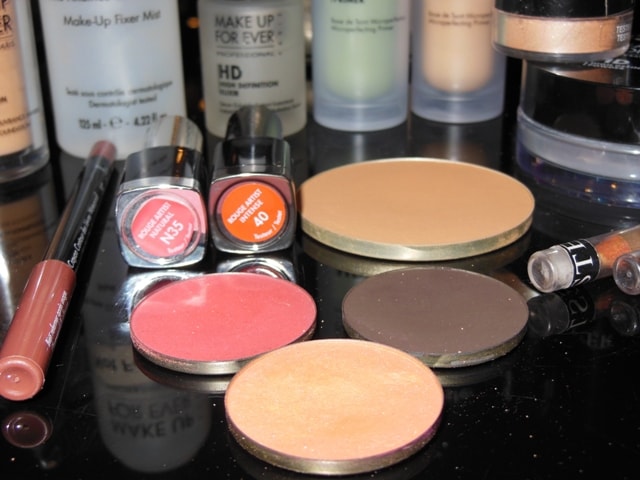 As promised some of the Makeup Tricks that Ajoy shared with me during my makeover session.
Makeup Tricks from Ajoy:
Always start with a cleansed and nicely moisturized face as it will help makeup glide on smoothly on skin.
Application of foundation should go from centre to sides of face because that's the place where light hits first.
It's better to do your eyes first if you are planning to use dark colors on lids as it will prevent unnecessary cleaning and caking later on.
For day time makeup its best to use powder products to contour or bronze face as it is easy to control application and correct mistakes
If you accidently get the mascara on your lids don't try to correct it instantly, rather wait for a moment and let the mascara dry and then just rub it off with fingers or with a Q-tip
Use a clean Mascara wand and roll it above the lashes to give some more curl to lashes
Makeup Fixing spray will not only take away powderiness and avoid any cakiness but will also add some glow to your skin and make makeup last whole day.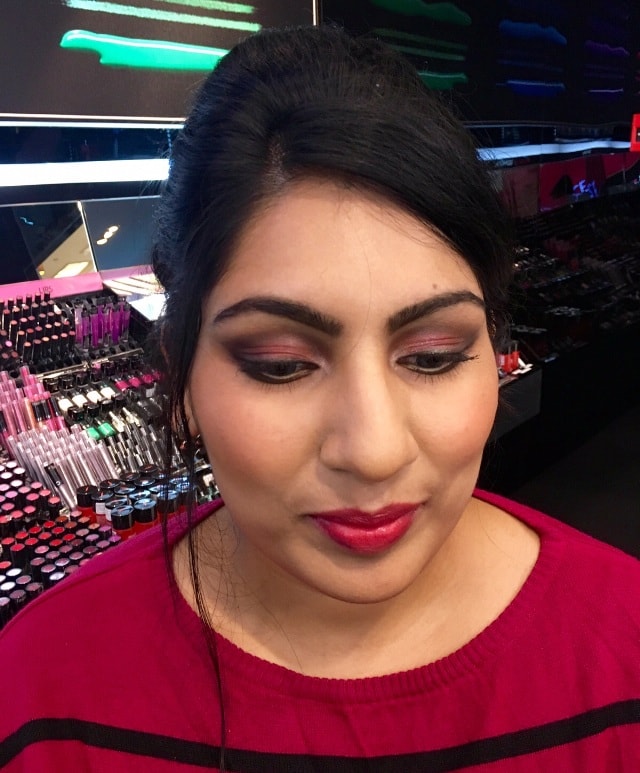 Have you tried Makeup Forever Makeup? Which one is your favorite product?