CHANEL Le Vernis Nail color Alchimie #591 Review
Today I am going to talk about the dusky Queen with olive skin tones which is currently ruling my nail paint stash.. my CHANEL Le Vernis Nail color in Alchimie. I received it as a gift from my darling Preetha.. :-* :).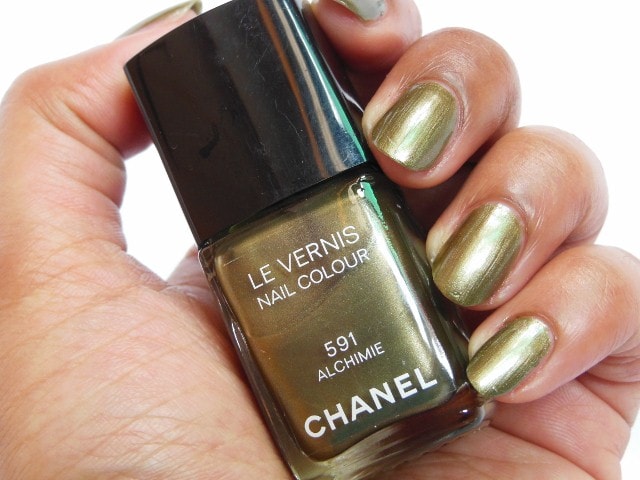 Product Claims: Classic and trend-defining shades in an exclusive formula that strengthens and moisturizes nails as it delivers high-shine colour. Applies evenly without streaking.
All Chanel nail products are formaldehyde-free, toluene-free and DBP-free.
Direction for Use:- Using built-in brush applicator, lightly apply colour to nails. Let dry and reapply colour until desired intensity is achieved.
Ingredients:-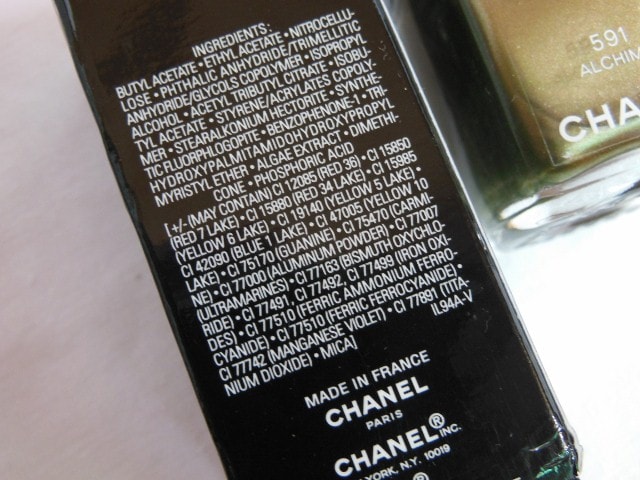 Price:- Rs.1500 for 12 ml
Shelf Life:- 3 years from the Mfg date.
Packaging:- CHANEL nail paints comes in an appealing rectangular shaped bottle with a black colored cap. The cap is here to give it a symmetrical look and can be removed to reach to the round hand beneath it. The round brush handle has stripes pattern which gives a nice grip and better control over the nail paint application. The brush is thin but it doesn't come in the way of application.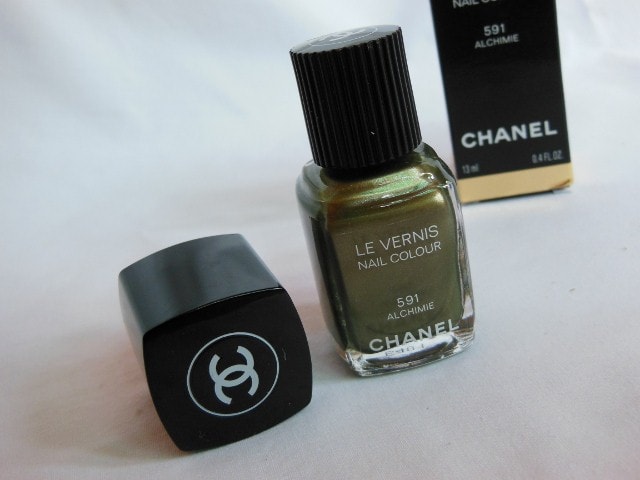 My experience with CHANEL Le Vernis Nail color Alchimie #591:-
Alchimie is a beautiful medium-dark olive green nail paint with finely milled shimmers which gives it a gorgeous metallic finish. The shimmers are predominantly gold which is responsible for its warmer tones but finish is more metallic than shimmery.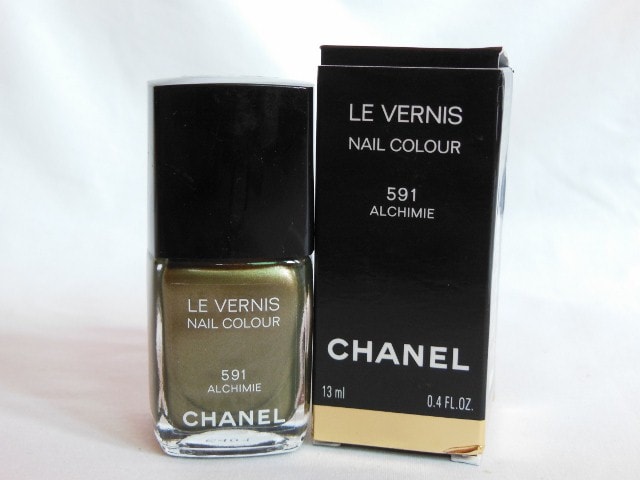 The formula is neither thick nor thin which gets picked up nicely by the brush and gives a even application. It goes a little sheer in a single coat and I would required a thicker  2nd coat I get that opaque finish.
The formula dries quickly to give a smooth-creamy finish but the brush strokes don't completely disappear. I could detect brush lines even after final application. The issue is quite common with metallic shades but being CHANEL I was expecting it to give a stroke-free application. So, you got to be a little careful while painting nails and finish up with minimum strokes possible to reduce the streakiness.
It lasted almost whole week on my nails with minimum chip. I found the staying power is similar to Maybelline nails paints, depending on how you mange your nails it may last a little longer.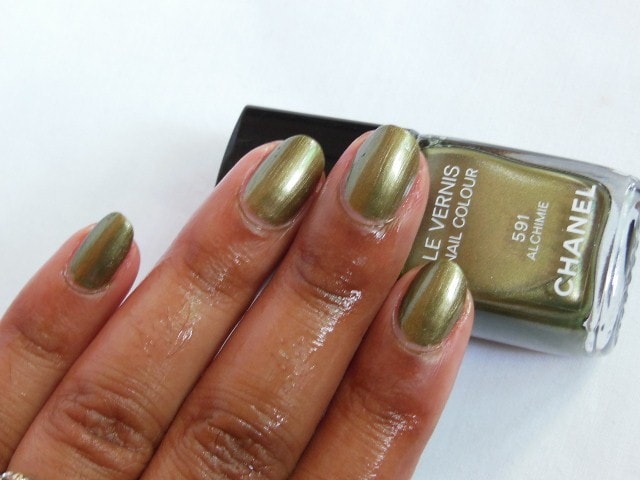 Pros of CHANEL Le Vernis Nail color Alchimie #591:-
Classy packging
Gorgeous Golden Khakhi shade
Beautiful metallic finish
Richly Pigmented
Dries quickly
Lasts for almost a week
Easy application
Removable cap
Round handle is easier to work with
Cons of CHANEL Le Vernis Nail color Alchimie #591:-
Slightly streaky finish
Price but CHANEL is luxury.. 😉
Recommendation:- CHANEL Le Vernis Nail color Alchimie is a gorgeous metallic olive green shade with warm undertones that works well for Indian skin tones. Being a metallic shade it goes a bit streaky, so you got to be a little aware while painting your nails. The color comes true to the bottle in 2 coats which dries down quickly to a smooth creamy finish. I love the classy CHANEL packaging.
PS: It is a limited Edition shade!
Rating:- 4/5
Have you tried CHANEL Le Vernis Nail Color Alchimie? Do you own any luxurious Nail Paint?