Chambor Powder Matte Lipstick – Orange Flambe Review, Swatch, LOTD
"Orange is the New Pink", is my motto this year. I have been in the search of orange lipsticks like crazy. Already added 3 new shades in collection and planning to add few more in before I feel I have enough of Orange Lipsticks. So, today I am going to review a Matte Orange Lipstick from Chambor, Chambor Powder Matte Lipstick in Orange Flambe.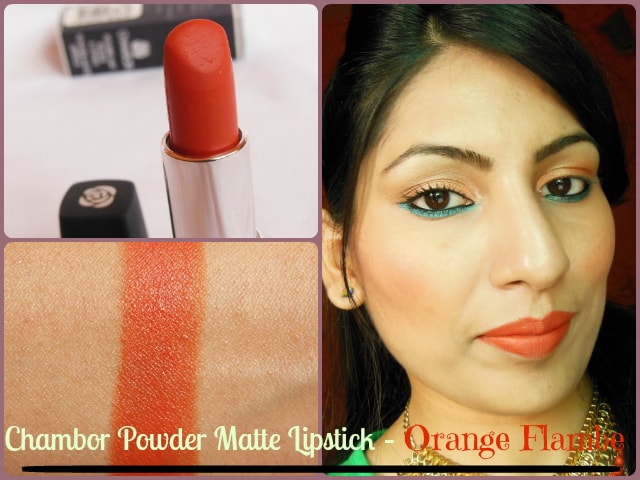 Product Claims: An Innovative Formulated Lipstick which has both Moisturizer + Matte Effect in it. Powder Matte Lipsticks have a Non-Drying Triple Action Formula which:
Hydrates – Vitamin A and Jojoba Oil.
Protects from the sun – UVA & UVB Filters (SPF – 15).
Has anti-ageing formula which softens & smoothens the lips – Vitamin E
Ingredients: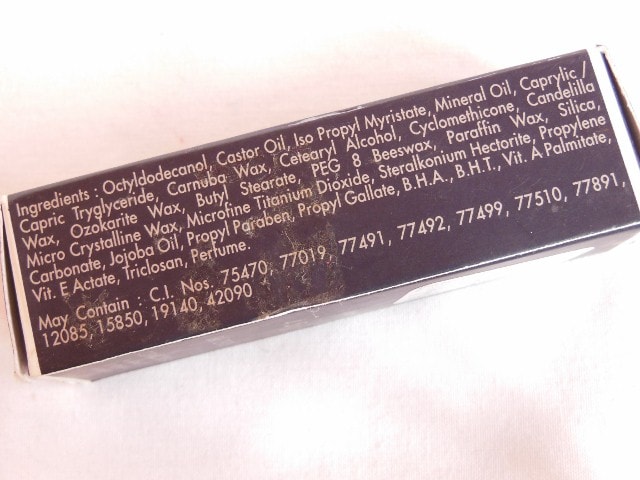 Price:- Rs.450 for 4.5gms
Shelf Life:- 3 years from the Mfg date.
Packaging:- The lipstick comes packaged in the signature navy blue colored cardboard box packaging. The body goes with the finish of the lipstick which a satiny matte feel which won't let the bullet slip of hands. The case slightly bulged shaped from the center but the flat bottom let it stand upright. Cap fits tightly with a click sound, making the bullet travel safe.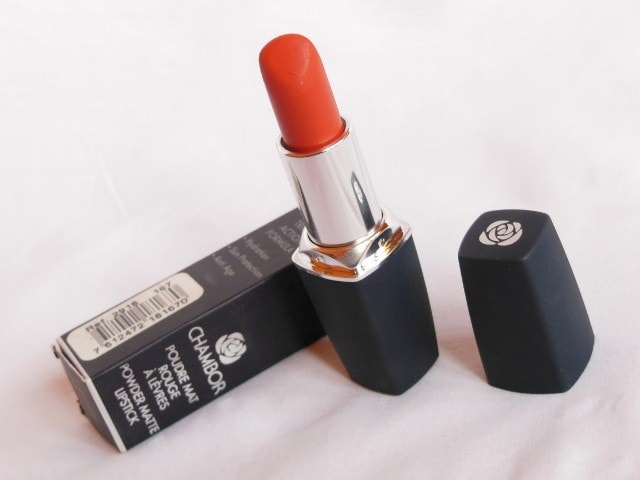 My experience with Chambor Powder Matte Lipstick – Orange Flambe:-
Orange Flambe is bright Orange with subtle red undertones but it looks mostly on me. The shade can be worn on its own and won't need you prep your face to pull if off but a little wash of your peachy blush like Maybelline Creamy Cinnamon will really amp up the look.  Orange Flambe makes a perfect pick for Indian beauties who like flaunting Orange pouts, as it won't look washed out nor is a bright and bold orange that some may find hard to pull off.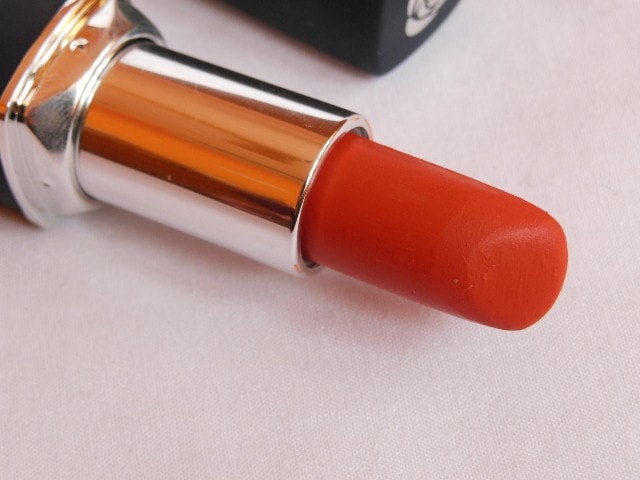 Texture: The lipstick has a smooth lightly creamy texture with non-slippery feel which glides nicely across lips. The lipstick gets applied evenly and doesn't deposit too much of the product on lips just the bare minimum required to impart the color. The formula reminds me of the Revlon Super lustrous Matte Formula but it has a slight waxy feel which wasn't the case with Revlon
Pigmentation: The formula is decently pigmented and has a buildable coverage. It goes quite sheer in a single swipe but with subsequent swipes it pack lips with color true to the tube. The formula is quite easy to deal with as you can go for full blown orange pouts or opt for a hint of orange or top sheer orange up with a gloss for juicy lips.
Finish: It is marketed as Powder matte (sounds really scary to me) but actually it has a satiny matte finish which feels comfortable on lips. Being a matte formula the lipsticks gets slightly drying on lips, few hours post-application which kind of emphasize the fine lines but nothing that a lip balm can't help.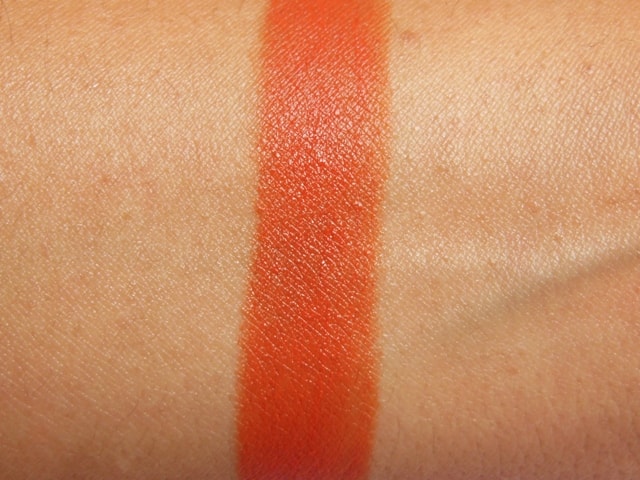 Staying Power: The staying power is good but not excellent as the lipstick is not transfer proof and it transfers quite easily just like any creamy lipstick.  It stays on for a max of 4-5 hours after which it leaves a faint orange tint on lips which can be topped with a gloss to enjoy juicy orangey lips for few more hours.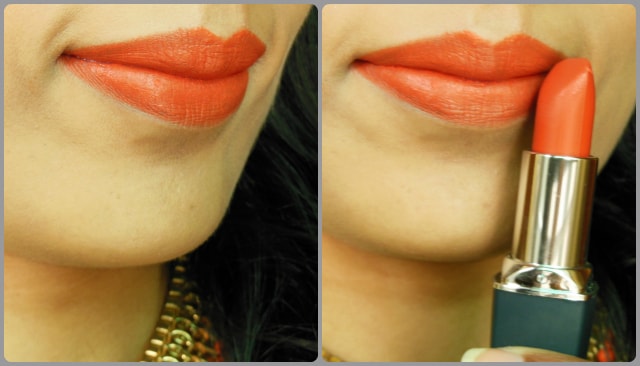 It has a sweet bubblegum scent which fades in few minutes but nothing that bothers sensitive noses.
Pros of Chambor Powder Matte Lipstick – Orange Flambe:-
Shade will flatter Indian skin tones
Glides smoothly and evenly on lips
Beautiful satin matte finish
Well pigmented
Buildable coverage
Stays on for 4-5 hours
Can be topped with a gloss for juicy orange lips
Not so drying formula
Contains SPF 15
Contains Jojoba Oil, Beeswax
Decently priced
Study and slip-free packaging
Cons of Chambor Powder Matte Lipstick – Orange Flambe:-
No shade indicator, so if you own multiple lipstick from the range, it will be tough to sort out the shades
Works better on prepped and moisturized lips ( as with all the matte lipsticks)
Settles in fine lines
Slight waxy feel when swiped
Tranfers easily
Fades a little uneven
Recommendation: Chambor Powder Matte Lipstick – Orange Flambe is a beautiful warm orange shade in satin matte finish which looks best with soft peachy blush and an edgy winged eye liner. The color pay off is good and with 2-3 swipes it delivers complete coverage to the lips. It sits comfortably on lips but being a matte formula the lipsticks gets slightly drying on lips which kind of emphasize the fine lines few hours post application.  I like it best worn a stain and topped with a clear gloss :). If you are looking for a good matte orange lipstick, don't forget to check this out on counters.
Rating:- 3.5/5
Have you tried Chambor Powder Matte Lipstick – Orange Flambe? Do you like Orange over Pinks?