Chambor Eye shadow Trio – Dazzling Sphinx 29 Review, Swatches, EOTD
Product Claims:
Makeup is the Quickest and the Easiest way to play with your looks & what's better than playing around with the eye shadows to get the most glorious looking eyes.
Let your eyes do the talking this season, with Chambor's set of 3 ultra smooth eye shadow colours. True to its name, the 'Trio Eye shadow' comes in 3 shades that beautifully play off each other to enhance your eyes.
Each shade set has been created keeping in mind a specific color combination which lets you experiment with various looks.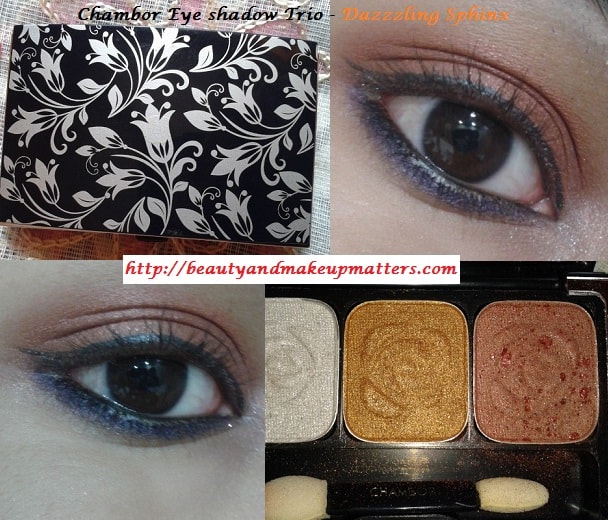 Available shades:-
17 – Naturel
29-Dazzling sphinx
54-Rose Shimmer
56-Sea Shimmer
82-Dazzling Wave
83-Illusion
84- Fern Green
85-Mystic
86- Tender Lilac
88-Glowing Earth
Ingredients:-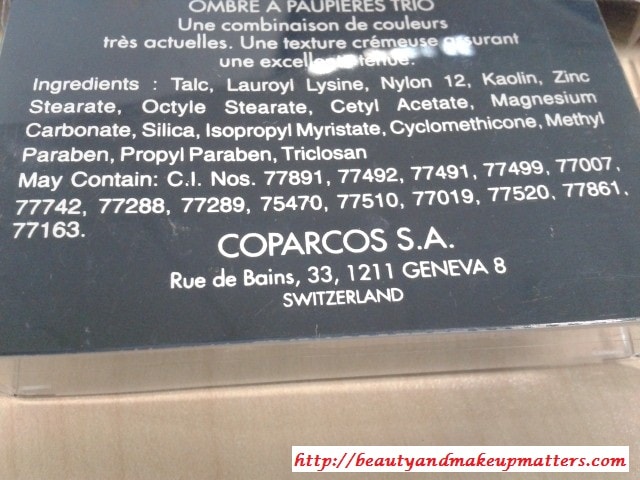 Price:- Rs. 495 for 6gm
Packaging:- It comes in a rectangular metallic case which has a beautiful flower pattern over the lid. It is a trio pack which has three different eye shadow pans in the case and a small sponge tip application which is looks cute but it couldn't put it to any use.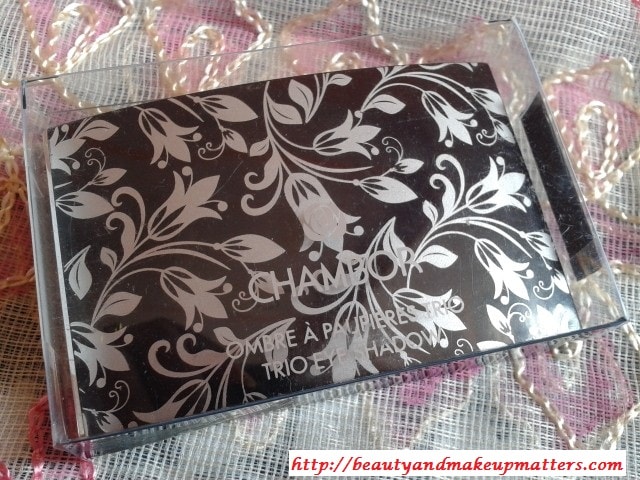 There is also a small mirror on the backside of the lid which isn't much useful but still its good to have one. Small plastic sheet separates and keep the eye shadows to pan so that it doesn't ruin the mirror. Each pan has Chambor motif embossed on them which looks really beautiful and the flower adds a feminine touch to it.
The lid has push button kind of opening mechanism which closes nicely with a click sound. The casing looks sturdy and is travel friendly
My experience with Chambor Eye shadow Trio – Dazzling Sphinx:-
The shades in the palette are:-
Silverish white with silver and pink shimmers
Gold with golden and green shimmers and
Pinkinsh Copper with pink and golden shimmers.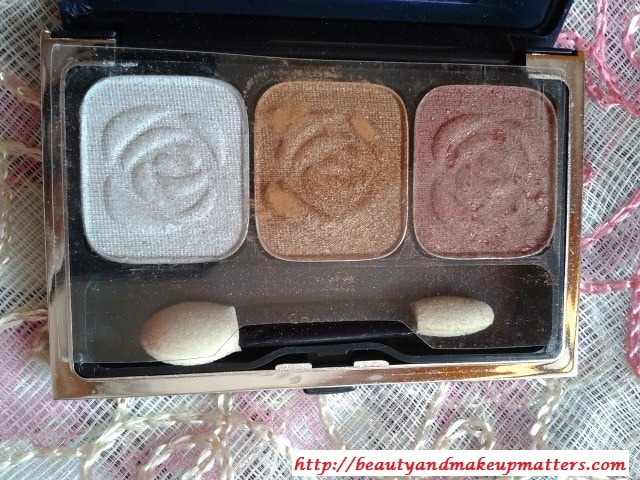 Gold and Copper of the trio are very wearable shades and can used as lid color. The shimmers in the eye shadows can make the boring matte eye make up look gorgeous. They are finely milled with the powder and give a metallic finish to the eye shadows. Copper can be easily used on lid area of the eyes to add that glamorous quotient to simple Smokey eye look.
Silverish white eye shadow is full of silver, pink and green shimmers which can be used on the lower lash line or in the inner corners of the eyes as highlighter but it has lots of shimmery fallout.
The texture of the eye shadow is soft and smooth. Due its fine texture it tends to have a little bit of fall out during application, so apply pick these eye shadows on the brush gently from the pan. Eye shadow blends easily over the lids and the colour can be builded to the desired intensity by layering up the eye shadow powder. These eye shadows are well pigmented and give true colour in single swipe.
Swatches:-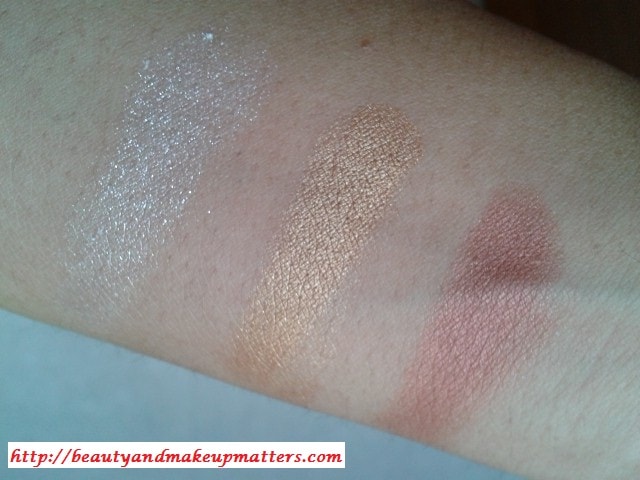 With Flash:-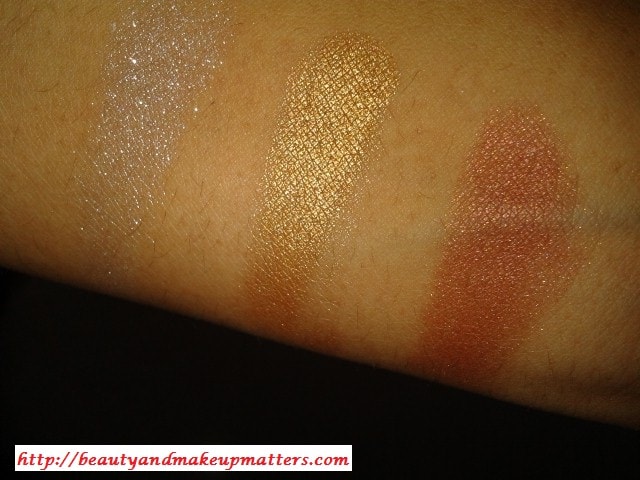 They don't even require a primer to show up the true intensity of the shade. I don't have significantly oily lids and the eye shadow stayed long on me without creasing. It easily stays for 5-6 hours on my eyes with barely any fallout or fading.
Don't Miss to Checkout:
EOTD:-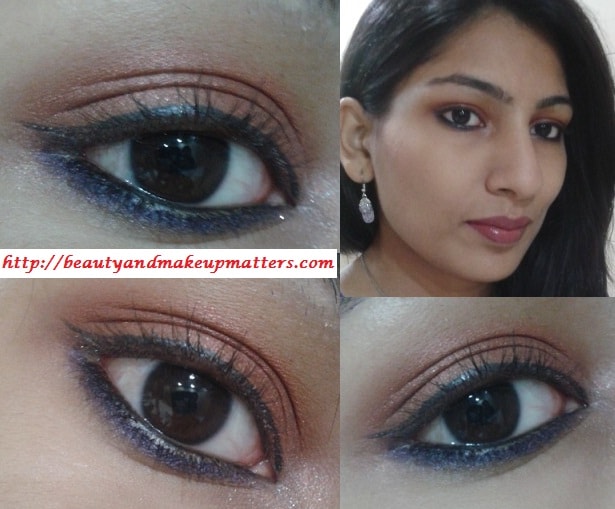 How it looked one me:- I have used Lakme Fantasy Shimmer Eye Liner-Midnight moon on Upper Lash line and Faces Navy Blue Eye Pencil on lower lash line. Hope you like the Look. 🙂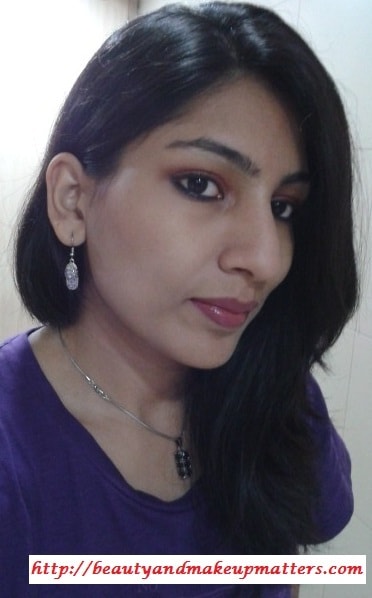 Pros of Chambor Eye shadow Trio – Dazzling Sphinx:-
Reasonable priced, as you get 3 eye shadows(each 2 gm) for the price and no doubt that the quantity is going to last you long
Beautiful and Sturdy packaging.
Blends easily
Soft Texture
Color pay off is good
Shimmers are fine and not chunky
Good staying power
Trio has easy to wear shades all of which can be used together or alone (except silver) to create different looks.
Cons of Chambor Eye shadow Trio – Dazzling Sphinx:-
Opaque lid cover so can't recognize the shade without opening the casing. If you have more than one shade of the trio or look at the base of the casing.
Recommendation:- Chambor Eye shadow Trio – Dazzling Sphinx is a shimmer based powder eye shadow trio which isn't glittery. Dazzling Sphinx has all the gorgeous shades- Silverish white, Gold and Pinkish Copper. They have soft texture, extremely pigmented which is easy to blend and have good staying power. The colors goes well with traditional as well as western outfits and will suit Indian skin tones, except the silver one which makes a good highlighter.

If you are trying your hands on eye makeup and not sure where to start from I would suggest to go for this beautiful but versatile trio. Highly Recommeded!
Rating:- 4.2/5
Have you tried Chambor Eye shadow Trio – Dazzling Sphinx? Do you prefer single eye shadows over trios or palettes?