Chambor Dazzle Smooth Transfer-Proof Eye Pencil – Black Dazzle Review
Today I am going to share an Dazzling black eye liner with you from Chambor Dazzle Eye Pencil Collection. I have bought a black pencil after so long and totally excited about this shade.
Let's start with my experience with this Chambor Dazzle Smooth Transfer-Proof Eye Pencil – Black Dazzle 101 and check if it's worth giving a try.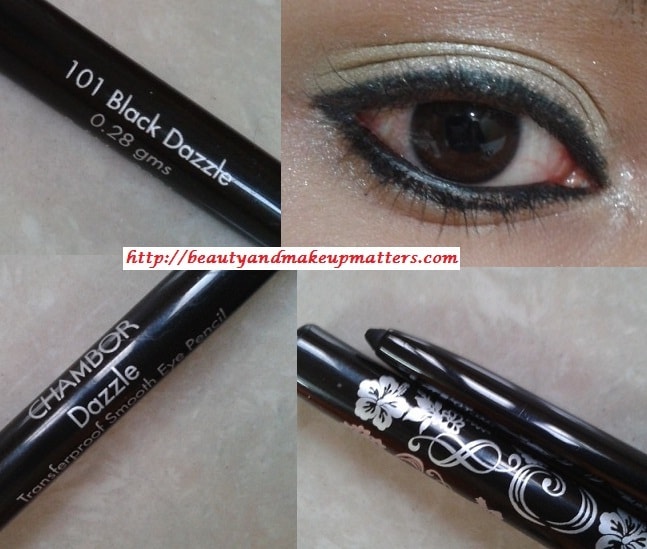 Product Claims: Chambor's New DAZZLE EYEPENCILS with its innovative formula allows smooth application and perfect color with a one stroke precise application. At a party or even for everyday wear the colorful dazzling pencil light's up your eyes.

The transformation from a dark room to a magically lit up one will never fail to charm, attract or DAZZLE you…. Much like Chambor's New DAZZLE EYEPENCILS with its new skate formula that allows for smooth application and perfect colour with a one stroke precise application. At a party or even for daily wear this pencil and the colours it is available in will go a long way to Dazzle you.
No Animal Ingredients.
Non – Comodogenic.
Dermatologist Tested.
Opthalmologist Tested.
Ingredients:-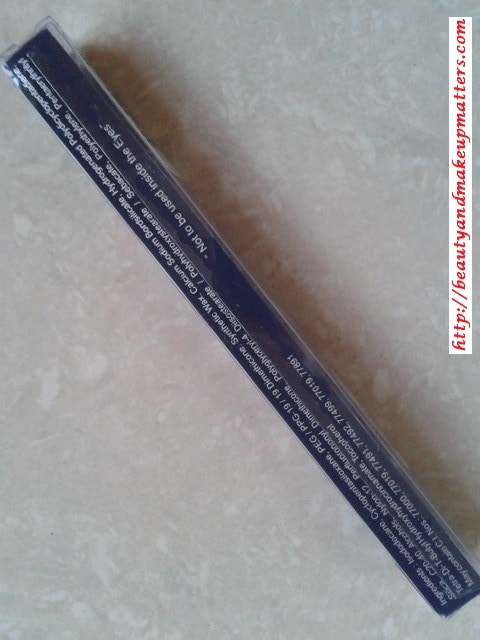 Price:- Rs. 545 for 0.28gm
Shelf Life:-  years from the Mfg date.
Also available in :-
Dazzle Gold 102
Dazzle Silver 103
Dazzle Teal 104
Dazzle Purple 105
Dazzle Grey 106
Packaging:- The Chambor Dazzle eye pencil is housed in plastic packaging carrying the price, ingredients list and other details about the liner. The pencil has a mechanical tube-type packaging and is colored Black to resemble the shade of the liner. The cap has a beautiful floral pattern printed all over it which fits snugly with the base.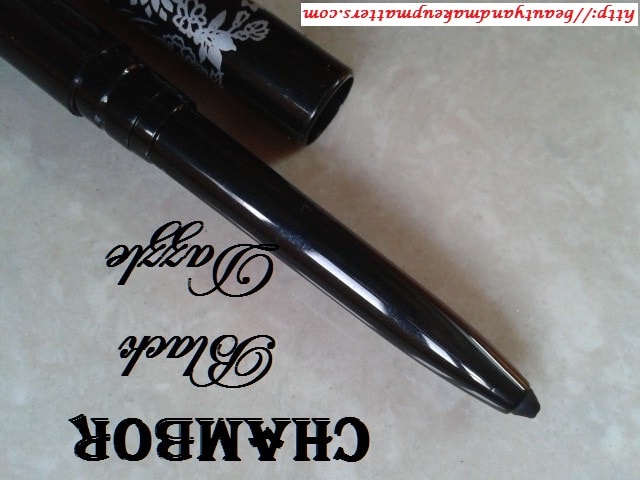 But you must use these liners with caution as these are twist-up only and not retractable. So once the liner is out you can't make it get back into the packaging. I quite like its classic looking black casing but the twist-up only mechanism isn't easy to work with.
My experience with Chambor Dazzle Smooth Eye Pencil – Black Dazzle:-
Dazzle Black is an intense dark black eye liner in a lovely creamy finish.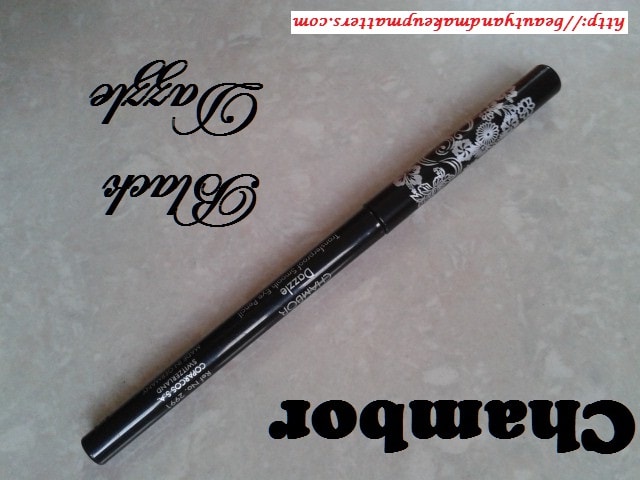 The liner has buttery soft texture and it's creamy formula doesn't get felt when glided over the lids. It feels very light and absolutely comfortable on eyes.
Though, it is extremely soft to touch but the tip doesn't break during application.
The liner is superbly pigmented and just one stroke is enough to get the strong black color on lids. The liner shows its color even with the slightest touch of pencil on lids.
Swatch:-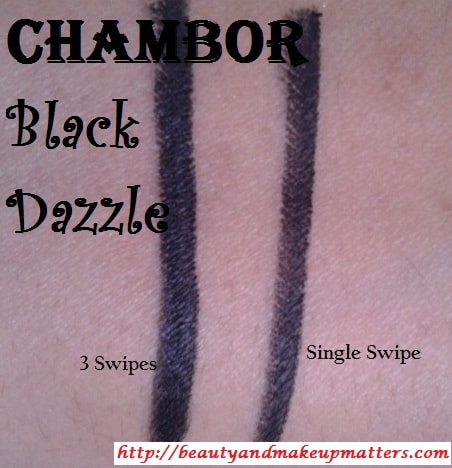 It takes only a few seconds to set to a smudge-proof finish. The liner wouldn't budge, fade or transfer once set. I even tried rubbing it vigorously, it faded only a bit but smudging.. whats that??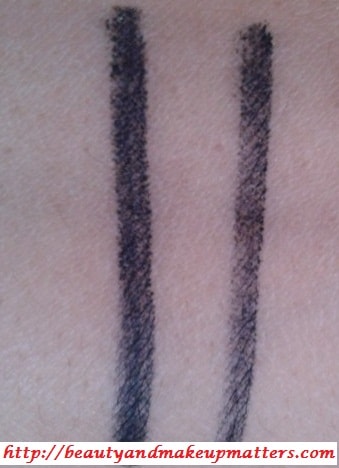 The liner doesn't dry matte but has a slight sheen to it, something similar to a gel liner creamy finish.
I don't have super-oily lids so it stayed for 7-8 hours easily on me, without any fading or transferring to the upper lid area.
My sister and cousin swear by this liner on waterline and is the best smudge-proof Kohl from their perspective. I tried using it on waterline too and it really lasted long with minute fading but I wasn't feeling much comfortable and had slight irritation. May be I have sensitive eyes. So not as Kohl for me.
It claims to be ophthalmologists tested but I wouldn't recommend it to be used on waterline by sensitive eyes or contact lens wearers.
Also, you have to work only with the tiniest amount of the liner sneaking out of the packaging to avoid wastage which make it difficult to draw thin lines.
Don't Miss to Checkout:
EOTD:-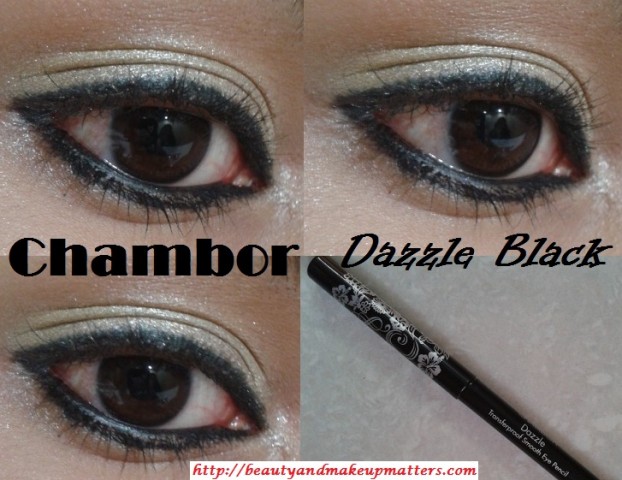 Pros of Chambor Dazzle Smooth Eye Pencil – Black Dazzle:-
Deep Black liner
Glides like butter on eyes
Extremely soft and smooth texture
Wonderfully Pigmented
Nice crème finish
Absolutely Smudge-Proof
Lasts throughout out the day without fading
Beautiful packaging
Cons of Chambor Dazzle Smooth Eye Pencil – Black Dazzle:-
Damn Expensive, I mean I can get almost double the amount in half of its price from trustworthy brands like Faces and even Maybelline Gel Liner comes in a lesser price and the quantity will last you a lifetime.
Twist-up packaging isn't really easy to use, and can lead to wastage if you twist up the liner more than required.
Not safe for waterline application (sensitive eyes)
Recommendation:- Chambor Dazzle Smooth Eye Pencil – Black  Dazzle is an awesomely pigmented darkest dark black eye liner with a smudge-proof formula. The liner has amazingly soft texture and sets quickly to a fabulous creamy finish which wouldn't budge and lasts whole day on me. The formula is fantastic and glides smoothly on eyes but the liner falls on the luxury side and is a bit heavy on pocket for the small quantity it comes with. If you are ready to pay the price its totally worth a try. But you have good budget options available with same features too so it's up to you. Recommened!!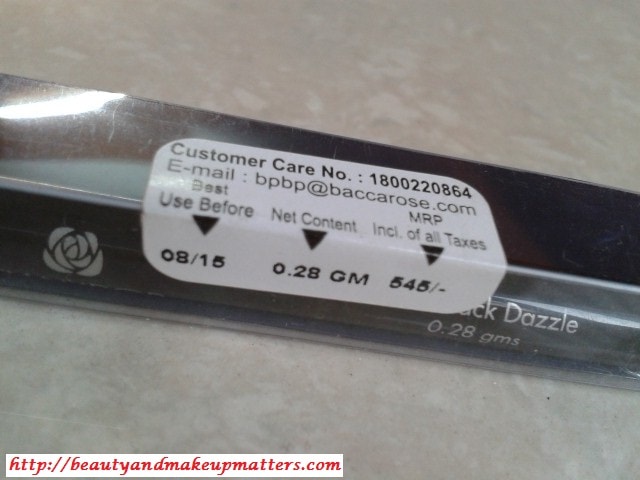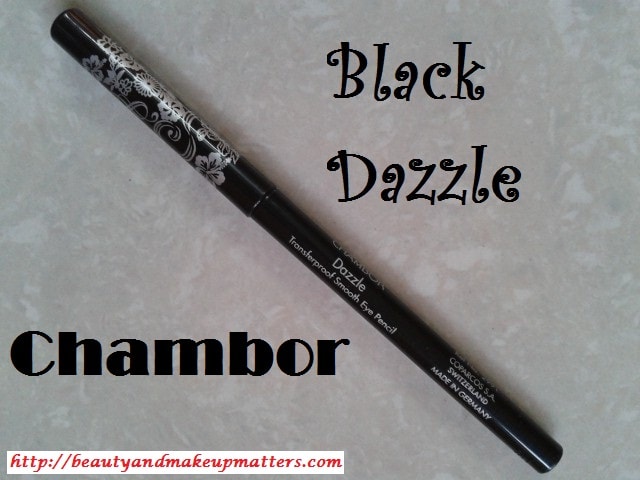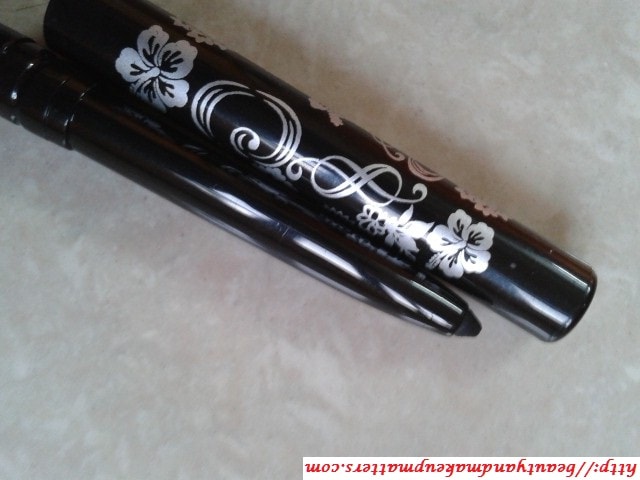 Rating:- 4.3/5
Have you tried Chambor Dazzle Smooth Transfer-Proof Eye Pencil – Black Dazzle? Which is your favorite black liner?