Cetaphil UVA/UVB Sun Defense SPF50+/UVA18 Review
Today I will be my most expensive sunscreen till date Cetaphil UVA/UVB Sun Defense SPF50+/UVA18.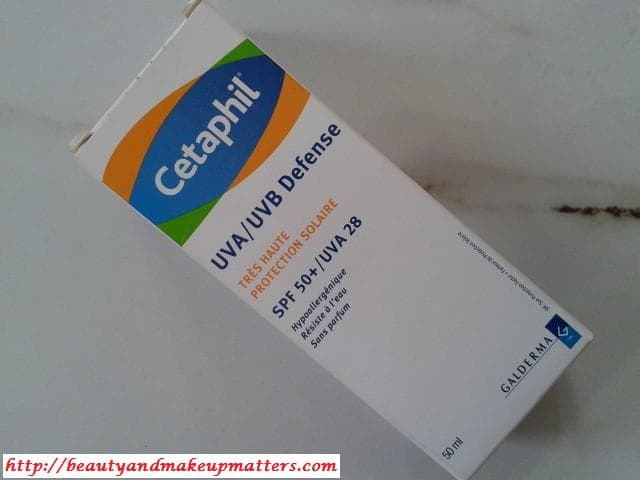 Product Claims:
The gentleness of Cetaphil® now available with very high sun protection.
Cetaphil® UVA/UVB Defence SPF 50+ is a broad spectrum daily facial moisturiser specifically formulated to provide very high5 level of protection for sensitive skin.
Using the patented Mexoryl® technology, Cetaphil® UVA/UVB Defence SPF 50+ combines seven filters and a physical blocker to protect against sun5. There are UVA filters to protect against sun and ageing, with SPF 50+ to protect from UVB rays. And because it's Cetaphil®, it's non-comedogenic, hypo-allergenic and fragrance free.
Suitable for:All skin types, even sensitive skin
USES: For use as a very high protection sunscreen. May reduce the risk of some skin cancers when used in conjunction with wearing protective clothing, hats and eye wear. Avoid prolonged exposure to the sun. Can aid in the prevention of premature skin ageing.
Direction for Use:- Apply liberally to face and body 15 to 20 minutes before sun exposure. Reapply regularly, especially after swimming. PRECAUTIONS: Limit sun exposure. Use protective clothing, hats and eye wear. Keep out of eyes.
Ingredients:-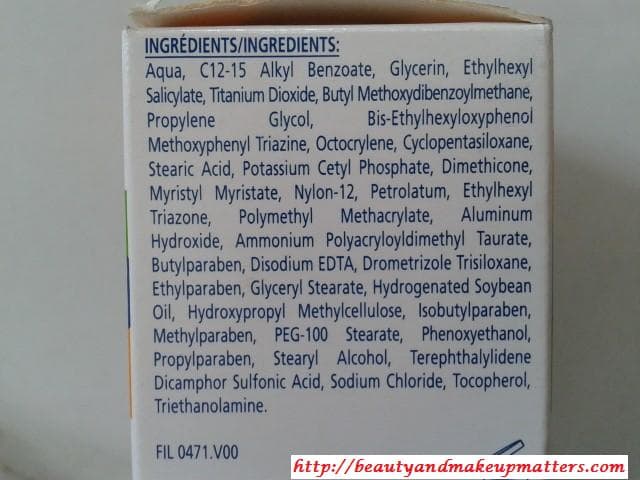 Price:- Rs.975 for 50ml
Shelf Life:- 3 years from the Mfg date.
Packaging:- It comes in a small squeeze tube type packaging with a flip-top opening. The Opaque plastic tube is so small that it can fit anywhere which makes it easy to carry along. The packaging is hygienic but you must control the pressure applied on the tube otherwise it will eject much more than the required amount and you will end up wasting.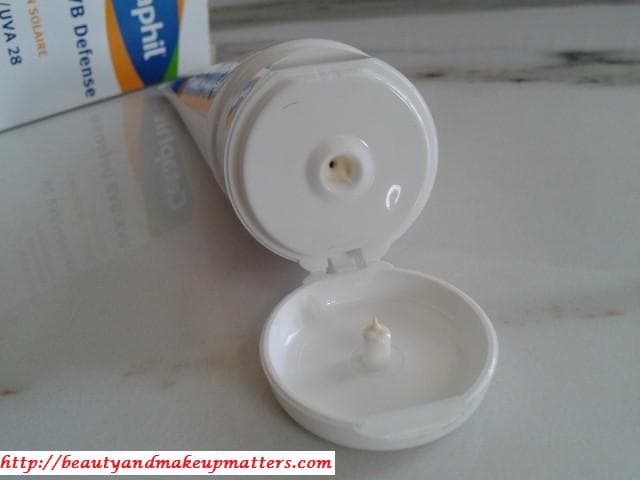 My experience with Cetaphil UVA/UVB Sun Defense SPF50+/UVA18:-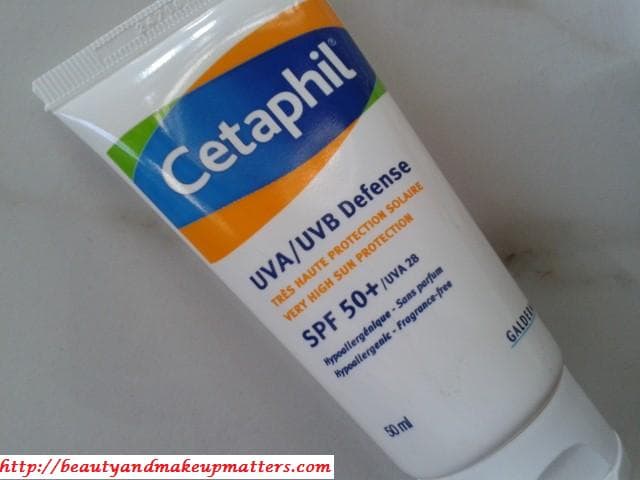 Cetaphil Sunscreen is a light beige colored cream in medium-thick consistency but its thick consistency doesn't come in the way of application and it glides super-nicely all over the face. Only small pea-sized amount is enough to cover my face and neck.  It leaves a slight whitish cast on face when spread but it disappears soon (within few minutes) as it starts getting absorbed. The sunscreen isn't exactly heavy or feels oily or sticky and is lightly moisturizing to my dry skin but I would have liked it better without that shiny layer it leaves on my face. So, it should be used cautiously and scantily else it would turn your face all shiny and greasy. To counter the shiny layer, I would recommend layering it up with compact/pressed powder.
Don't Miss to Checkout:
Swatch:-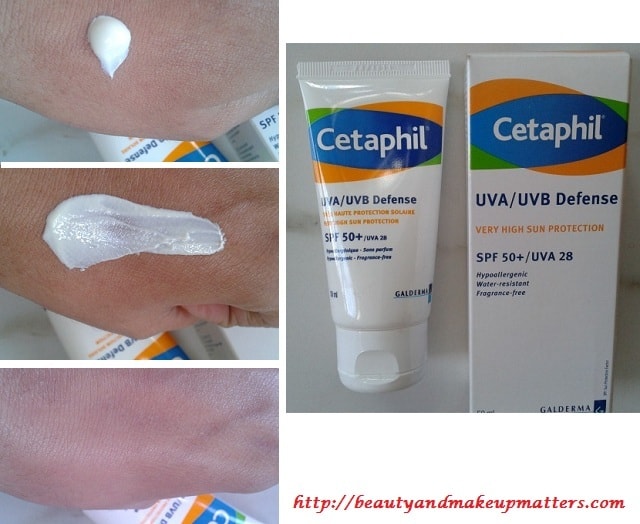 The sunscreen claims to be fragrance-free but it has a scent though quite insignificant and is so mild that you wouldn't even notice after few usages. It is a bit heavy on pocket for daily use but you can always have one for special occasions especially in harshest summers or going for a full day outing or on a trip to sea /hilly area don't forget to carry this one along and save your skin from harmful sun rays.
Pros of Cetaphil UVA/UVB Sun Defense SPF50+/UVA18:-
Blends nicely into the skin
Pea-sized amount is sufficient for single application
Doesn't irritate or breaks out my skin
Doesn't feel sticky or heavy but it leaves a shiny layer on face
Broad spectrum protection from harmful UVA and UVB rays
Mild pleasant fragrance
Hygienic and travel friendly packaging
Hypo-Allergic
Non-Comedogenic
Safe for Sensitive Skin
Cons of Cetaphil UVA/UVB Sun Defense SPF50+/UVA18:-
Expensive
Creates a white cast on skin post-application though it disappears soon
Takes some time to get absorbed completely
Leaves a shiny layer which wouldn't be liked by everyone
Recommendation:- Cetaphil UVA/UVB Sun Defense SPF50+/UVA18 has a rich creamy texture which takes few minutes to blend in completely. It creates a white-cast at first and leaves a shiny layer but never feels heavy or sticky and its non- comedogenic makes it suitable for sensitive skin too. It provides light moisturization to my skin along with shielding it from harmful sunrays. As, only a pea-sized amount is required per application the tube would easily last me 2-3 months if used daily but its high cost deters me to use it as a regular sunscreen and also I really doesn't require that much protection (SPF50) on a daily basis, so would be keeping it for hill station and sea-beach tours/trips.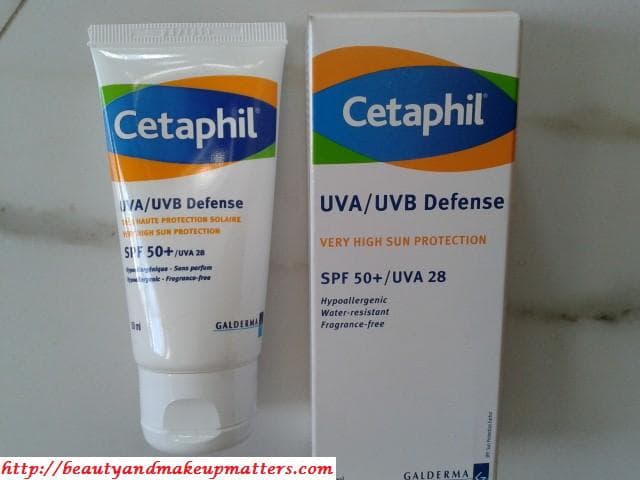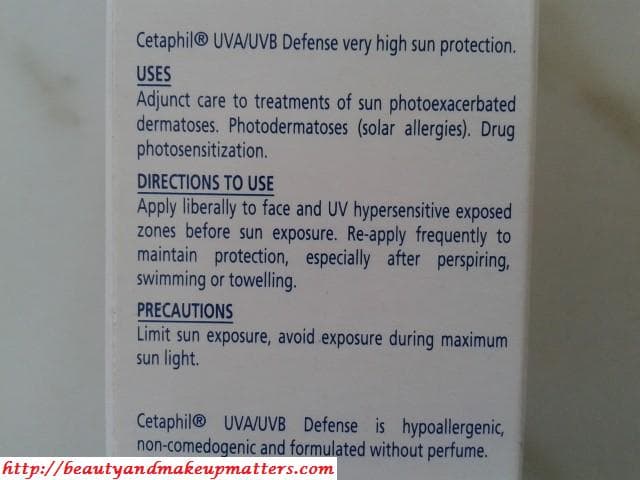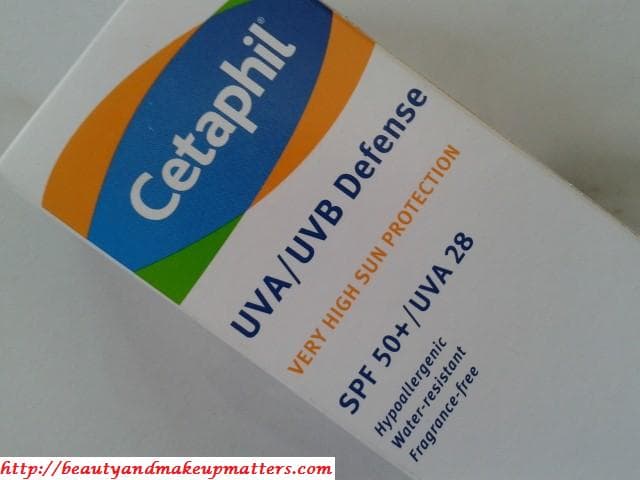 Rating:- 4.2/5
Have you tried Cetaphil UVA/UVB Sun Defense SPF50+/UVA18? Which is your favorite sunscreen/sunblock?