Where to Buy Bridal Lehenga in Delhi: Top 10 Places
Wedding season is round the corner and the best part about weddings is you can now deck up in your expensive traditional outfits and put your best feet forward. The most important person in the Wedding is none other than the "Bride". Yes, I feel "Bride" is given even more importance than the Groom. And everyone in the Wedding is most curious to see the Attire of the bride, the "Bridal Lehenga". At least am one of those persons who is more interested in the lehenga of the Bride than the Bride itself :P.
Finding the perfect bridal outfit for the Big day is quite a task. Every girl dreams about her "Perfect Bridal Lehenga" even before he is engaged. And the most stressful thing is where to buy Bridal Lehenga from. It the most crucial outfit for Bride-to-be and undoubtedly she spends endless hours looking for her bridal Lehenga. Then begins the Lehenga hunt where the bride-to-be will not spare even a single shop in her city where she thinks she can find the Lehenga of her dreams.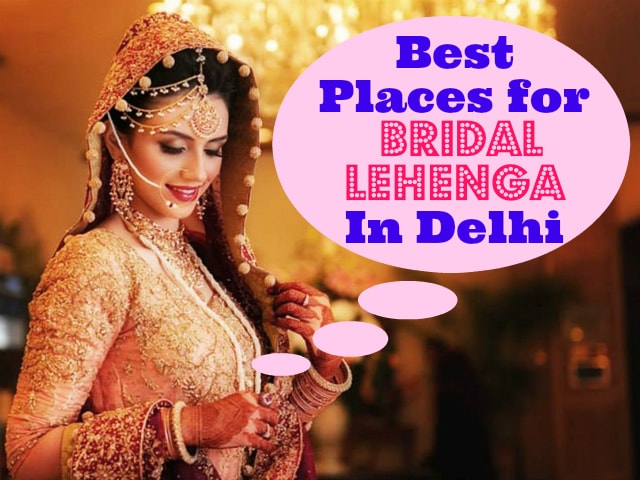 Bridal Lehenga is not just an outfit it is the most important and loving memory in the life of a girl which she cherish for years. There are feelings attached to it so it has to be special. Brides leave no stone unturned to find the perfect bridal Lehenga. So, today I am sharing the Top 10 Places for Bridal Lehenga in Delhi and I am sure you can find your dream Lehenga here.
Top 10 Places to Buy Bridal Lehenga in Delhi
#1 Chandni Chowk
Chandni Chowk is definitely the first place that comes to my mind when I think of buying affordable quality lehenga. So, if you are a bride on a budget but don't want to settle for any regular lehenga, go to chandni chowk for Bridal Lehenga Shopping and you will be sorted. If you have been looking for a designer lehenga from Sabhyasachi or Manish Malhotra Bridal Collection but cant shell out that kind of money, Chandni Chowk will come to your rescue.
There are many shops in Chandni Chowk that sell replicas of famous Bridal Lehenga Designers and even Bollywood inspired pieces that heroines have worn on occasions. So, you can surely get a trendy lehenga probably a copy of expensive Designer Lehenga without shelling out a bomb!
Chandni Chowk Shops offers such a large variety of Bridal lehengas that you might want to pick more than one! :). You can checkout shops like Om Prakash Jawahar Lal for good designer dupes. Just be good at bargaining to get a steal deal in the market.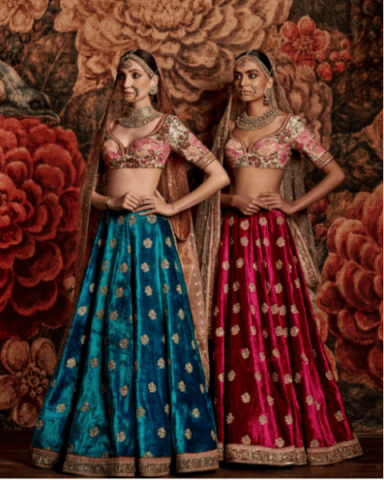 #2 South Extension Market
Another popular option to buy Bridal lehengas is South Ex. There is an extravagant Showroom of Frontier Raas with an astonishing collection of Bridal Wear including Lehengas and accessories. Also, be rest assured that the Lehengas here are the selected pieces with beautiful work and embroidery. The lehengas here can even outshine some of the designer lehengas. But you have to pay likewise.  Along with Lehengas Frontier Raas also have a superb collection of Bridal Gowns and Bridal wear for other occasions.
Other than Frontier Raas, there are few more shops like Ushnak Mal Mool Chand stores, Heritage for classy, elegant options among others.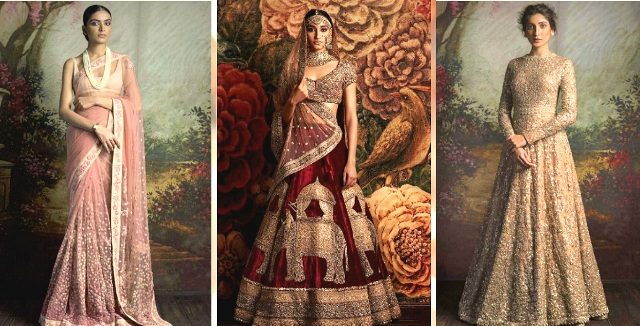 #3 Karol Bagh
Third most popular Wedding shopping destination in delhi is "karol Bagh". Ajmal Khan Road in Karol bagh is known for Wedding clothes and is a hub of Bridal Wear shops. You can find Lehengas ranging from as low as 10, 000 and the price can go up to even lakhs.  There are big showrooms of the popular Indian Wear brands like Meena Bazaar, Chabra 555, Bombay Selections, Satya Paul, Frontier Raas and more offering a huge variety of stunning bridal wear collection.
Also, there is this newest addition in the already maddening crowd of bridal wear "Diva'ni Couture" . It has a stunning collection of outfits. So if you are looking for dramatic silhouettes & embellishments with a Bollywood twist, this is the place for you.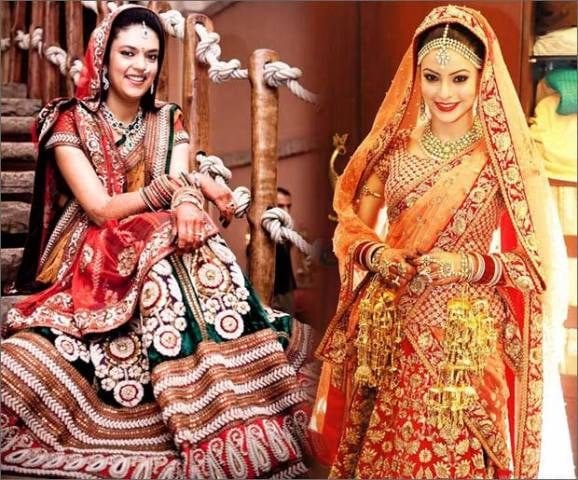 #4 Hauz Khas Village
Hauz Khas Village might not sound like a good place to go for Bridal shopping but the market has several designer labels and boutiques with splendid Bridal wear collection. So, you can enjoy a good meal, relax in café and find your dream lehenga here. The most popular stores in the Hauz khas Village are Rewaz by Dolly J. where you can find Lehengas in 40K+ range. Ole Couture has a beautiful lehenga collection too but on the pricier side. Ogaan is another designer wear store with a stunning Lehenga collection.
Visit hauz Khas Village for Bridal wear shopping only if you are planning to spend anything over 1L on your main outfit, the bridal lehenga.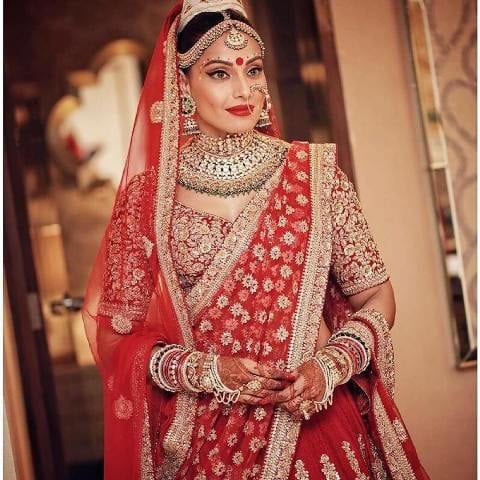 #5 Malls
The most reliable and easily available options for all of us are "Malls". So, you can do the bridal shopping without having to brave the narrow crowded streets or sweat it out while hunting for the shops. Many designers have now their stores in Malls. DLF Emporio, the premium mall in Delhi houses big labels like Falguni & Shane Peacock , Abu Jani & Sandeep Khosla, Manav Gangwani, Anita Dongre, Anju Modi, Ritu Kumar and Rohit Bal among others.
There are few other designers among ethic wear brands like Meena Bazaar, Bombay Selections etc. in other big malls of delhi like GIP, Select City Walk and Mall of India.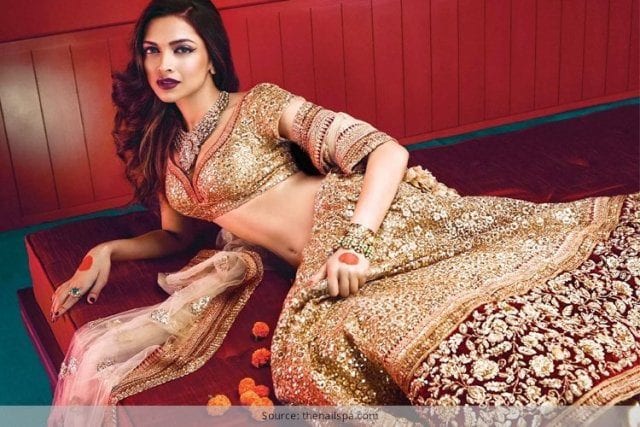 #6 Shahpur Jat
Shahpur Jat is a hub of designer stores so if you don't want to settle for the replicas and want an orginal designer lehenga than this is the perfect option. Shahpur Jat doesn't have big designer labels like SabhyaSachi or Manish Malhotra but there are many small independent fashion designers with magnificent bridal wear collection.  Also, you get an option to get a customized lehenga here, so if you would like to add some personal touch to your bridal Lehenga this is the place to get it done!
The main area in Shahpur Jar where the designer's labels are, is JUNGI HOUSE. And you must not miss checking out Bhumika Grover, Vaasvi by Akshay Wadhwa, Kaira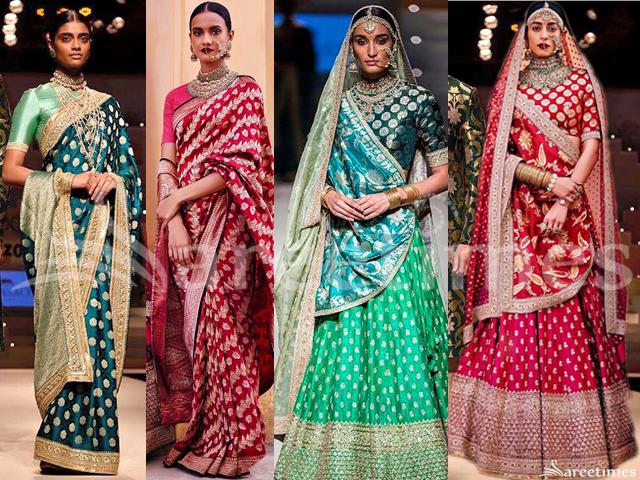 #7 Defence Colony
Defence Colony is another option if you are planning to go for a original Designer Bridal Wear. The places has a number of high-end designer stores. You can find big names like Tarun Tahiliani, Shantanu & Nikhil, and Anjalee and Arjun Kapoor here The stores are under the defence colony flyover and are worth a trip.
#8 Greater Kailash
Greater Kailash M and N Block markets are famous for their designer boutiques. There are a number of independent designers in the market with an extensive range of trousseau. So, if you are not going to wear a replica but Manish Malhotra Bridal Collection is not in your budget, you can definitely pick up something interesting with a fresh color combination and design from here. Why sticks to reads when there is a rainbow of colors to choose from!
#9 Bridal Shows in Delhi
Even after all the shopping hopping you still not able to find that perfect bridal lehenga than these Bridal Shows or Wedding Exhibitions could be your savior. With the increased demand of high-end designer labels these bridal shows serves as a great option to choose something new and exquisite for your big day. The bridal shows comprise everything related to clothing, jewellery, trousseau packaging and more.
The most popular Wedding Exhibitions are Wedding Asia, Vivah and Bridal Asia which you shouldn't miss checking out.
#10 Lehenga on Rent
And if none of the above options works for you or if you being very calculative of all the money involved in buying that one outfit which you might wear only once in your lifetime you might want to go for this Lehenga on Rent option.
Because of the sentiments involved behind the bridal wear not everyone is comfortable going with the rent option but still there is a huge number of brides going for this rental option to wear the lehenga of their dreams without breaking the bank.
You can get Lehenga on rent easily from Shops in Chandni Chowk. Also, there are many online options as well to buy Bridal Lehenga online or to rent a lehenga from sites like Lehengaonrent.com, Secretwardrobe.in and more with price range starting from Rs. 1000 for day.
These are the Best places to buy lehenga in Delhi as per my knowledge. So, you can check these places out for your Bridal Wear shopping and for finding the perfect bridal outfit for your wedding day depending on your taste and budget. And if you found any other gem in the city that I have missed don't miss to share it in comments below.
Also, if you prefer online shopping in India , there are a host of options available online in an array of convenient budgets.
Don't Miss to Checkout:
Have you been on bridal Wear shopping in any of these places? Which is your favorite place for Bridal Shopping?
PS: I do not claim the ownership of images used here!