Myths about Hair Removal Creams
Summers are here and it's time to flaunt silky smooth hairless legs. Only a girl knows how painful it is but it has to be done because you got to bear the pain for something you love.. and nobody says no to the slippery smooth skin. Again it is a personal choice whether you want to keep that hair or remove them but if you fall into the latter category, this post is for you. So, today I am going to bust some myths about Hair removal especially myths about Hair removal creams.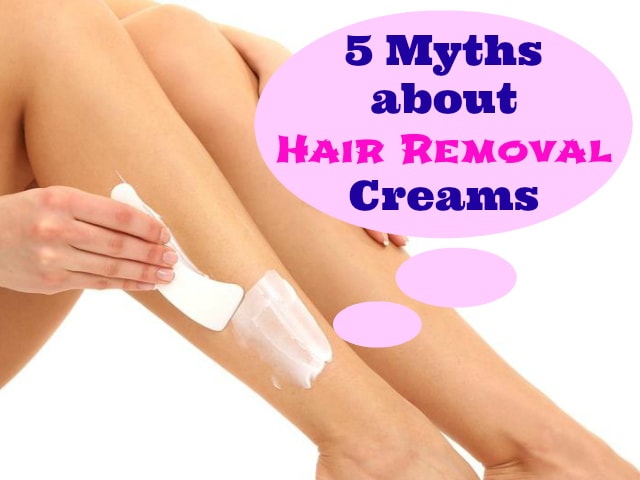 Myths about Hair Removal Creams:
MYTH: Removing hair often makes them thicker.
This is one of the biggest myth. With Waxing, over a period of time hair actually grows thinner. I have myself seen such a major difference in hair growth, my hair has become finer. It's only shaving that makes hair grow thicker in some cases otherwise with Waxing, epilating and even with hair removal creams there is either absolutely no change hair growth or they grow back thinner only.
MYTH: Hair removal cream and razors function the same way
Both are completely different in the way they work. Hair removal creams actually break the hair just below the skin and they grow back with rounded tips. While Razors, actually cut the hair from the surface of the skin and give them sharp ends so when they grow back they feel thicker. Also, the hair-free smoothness on the skin doesn't last even 3 days.
MYTH: Hair removal creams shouldn't be used on bikini line
It is a sensitive area and you have to be very careful while using a particular product on the Bikini line. While some dare to go for waxing but not everyone has the courage. Though shaving seems to be the easiest and fastest but it makes the hair so much thicker…urgghh!!. There are hair removal creams especially for made sensitive areas and Veet hair removal creams can be safely used around bikini line but make sure that it doesn't get in contact with the intimate area.
MYTH: Hair Removal Creams burns the Hair
This has been around for so long that I also started believing it blames it to the pungent smell that comes after using the Depilatory creams. But that's not true. Depilatory creams break down the keratin structure of the hair, basically dissolves base of the hair and they become weak enough to be broken off when the cream is wiped away. So, these hair removal creams offer a quick and convenient and safe way to remove unwanted hair at home. Do a small patch of skin before you attempt to remove hair over a larger area.
MYTH: Hair Removal Creams darken the Skin
This myth is actually born out of the fact that hair removal creams burn the hair. But truly speaking there if used correctly as instructed there will be no such thing. Skin darkening is a reaction to irritation but when used correctly, Veet Hair Removal Cream won't irritate your skin. For best results, exfoliate 24 hours before depilation. Veet Hair Removal Cream with an added moisturizing formula makes it simple to keep your skin feeling great. You don't need to worry about your skin darkening when you use Veet.
One more for everyone who believes that Laser Hair Removal is the best. I used to believe that too!!
MYTH: Laser Hair Removal lasts forever
Laser Hair removal can be termed as the most effective and long lasting hair removal method but even with Laser hair, removal hair grows back. One can see the hair growing back usually in 4-5 years in almost 80% of the case and if you fall in the other 20% consider yourself lucky!! Hell.. the treatment itself is so expensive I better do with my monthly hair removal methods that Laser one.. what do you think!
So, these are all the common and most popular myths about Hair removal creams that I could think off. Now, you can achieve the hairless look without any worries…:)
Hope you find this post helpful!!
Which is the MYTH that you believed in? Which is your Hair removal method?