Burt's Bees Lip Balms: Replenishing, Nourishing, Rejuvenating and Beeswax Review
I used "When in doubt pick all" strategy, while I was playing Innie Minnie Miny moo.. to choose which balm to pick from that huge Burt's Bees lip balm stock. I saw this pack of four lip balms from Burt's Bees and I knew this is it. So, today's review is about this lip balm pack from one of the most famous lip balms the Burt's Bees Lip Balms.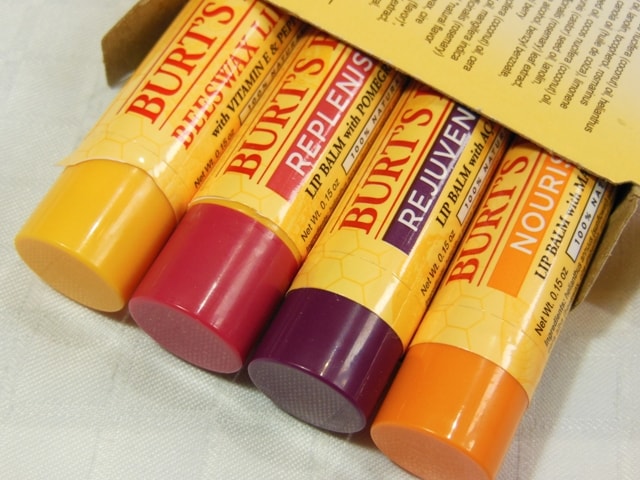 Product Claims: Choose from our fresh, fruit balms for lips always in season. Our Superfruit Lip Balms combine Beeswax to naturally help condition lips with beneficial nutrients and amazing flavors for lips that feel soft and taste great.
Contains:
Replenishing Lip Balm with Pomegranate Oil (.15 oz.)
Refreshing Lip Balm with Pink Grapefruit (.15 oz.)
Rejuvenating Lip Balm with Açaí Berry (.15 oz.)
Nourishing Lip Balm with Mango Butter (.15 oz.)
Price:- $10 for 17 gm (4*4.25gm)
Packaging:- Burt's Bees Lip Balms are housed in a soft cardboard box. The balm individually comes in a twist up packaging, which makes them convenient to use and travel with. I hate digging fingers in balms and these stick packaging works best for me.
The lip balms have their names imprinted on them with other details and have distinct colored caps to distinguish them.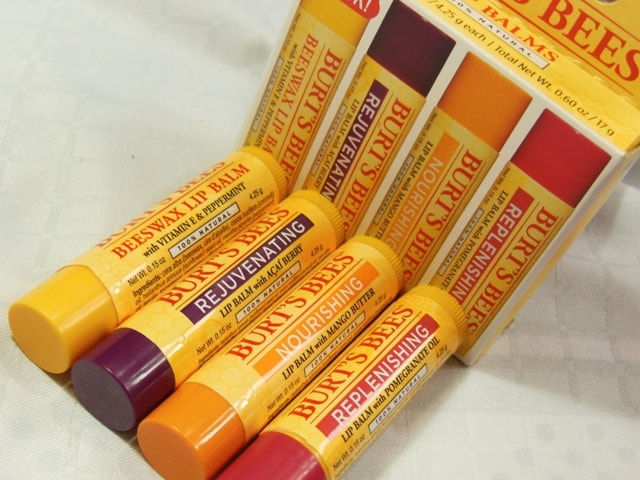 My experience with Burt's Bees Lip Balms:-
Here's my balm wise experience with these..
1) Replenishing (Contains Pomegranate Oil) : It is a berry red coloured lip balm with similar coloured cap. It needs to be swiped 2-3 times to get decent amount of moisturization. It has a faint herbal which I didn't quite liked.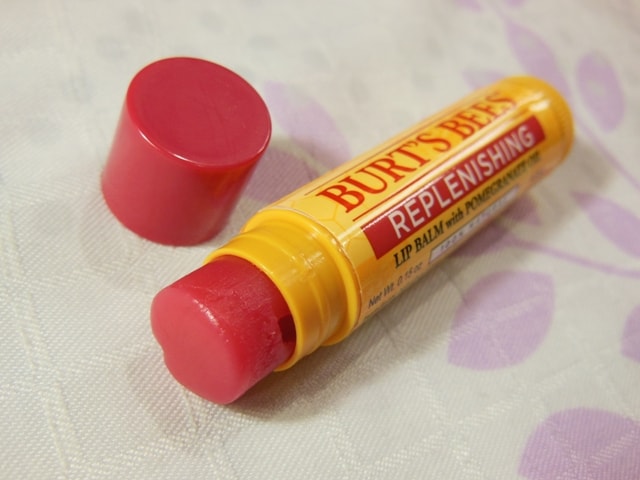 2) Nourishing (With Mango Butter) – It is a clear coloured lip balm with yellow coloured cap. It has a sweet fruity fragrance, quite likeable. It glides on smoothly and provides a nice soothing feel to the lips.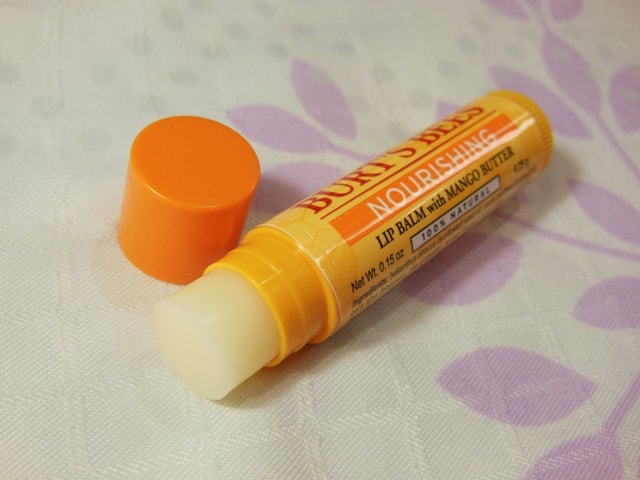 3) Rejuvenating (Acai berry): This is my favorite of them all, has a beautiful buttery texture and is extremely nourishing with no unwanted sensation. It also has a sweet bubblegum fragrance, so tempting that I have to resist myself from licking my lips. It is a perfect solution for dry chapped lips.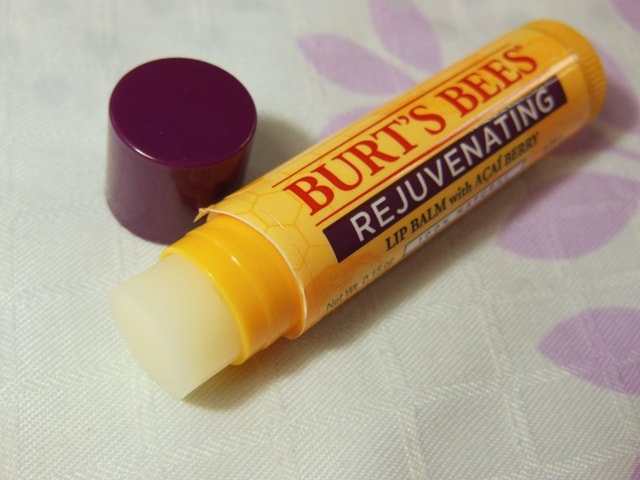 4) Beeswax: (Vitamin E & Peppermint) : This is my least favorite from the lot, as you can see it has peppermint as main ingredient it give a tingling sensation that I doesn't like. This has a slightly hard texture and I need to rub it really hard across lips to get decent moisturisation. But at the same time it serves as a great lip balm underneath lipsticks as it isn't buttery or slippery like the rest.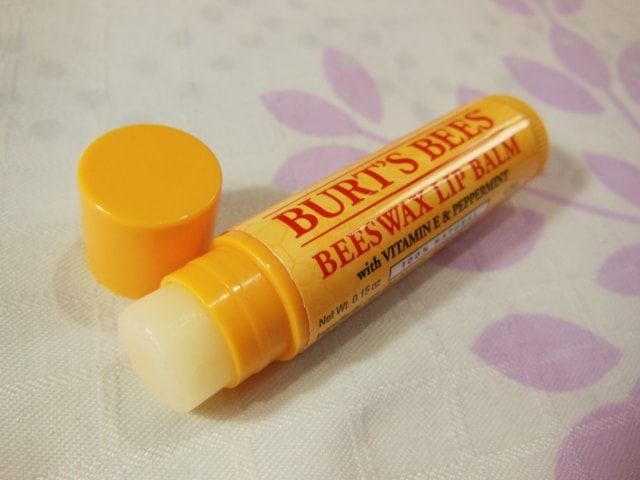 In general, they feel moisturizing to the lips but need reapplication every 2-3 hours or if you have meals in between especially in winters when lips get dry pretty soon!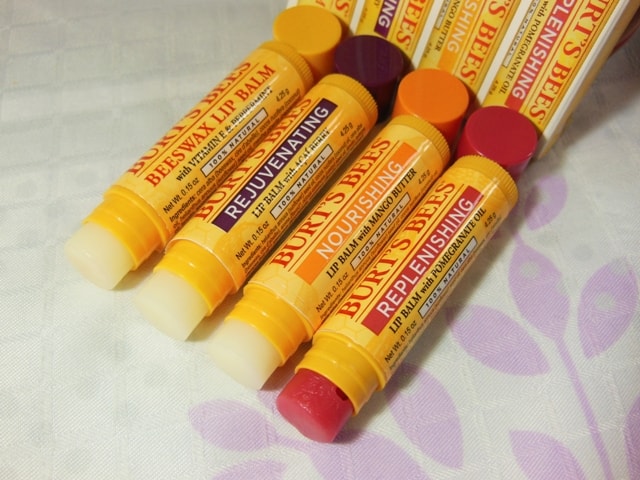 Comparison with EOS Lip balms: In terms of Nourishment they are extremely nourishing and ease of use is even more because of their egg like shape. The packaging is chic and eye-catchy compared to these regular stick balms. EOS balms are not completely natural like Burt's Bees but claim to be Gluten Free only. EOS are slightly higher priced then Burt's Bees but they provide more quantity as well.

Don't Miss to Checkout:
Pros of Burt's Bees Lip Balms:-
Made up of only natural ingredients only
Mild fruity fragrance (Rejuvenating is best)
Moisturizes lips well (Except Beeswax)
Easy to apply
Travel friendly packaging
No Parabens or Petrochemicals
No Animal Testing
Available in many flavors/versions
Cons of Burt's Bees Lip Balms:-
Beeswax lip balms isn't as moisturising as expected
Requires frequent reapplication
Recommendation:- Burt's Bees Lip Balms are a completely natural balms and they are free from all sorts of chemicals and low grade ingredients like Mineral oil, Parabens, etc. They moisturise lips well and have mild fragrance that gives sort of aromatic touch to it. In short, a herbal treatment for your lips this winters. Highly Recommended!
Overall Rating:- 4.5/5
My favorites list goes as Rejuvenating> Nourishing> Replenishing> Beeswax
Beeswax Lip Balm – 3.5/5
Replenishing Lip Balm – 4/5
Nourishing Lip Balm- 4.5/5
Rejuvenating Lip Balm – 5/5
Have you tried Burt's Bees Lip Balms? Which is your favorite lip balm this winter?