Burst Of Happyness Just Like Heaven Facial Cleanser Review
Hello Everyone,
I have been addicted to natural/herbal products off late and have replaced almost everything in my skincare routine with them. I have been using Kama Mridul Soap free cleanser which was working very well and then I planned to have a back up ready with me of another natural cleanser and got this Burst Of Happyness Just Like Heaven Facial Cleanser.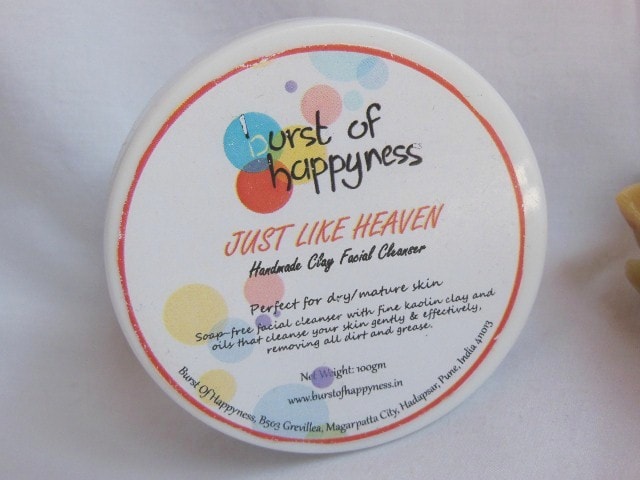 Product Claims: Just Like Heaven is a powerful yet gentle cleanser with kaolin clay, almonds, apricot kernel oil and avocado oil.
Kaolin clay will gently draw impurities from the skin without removing natural oils while simultaneously exfoliating, cleansing, and stimulating circulation.
Almonds provide gentle exfoliation and nourish the skin as they contain high amount of vitamin E as well as several nutritious minerals.
Avocado Oil contains antioxidants and hence delays signs of ageing. It has a natural hydrating ability and is deeply absorbed by the squamous layer of the skin. Because of its chemical properties and its ability to retain water, avocado oil acts as an emollient, and promotes soft and supple tissue.
Apricot Kernel Oil is a light oil which is readily absorbed by the skin. It offers skin softening, regenerating and moisturizing properties and is very effective for dry skin.
It contains an essential oil blend of ylang ylang, lavender to nourish and it smells sooo good.
This clay facial will leave your face feeling smooth and clean – Just Like Heaven!
Direction for Use:- Scoop out half a teaspoon of the cleanser, mix with water to make a paste and rub in small circle. Rinse off with luke warm water. Do not use wet fingers to take out the cleanser to avoid contamination.
Suitable for dry and normal skin
Ingredients:- Kaolin clay, almond powder, avocado oil, apricot kernel oil, vegetable glycerin, essential oils
Price:- Rs. 380 for 100gms
Shelf Life:-  3 months after opening
Packaging:- Burst Of Happyness Just Like Heaven Facial Cleanser comes in a white colored  round tub type packaging with a screw cap. The cleanser comes sealed with a silver foil so it stays untouched and fresh until you open it.
My experience with Burst Of Happyness Just Like Heaven Facial Cleanser:-
Burst Of Happyness Just Like Heaven Facial Cleanser is a beige brown color thick grainy paste which quickly transforms to a smoother paste when mixed with water.
I scoop out a little product in hands and add few drop of water ( just few drops are enough don't add too much of water or it will get too runny to apply) till it turns to a thin paste with blendable consistency.
I apply it over already wet face and start massaging my face with short and gentle upward strokes.
I was a little skeptical while using it over my dry skin as it contains Kaolin Clay and usually Clay based products are drying and works better for oily skin but as the formula also contains natural oils like Avocado Oil, Apricot Kernel Oil which have a nourishing effect on my skin and doesn't make my skin feel dry or stretchy.
The cleanser also contains grounded almonds and its super tint particles can be felt on skin while massaged giving a gentle exfoliation to the skin.
The cleanser has a bitter apricot oil fragrance which isn't very pleasing but as long as the formula works on my skin I can live with that.
Results: The cleanser gently cleanses away all the impurities from the skin leaving it clean and fresh. I can feel slight oily film post wash but it doesn't bother me as it gives a natural glow to my skin. The oils in the formula nourish the skin while the Kaolin clay does the cleansing action and almond granules work on dead skin cells. Skin feels smoother, softer and brighter. The cleanser can be left on face for 4-5 minutes for a tightening effect. I can skip on the moisturizer in summer, a hydrating toner would just be enough.
Don't Miss to Checkout:
Pros of Burst Of Happyness Just Like Heaven Facial Cleanser:-
Natural-herbal cleanser
Cleanses skin gently
Fine almond granules gives mild exfoliation
Doesn't strip skin's moisture
Gives a hydrating glow
Great for dry skin
Reduced blackheads with regular use
Doesn't contain any preservatives, SLS, soap or other chemicals
Not tested on animals
Cons of Burst Of Happyness Just Like Heaven Facial Cleanser:-
Plastic/wooden spoon can be included with the packaging
Bitter fragrance
Leaves slight oily film on skin which might bother combi skin (the formula is for dry/normal skin though)
Might not suit sensitive skin
Recommendation:- Burst Of Happyness Just Like Heaven Facial Cleanser is a chemical free, natural cleanser which can be prepared instantly by mixing with water or milk. The formula contains Kaolin clay to remove impurities, natural oils to nourish skin and grounded almonds for gentle exfoliations. It deeply cleanses skin, leaving it smooth, nourished, imparting a natural healthy glow. The oils in the formula leave behind slight oily residue on the skin but don't bother my dry skin.  I have stopped using any of the soap based cleanser and loving the results of this Soap-free cleanser on my skin. Recommended!
Rating:- 4.5/5
Have you tried Burst Of Happyness Just Like Heaven Facial Cleanser? Do you prefer Soap-free cleansers?