Burst Of Happyness Green Tea Soap
Hello Everyone,
Fiama Di Wills Soaps are my all time favourite but other than that most of the soaps are drying on me. I have been keeping away from soaps for the longest time as I am really enjoying my indulgence with Shower Gels but whenever I come across a handmade beauty, I find it hard to resist. So, today I will be sharing a handmade herbal soap, Burst Of Happyness Green Tea Soap.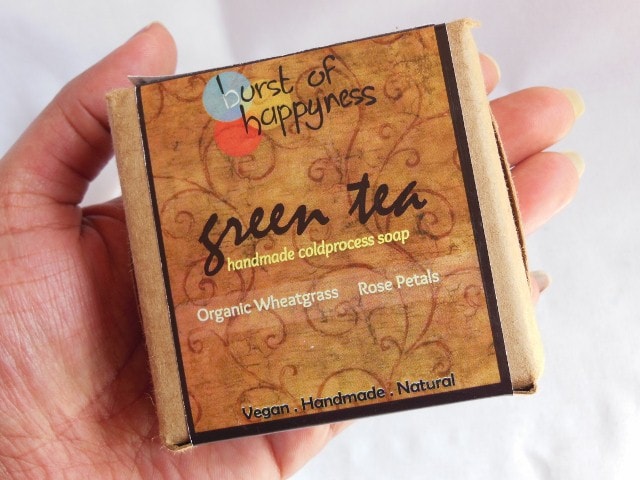 Product Claims:
Green tea is naturally rich in antioxidants, which help protect the body from free radicals and combats the harsh effect of pollution, sun and smoke. It is also believed to have anti inflammatory properties.  This soap contains an invigorating blend of peppermint, lime & lemongrass essential oils.
Wheatgrass is believed to help tighten sagging skin and also soothe irritated skin.
Rose Petals are rich in vitamins and antioxidants and are also antibacterial in nature.
This product is palm free, vegan, not tested on animals, truly natural and free from any chemicals or preservatives.
Ingredients:- Saponified vegetable oils ( olive, coconut, cocoa butter, canola), green tea, water,organic wheat grass powder, dried rose petals, essential oils (peppermint, lime, lemongrass)
Price:- Rs.300 for 100gms
Shelf Life:-  18 months from the Mfg date.
Packaging:- Burst Of Happyness Green Tea Soap comes in a hardboard box type packaging with all the product details mentioned on the box.
My experience with Burst Of Happyness Green Tea Soap:-
Burst Of Happyness Green Tea Soap is a muddy brown colored bar with a curvy top that works as a grip while applying it on the body. There is dark brown swirl in the soap which has tiny granules which I guess are the dried rose petals.
The soap has mild herbal scent a mix of green tea and lemon grass which isn't overwhelming and quite soothing to my senses. It gives a rich lather when worked up with a loofah and rinses quickly. It gives a squeaky clean feeling to the skin which is perfect for hot summer days. The formula isn't drying but it isn't moisturizing either and I have to follow with a light moisturizer else will have to bear the stretchy feel on the skin.
The formula is infused with wheat grass oil and dried rose petals which are believed to have anti ageing properties which helps in tightening up the skin and soothing any inflammation.
The soap is a little expensive and not all might be eager to pay so much for soap but all these handmade organic products are a bit expensive.
 Don't Miss to Checkout:
Pros of Burst Of Happyness Green Tea Soap:-
Lather well when used with loofah
Gives a refreshing clean feeling
Mild herbal fragrance
Contains goodness of natural butters, green tea and rose petals
Free from all sorts of chemical
Cons of Burst Of Happyness Green Tea Soap:-
Price is on the higher side
Bit drying for dry skin in winters
Recommendation:- Burst Of Happyness Green Tea Soap is an organic soap made with only natural ingredients. It gives a good lather and gently cleanses away all the impurities giving a refreshing clean feeling to the skin. It has a mild formula but I wish it was a bit moisturising to my dry skin. If you plan to keep your skin happy with natural goodness do give these hand made herbal soaps a try.
Rating:- 3.5/5
Have you tried Burst Of Happyness Green Tea Soap? Do you prefer handmade soaps over commercial ones? 
PS: Product sent by Brand for Consideration