Burst of Happyness Eternal Facial Serum Review
Hello Everyone,
Facial Serums are the new rave in skin care for their quick absorbability and deep penetration under the skin resulting in improved texture, firm and smoother looking skin. But the price could be a deterrent as the ones claiming super amazing results can cost a bomb and not many of us would be ready to invest in them. I have tried one serum sample from L'Occitane and the regular packaging would definitely burn a whole in my pocket. So, lets checkout this super-affordable and all natural facial serum from Burst of Happyness, Burst of Happyness Eternal Facial Serum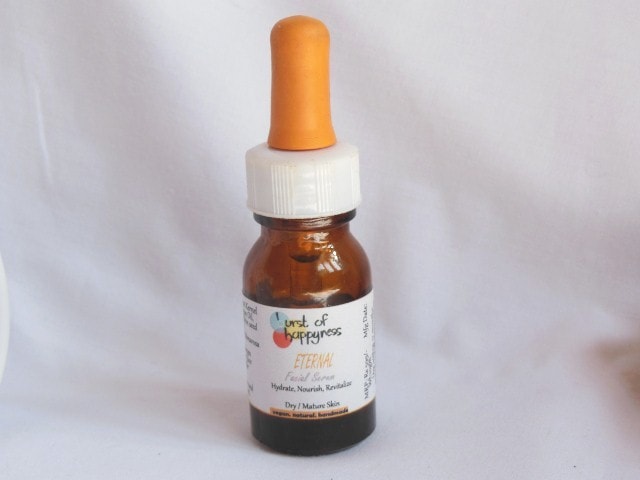 Product Claims: A blend to hydrate, nourish and revitalize. It's TLC in a bottle –  perfect for skin that is  prone to dryness and to combat signs of ageing.
Apricot Kernel Oil : Softens and regenerates skin
Jojoba Oil: Moisturizes and protects
Argan Oil: Restores skin elasticity and helps reduce fine lines and wrinkles
Rosehip Oil: Evens skin tones and reduces sun damage
Pumpkin Seed Oil: is a powerhouse of nutrients which help keep the skin bright and looking young
This product is vegan, not tested on animals, truly natural and free from any chemicals or preservatives. It has been made using simple ingredients with extraordinary benefits.
The product is not intended to diagnose, treat, cure or prevent any disease.
Direction for Use:- Massage onto face and neck in circular motion till the oil is completely absorbed
Ingredients:- Apricot Kernel Oil, Jojoba Oil, Argan Oil, Rosehip Oil, Pumpkin seed Oil, Essential Oils (Frankincense & Palmarosa)
Price:- Rs. 480 for 7gm
Shelf Life:-  12 months from the Mfg date.
Packaging:- Burst of Happyness Eternal Facial Serum comes in a tiny glass bottle packaging with a dropper. The packaging might not be sturdy but I really liked the dropper to dispense the product as it allows controlling the amount and keeping the rest of the serum/oil from any contamination. The packaging is now upgraded to plastic one with a roller tip which must be easier to use but I guess not as hygienic as this one.
My experience with Burst of Happyness Eternal Facial Serum:-
Burst of Happyness Eternal Facial Serum is dark yellow colored oil with medium-thin consistency. It has a light weight formula that spreads easily and doesn't feel heavy on my dry skin. It is an herbal serum, made from blend of natural oils so it does leave that slippery oily feel on skin but not super greasy or tacky sorts.
I use 2-3 drop of this drop, rub in between palms and then gently massage it all over my face. The oily shine starts disappearing few minutes post application as the serum sinks into the skin or I can keep on massaging the face for 1-2 minutes till the formula is completely absorbed into the skin.
It nourishes my skin well and leaving it smooth and soft. The serum actually works on improving the quality of the skin as it appears plumper, even-toned, and brighter. I am using it along with Just Like heaven Clay Cleanser and the duo is doing a fabulous job. I loving the glow it has added to my skin. This Eternal Facial Serum has become a staple in my night care routine.
The only thing I didn't enjoy is the fragrance of the serum. It has a strong (not super strong but cant 't get unnoticed) scent of bitter apricots, owing to the presence of Apricot Kernal oil though it doesn't last long and fades within few minutes of application.
Don't Miss to Checkout:
Pros of Burst of Happyness Eternal Facial Serum:-
Light weight formula which blends easily
Doesn't feel heavy
Absorbs completely without leaving any greasy residue
Works wonderfully on my dry skin
Skin appears smooter, softer, brighter
No skin irritation/breakouts
Made of Natural Oils
Free from Chemicals
Value for money
Hygienic and easy to use packaging
Also available in "Divine" version for Oily / combination skin
Cons of Burst of Happyness Eternal Facial Serum:-
Needs to be massaged well to make it absorb completely
Leaves a slight oily shine that take few minutes to disappear
Bitter fragrance
Recommendation:- Burst of Happyness Eternal Facial Serum is an herbal serum with a blend of luxury oils like Jojoba Oil, Rosehip Oil which does wonders to my dry skin. The formula never feels heavy on skin and gets absorbed completely with a little massage. It doesn't make my face look greasy or cause any breakouts rather my skin has become smoother, plumper and has a radiant shine. It is a great alterative to the commercially available chemical based serum, if you don't mind the oily shine and the slight bitter fragrance. I can definitely see myself repurchasing it in winters. Recommended!
Rating:- 4.5/5
Have you tried Burst of Happyness Eternal Facial Serum? Which is your favourite facial Serum?