Bummer or Stunner: Makeup Revolution Focus and Fix Liquid Concealer 
Hello Everyone,
I was super excited to see this full sized Makeup Revloution product in my September Fab Bag. There couldn't have been a better time to try this concealer when I am out of one and looking around for affordable ones. This is the first time I will be trying Makeup Revolution stuff so I am pretty excited. Lets checkout this concealer, Makeup Revolution Focus and Fix Liquid Concealer.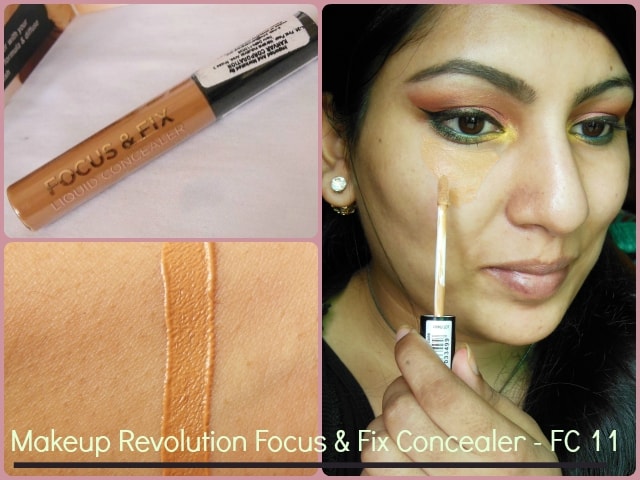 Product Claims: Focus and Fix like a professional.
Hide and conceal, from dark circles to blemishes.
Fix those imperfections, dark circles and blemishes with this high coverage liquid concealer which is easily blendable.
This creamy formula is longwearing and provides a natural finish.
Available in 6 shades.
Price: Rs.550 for 7.5ml
Packaging: Makeup Revolution Focus and Fix Concealer comes in a lip gloss type packaging with a sleek see through bottle and a doe foot applicator. I like such packaging's for liquid concealers as they are easy to use but there are hygiene issues with it.
My Experience with Makeup Revolution Focus and Fix Liquid Concealer:-
Formula: Makeup Revolution Focus and Fix Concealer has a medium thin consistency which is quite similar to other liquid concealer like L'Oreal True Match and hence was expecting similar results but wait that's not the case.. read on to find out!
The formula spreads easily and blends in with few finger strokes, I also use SIGMA 3DHD precision brush for blending and it works well too. The creamy formulation feels slightly moisturizing and gives a smooth and very natural finish.
Shade: The concealer is available in 6 shades and I got it in Dark FC 11 which is the darkest shade available. I guess this is the shade that will work for most of the warm Indian skin tones.
Coverage: The concealer isn't much pigmented and hence doesn't provide great coverage. It's sheer to light coverage won't be effective in concealing under eye area but if you want a healthy glow down there just swipe it over your concealer/corrector. It barely conceals any Redness on the face and will just be good enough for minor blemishes or scars.
There are strong yellow undertones in it which makes it visible on skin and I can easily make out where I have applied the concealer, so will suggest wear it under your foundation for an even looking skin tone.
Don't Miss to Checkout:
Staying Power: The concealer doesn't lasts for more than 3 hours on me. I have tried many other liquid concealers but this has the shortest staying span. Owing to its creamy formulation it will melt if you're out in heat and will start looking cakey if layered, so set it well with loose powder (baking would be best!) to avoid the situation.
Tip: Conceal and color correct your eyes with your favorite product and then dab a little bit of it over for a brightened look. Pick a shade lighter than your skintone for better results.
Recommendation: Makeup Revolution Focus and Fix Liquid Concealer has been quite disappointing as it claims to be a high coverage concealer but turns out quite sheer on application. The formula is easy to blend and looks natural but it stays only for few hours and melts if you stay in heat for long. It works fairly better as a spot concealer than an under eye one but I do feel something is missing in there. I can't just walk out with this… have to cover it up with a BB cream or a regular foundation routine for an even looking skin as it creates a yellowish patch on blending. There are better concealers out there at this price so Not Recommended!
Rating: 2/5
Have you tried Makeup Revolution Focus and Fix Liquid Concealer? Which is your favorite liquid concealer?