Building Bridal Box Vol.2-  Foundations
I have shared with you the List of Face Primers in my last post , which will help you to choose one according to your skin type as well budget 😉 . Now, the next step is Foundation, so lets see what are all the best available option we have in Indian markets, based on our skin types.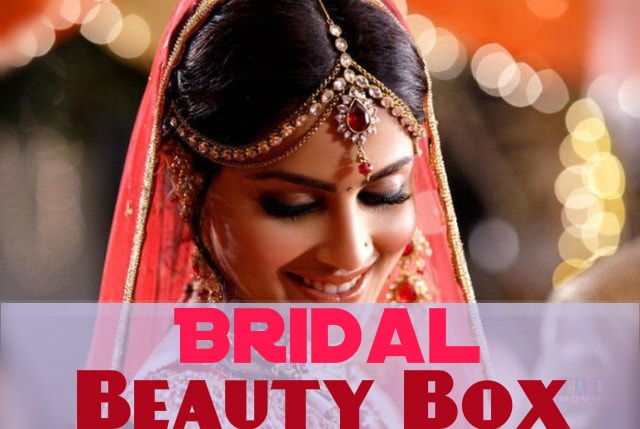 What is a Foundation?
Foundation is a skin beige colored formula  that will help hide the facial flaws under it and gives the illusion of smoother even looking skin.
Some of the formulas provides naturally glowing skin while the ones especially for oily skin helps to keep their skin matte for long.
It is the base of your makeup and you cant afford to go wrong with this  and it has to be a perfect match to your natural skin tone else will end up with white cast or a duskier complexion but if you have to choose between these two go for latter.
Foundation is available in numerable textures like Liquid, Cream or Powder and finishes like matte, semi-matte, natural and glowy. so choose according to your requirements.
Suggestion for Oily/Combination Skin
Liquid Foundations
Light to medium Coverage
Matte Finish 
Not very long lasting
Good for everyday use
Maybelline Dream Liquid Mousse Foundation – Rs 575
Chambor Sheer Delight Ultra Matt Oil Free Foundation – Rs 695
Lakme Absolute Mattreal mousse – Rs 599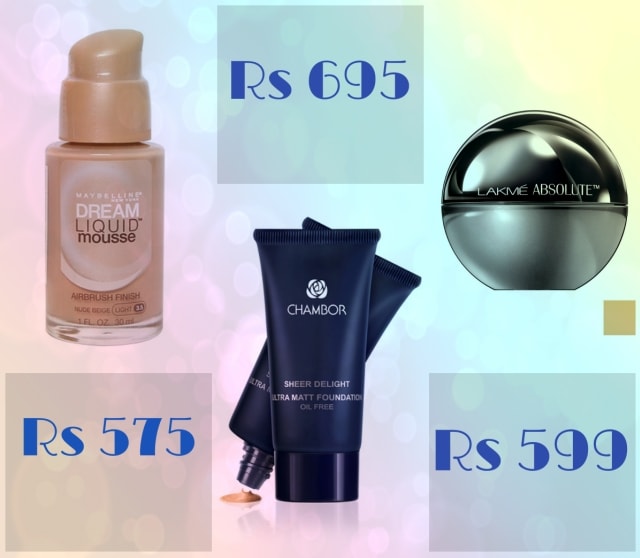 Medium- Full Coverage
Long lasting
Matte Finish 
Lakme Absolute White Intense Skin Cover Foundation – Rs 595
L'Oreal Paris Infallible Foundation -Rs 1195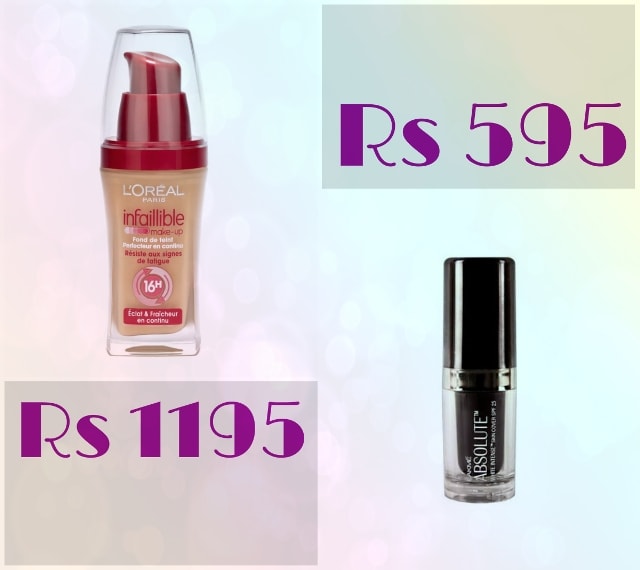 Medium- Full Coverage
Long lasting
Natural/Glowy Finish 
Revlon Photo Ready Foundation(SPF 20) – Rs 850
Clinique Anti-Blemish Solutions Liquid Makeup- Rs 1600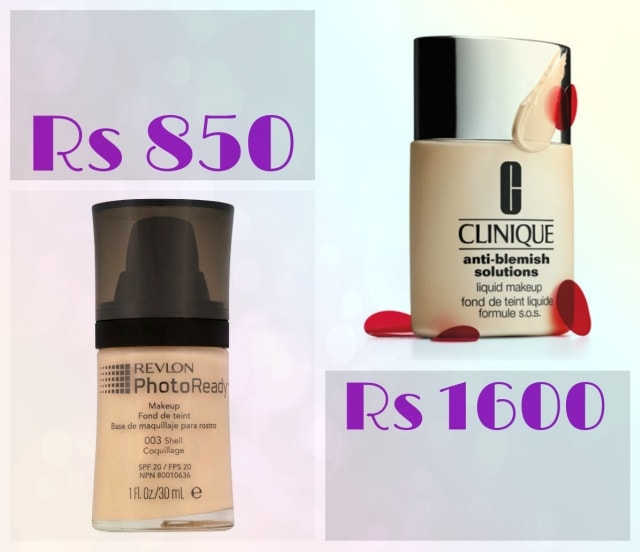 Powder foundations:
Medium to Heavy coverage
Long lasting
Matte Finish
MAC Studio Fix Powder Plus Foundation – Rs 1500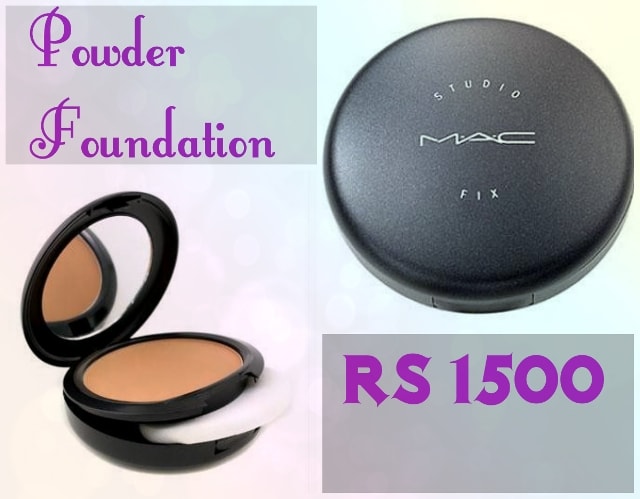 Special Occasion Foundations
Medium to Heavy coverage
Long lasting
Matte Finish
MAC Match Master Foundation – Rs 2100
MAC studio fix fluid (With SPF 25)– Rs. 1700
MAC Prolongwear (with SPF 10) – Rs 1750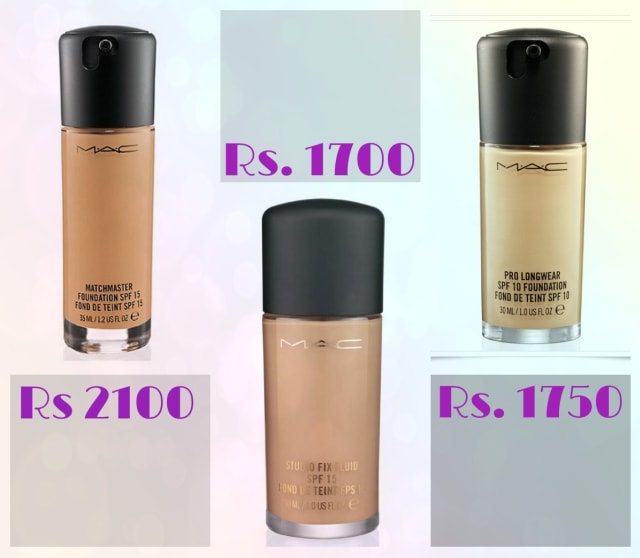 Suggestion for Dry Skin/Combination skin
Liquid Foundations
Light – medium Coverage
Glowy/Natural Finish
Long Lasting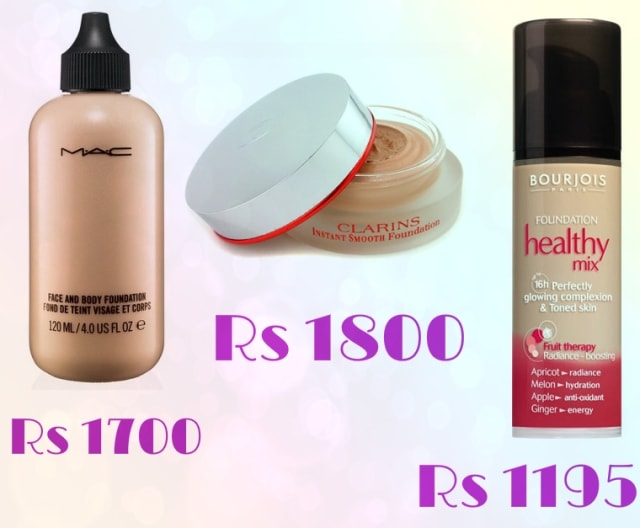 Medium coverage
Glowy/Natural Finish
Long Lasting
Inglot YSM Cream Foundation – Rs 970
Clinique Super Balanced Foundation – Rs 1900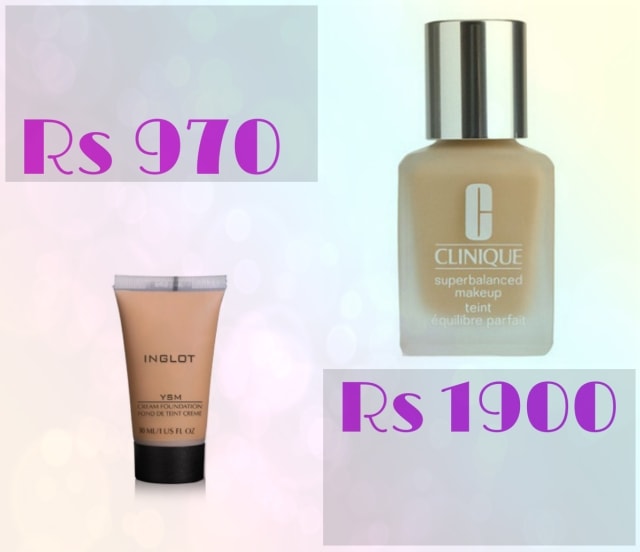 Cream Foundation 
Medium – full coverage
Glowy/Natural Finish
Long Lasting
Kryolan Ultra Foundation – Rs 900
The Body Shop Extra Virgin Minerals Cream Compact Foundation SPF 15 – Rs 1375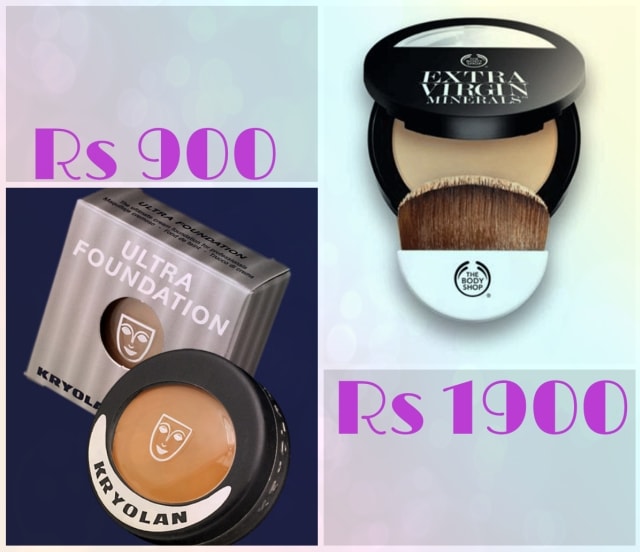 Some Luxury Foundations:-
Light-Medium Coverage
Natural/Glowy finish
Long Lasting
Lancome Teint Miracle Foundation – Rs 2700
Christian Dior Diorskin Nude Hydrating Makeup SPF 10- Rs. 2870
Nars Sheer Matte Foundation – Rs. 3007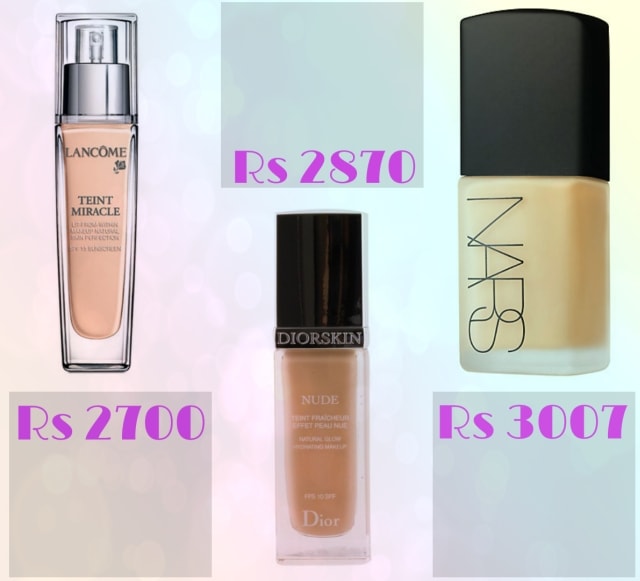 Medium to full coverage
Matte finish
Long Lasting
Makeup Forever HD Foundation– Rs 2100
Estée Lauder Double Wear Stay-in-Place Makeup SPF 10 – Rs 2,790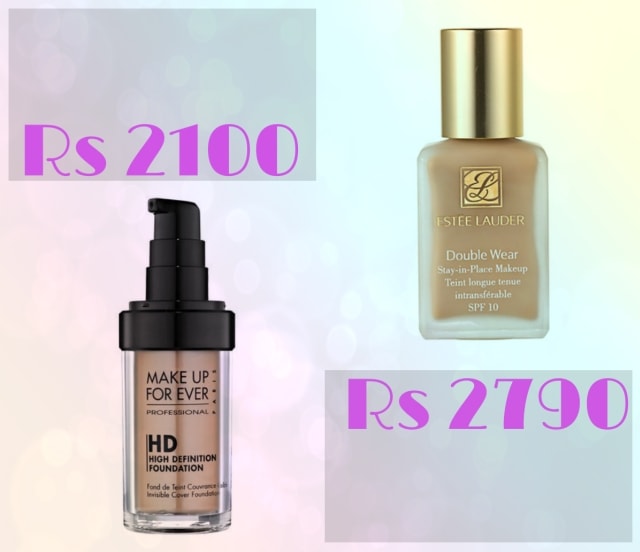 In my lust list … 🙂
1.  Chanel Vitalumiere Aqua Foundation – Rs 2500 which has light to medium coverage and a natural glowy finis which lasts forever!!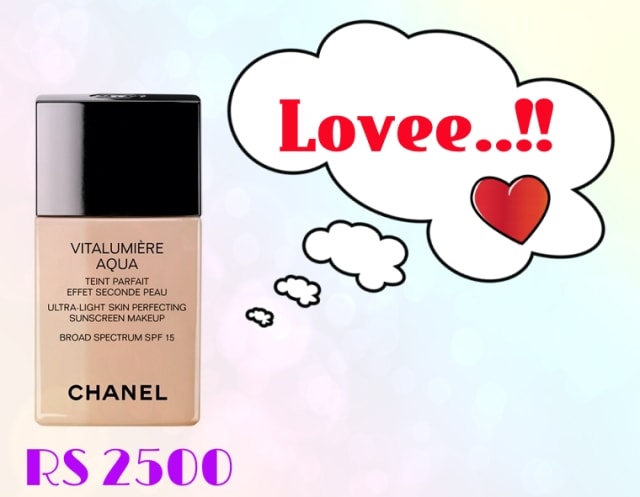 Few Pointers before buying "Foundation" :
The best place to check the matching foundation shade is to apply it under your jawline . If the color disappears and looks natural. This is it!
Don't buy it in your first visit, get it tested on your face and leave it for full day.
Make the decision after testing it in different lights and not based on the flashy Store Lights. Notice it under different lights and if it managed to survive on you without getting oxidized, looking ashy or melting completely.. you know what to do next!! (Go grab it.. :D)
The ones with SPF might appear whitish in flash light, so if you are out for night parties or flash photograpgy choose one without SPF to be on the safer side
Some Quick Tips:
Try and Test all the products before making any purchase
Don't just go and buy the products, ask the SA to apply them on your face and them give them good 6-7 hours to stay and judge their performance.
Better pick up your bestie witth you for genuine inputs
Dry skinned can apply a light moisturizer beneath to avoid flakiness especially if going for matte finish foundation
Pick very small amount for each application, blend it completely and repeat if required more. Buildable coverage is best achieved this way!
Test to check your undertones:
Wear a white tee and look into the mirror.  If your face appears yellowish you have yellow undertones. (Most of the Indians have yellow undertones) otherwise you would see pink or neutral tones that will define your undertones
Don't Miss to Checkout:
Hope you find it helpful! Input/Suggestions and feedback is requested!
Do you use Foundations regularly? Which one is your favorite foundation?