#BrowsOnFleek with Maybelline Fashion Brow Duo Shaper
Hello Everyone,
Let's talk about brows today!! I am blessed with fuller brows but I never knew how important is filling them up until I tried one. Filling and shaping brows with a brow gel can totally change the makeup game by framing your face and giving definition to your eyes. I started with NYX Brow Powder years ago and since then there is no looking back. I haven't seen or tried much of the brow product in Indian brands so when I saw this Maybelline Fashion Brow, I got excited but lets see if it does what it is meant for, Maybelline Fashion Brow Duo Shaper in Brown.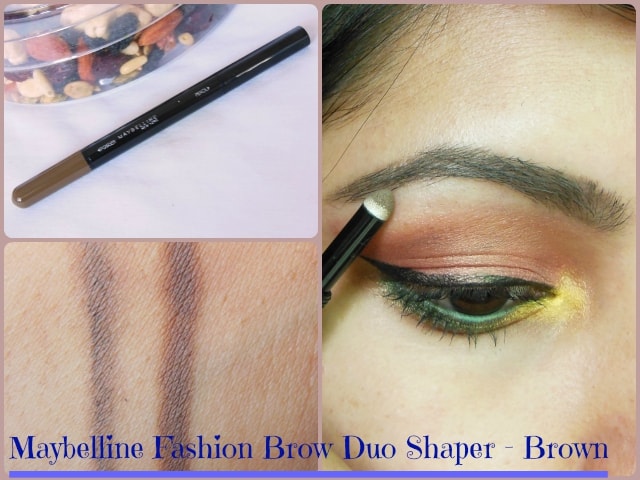 Product Claims: Get naturally-defined, fuller eyebrows with Maybelline's Fashion Brow Duo Shaper, without threading, trimming or plucking your eyebrows! Our first ever 2-in-1 brow liner comes with a slim pencil tip to shape your brows and a powder tip for a soft finish. Pencil shapes, powder finishes, 2 steps to wow!
Price: Rs.245
Available in 2 shades:
Packaging: Maybelline Fashion Brow Duo Shaper comes in a sleek black colored plastic packaging with color coded cap. There is a retractable pencil on one side with a push open and a smudgy sponge tip applicator with a screw cap on the other. The sponge is dipped in brow powder filled in the cap and has a spring mechanism so that the sponge and brow powder stay in touch! 😀
My experience with Maybelline Fashion Brow Duo Shaper:
Texture: Maybelline Fashion Brow Duo Shaper has a blunt shaped pencil which was a little surprising as I am used to pointed –sharpened pencil tips. I started swatching it on my arms with the usual pressure but jeesss.. it broke!! 🙁 . The Maybelline Fashion Brow Duo Shaper indeed has a dry stiff texture which makes it hard to swatch on arms and yes the pencil will break if applied with pressure.
Pigmentation: I swiped it like 10-15 times for the swatches and still it gave me a sheer color on arms but brow powder has better color payoff and with in 2-3 swipes it showed up well. I have almost lost hope and wasn't eager to try it on brows but wait.. here is the climax!!
Application: I swiveled just a little bit of the pencil out of the casing so it shouldn't break and started shaping and filling my brows with short soft strokes and look what I saw.. my brows look defined with just few strokes. Yayyyy!! Next I swiped the sponge tip on the brows and it easily blurred out any imperfection and made them look fuller and done!
Don't Miss to Checkout:
Staying Power: Next most important part of any brow product is its long lasting power and I am happy to say that Maybelline does an excellent job here as well. The brows stays in shape for hours even if you go out in melting heat or do your gym. Sweat it out like you want to but your brows won't budge
Tip: Shape your brows with the pencil first and then go with the sponge tip to fill up any gaps and give a fuller look to brows.
Recommendation:- Maybelline Fashion Brow Duo Shaper turned out to be the best brow pencil in drugstore brands in India. It makes an excellent brow product, which lasts whole day and all of this at a pocket friendly price. The slim pencil gives you control to shape your brows and the sheer pigmentation will help in easy application and less mistakes. One can slowly build up the color on brows and will never go overboard with this Brow Shaper. Though I feel a spoolie for combing and shaping the brows would have made it better but at the price tag I am not complaining. I think Maybelline Fashion Brow Duo Shaper in Brow will be best for all but if you have super dark black brow hair and dusky skin tone you might pick Grey over brown. Maybelline wins again!! Recommended!
Rating:- 4.5/5
Have you tried Maybelline Fashion Brow Duo Shaper? Which is your favorite Brow Product?
PS: Product sent by brand for consideration