Breaking Bad : Colorbar Shimmer Brick Coral Hint
I have already confessed my love for Colorbar Shimmer brick in Coral Hint which has beautifully pigmented color bars in shades of orange, bronze, copper. The formula is creamy soft and has finely milled shimmers which imparts a glistening sheen on application, it is more than just a blusher or shadow.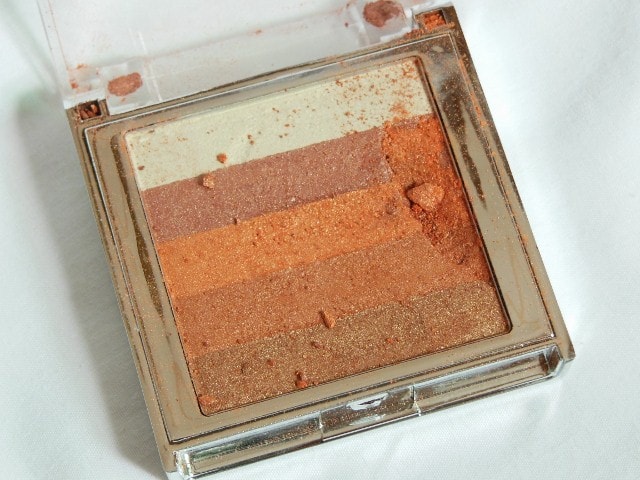 But someone here is "Breaking Bad" – Shattered shades on the brick.
Before you start making assumptions, I must tell you that I haven't dropped this Colorbar Shimmer Brick even once. I am handling it with utmost care and even then the colors broke and came out in chunks.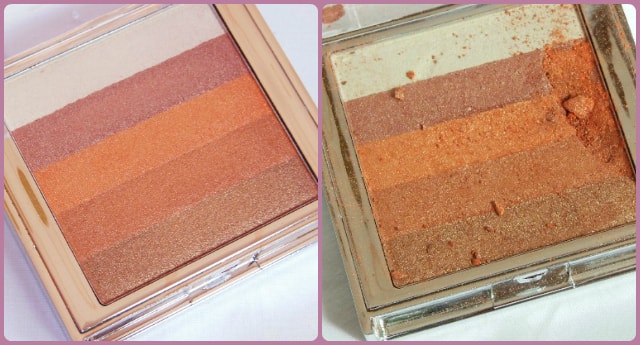 Few days back I noticed a slight crack at the edge but ignored it thinking I might have digged my nails in there, unknowingly. Then, next day situation became bad and I saw a even bigger chunk of color moving around the palette, I thought this might be it and just used the palette and placed it back into the bag. And now, look at the grave condition of the palette, almost ½ of the bars have loosened up and I am pretty if I travel few more days with this it is going to give in and all the color will starting roaming around in the pan creating a mess.
Final Verdict – Colobar Shimmer Brick is a lovely palette but the formula isn't travel friendly and within a month of it travelling in my makeup bag it has started showing its real face. 🙁

I am planning to clean up the mess and use a bit of alcohol to settle the color pieces in their respective sections and place it I my dresser. The brick is too delicate to travel with.
Do you own Colorbar Shimmer Brick? Have you experienced the same with it or faced similar situation with any of your makeup product?