Braun 3170 Silk Epil 3 Epilator Review 
Hey Gorgeous,
Are you skeptical of trying Epilators and believe that it will be a painful process, then you must read Waxing Vs Epilator post and find out the truth. But if you have made your mind for epilation than you know that "Braun Epilators" are one of the best in market and have many versions available so you can pick according to your preference. Today, I will be reviewing the simplest model from the brand, Braun 3170 Silk Epil 3 Epilator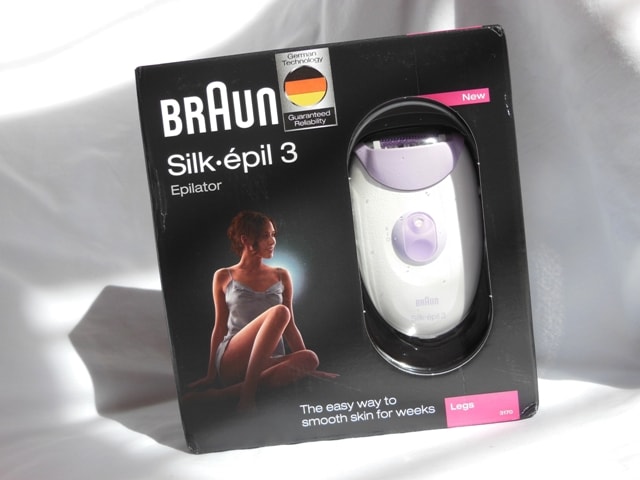 Price: Rs 3195 ( Buy on Amazon for Rs 2399)
Product Description: The Silk-épil 3 promises for gentle hair removal with tailored features to make standard epilation even more comfortable
Silk-épil 3 is a great option for easy hair removal.
20 tweezers remove hair at the root and leave your skin smooth.
While the Smartlight helps you see every fine hair, so none are missed.
Silk-épil 3 key features: 
Massaging rollers:The Silk-épil 3 features massaging rollers that smoothly stimulate and massage your skin to ease the epilation and increase the comfort in your beauty routine.
20-tweezer system: The 20 tweezers on the Silk-épil 3 gently remove hair at the root for long-lasting results.
Simple & easy
SoftLift Tips: The SoftLift Tips effectively lift even flat-lying hair and help guide them to the tweezers for removal.
Smartlight: The Smartlight helps easily guide your way through the epilation process and lightens up even the finest hairs for no miss removal.
Speed personalization: You can select the right speed for your individual needs: Speed 1 for extra gentle epilation, speed 2 for extra efficient epilation.
Features dermatologically recommended
Packaging: Braun Silk Epil 3 Epilator comes with an Adapter, Small cleaning brush and the Epilator which has an epilator head and skin stimulation attachment packed in a sturdy cardboard box which also has the Guarantee card and the instructions manual.
My Experience with Braun 3170 Silk Epil 3 Epilator:
Braun Silk Epil 3 Epilator comes in 2 shades and I got the lilac one which indeed looks very pretty and girly. The epilator comes with the epilating head and a massager on top to make the removal process less painful.
Just plugin the power source into the mains and connect it to the epilator. Switch in the on the front of the epilator so it gets reached and controlled easily by thumb. And also there is an embossed pattern at the back to provide better grip and avoid slippage. It has two speed settings and the smart light turns on when it is slightly pushed so that you can see the finest hair closely during the process.
The epilator has 20 tweezer heads that do the job of pulling the hair. If you follow the tips mentioned below than you will just feel the tiny pricks while epilating, almost negligible pain.
I use the epilator for arms, legs and underarms as well. I will suggest to go for a Epilator with a minimum of 40 tweezers for underarms as it makes the removal faster and easier ( I used Epil 5 for this) but for arms and legs this Epil 3 does a good job too.
I will highly recommend using the massaging roller that comes with the epilator, every time you epilate as massages the skin before epilating and helps in reducing pain and ease up the Epilating process.
Roll the Epilator is the opposite direction of hair growth for effective hair removal and make sure the skin remains tight when you are epilating as it is more painful when done on loose skin and also won't be able to remove hair from the roots.
It usually takes me 10-15 to remove hair from both of my arms and legs.  I have slightly sensitive skin so I do get red bumps after epilating but they gets healed within an hour. In case you have super sensitive skin try it from your friends and relatives before buying if you can. Applying toner or Aloe Vera also helps in soothing skin quickly.
The noise can be a deterrent for some so I will suggest turn on some good music so you can ignore its hissing sound :D.
Epilating Tips:
Make sure you exfoliate your skin before epilating
The area should be dry and without any moisturizer
Stretch the skin slightly so only the hair gets pulled up by tweezers.
Hold the Epilator between 60-90 degree for best results
Epilate when your hair length is short don't wait for them to grow long as it pains a little more with longer hair
Turn on some good music …. You can avoid the noise this way!
Recommendation: Braun 3170 Silk Epil 3 Epilator is the simplest Epilator which does a good job at hair removal. It comes with everything that one will need to start with Epilating. It has 20 tweezing head, 2 speed setting and smart light to ease up the process. I wish it came with a carrying case to store the attachments together and if you prefer chargeable Epilators than skip this as it works only with the power and can't be charged. Overall, it's a good affordable option to start with epilators, Hygienic and Hassle free. Recommended!
Rating:4/5
Have you tried Braun 3170 Silk Epil 3 Epilator? Do you use Epilators or go for Waxing?
PS: Product sent by brand for consideration. Honest Review!