Brain Power: Zenith Nutrition MemoryFab Capsules
Hello Everyone,
Are you having hard time remembering things or you keep forgetting what were you supposed to do nextor you feel lazy all the time or you are not able to concentrate on your tasks.. Well you brain might be hungry and it needs some good food to come back in action. So, let's see how these Zenith Nutrition MemoryFab Capsules help.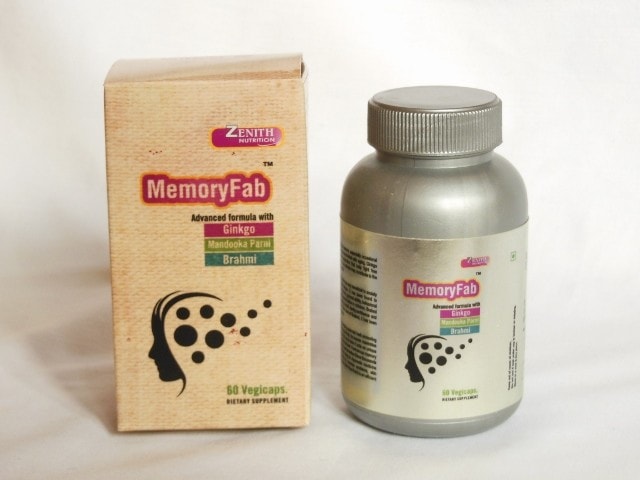 About the Brand: Zenith Nutrition provides Scientifically Advanced Nutritional Supplements. Zenith Nutrition's complete line of nutritional products includes vitamins, minerals, probiotics, standardized herbal concentrates and amino acids. The Company utilizes its industry leading capabilities to produce superior research based formulations that optimize the nutritional value and performance for its customers.
It is vitally important to us to strike a balance between traditional medicine and modern science making us a unique dietary supplement company that can offer traditional herbal supplements, as well as those that are backed by science.
Product Claims: How MemoryFab™ works ?
Quick-absorption ginkgo biloba may deliver brain-boosting effects!
May enhance clarity, concentration and memory. Also provides antioxidant protection!
How does Ginkgo Biloba work?
Ginkgo helps improve memory,especially occasional mild memory problems associated with aging. Ginkgo contains antioxidant properties that help fight free radicals in the body. Free radicals may contribute to the premature aging of cells.
Brahmi has been found to be very beneficial in anxiety neurosis and mental fatigue. It has been found to significant improve IQ levels, general ability, behavioral patterns and mental concentration in children. Brahmi is useful for improving mental clarity,confidence and memory recall. For these uses of Brahmi, it has been widely used by students.
Mandukaparni Is a creeping perennial herb promoting intellectual faculties wonderfully. Its leaves resembles with human brain, on the same time it acts on unique centers like brain as well as heart. It enhances memory power, comprehension, concentration Since thousands of years Mandukaparni using in Ayurvedic medicine preparation, especially for nervous problems, skin disease, sleep disorders. More than that it is an efficient brain food.
MemoryFab™ may help in
Reduces Anxiety, Stress, Mental Fatigue, Dullness and Depression.
Improving Intelligent Quotient (I.Q.)
Learning Disability, Loss of concentration, Memory Disturbances.
Cognitive therapy
Price: Rs.1080 for 60 Capsules
Packaging: Zenith Nutrition MemoryFab Capsules comes in a Gray colored plastic bottle with screw lids and are sealed with a silver foil.
My experience with Zenith Nutrition MemoryFab Capsules:
Zenith Nutrition MemoryFab Capsules contains 3 wonder herbs that will boost brain power. As we have already discussed how Ginkgo help in improving blood supply to the brain and the additional anti-oxidants fight free radical damage and let us enjoy good health.
Apart from Ginkgo, these MemoryFab Capsules also contains Brahmi which is proven to improve concentration and memory recall. So, if you have hard time remembering thing or you keep forgetting things this one is especially for you. It could be so beneficial for student who have so much to grasp.
Not Only this, Capsules are also infused with Mandukaparni which looks quite creepy as it leaves look like human brain. It has been used since years in Ayurvedic medicines for nervous problems and sleep disorders. It also helps to improve memory power and concentration.
So, overall these capsules are an efficient brain food and if you are facing any of the problems mentioned above, do checkout Zenith Nutrition MemoryFab Capsules
I like these capsules because these capsules are Vegetarian and are free from Sugar, Lactose, Flavour, Salt, Gluten, Color, Fish and other preservatives so they are safe for someone who is prone to allergies as well.
Disclaimer: These products are not intented to diagnose, treat, cure  or prevent any disease. Always consult with your professional healthcare provider before changing any medication. Pregnant or lactating women shouldn't take it.
Have you tried Zenith Nutrition MemoryFab Capsules? Do you take any supplements?
PS: Product sent by brand for consideration.