Bourjois Smokey Eye Trio – 09 Lady Vert De Gris Review, Swatches, EOTD
Bourjois is a mid- priced brand but its makeup products are like hit or miss types for me. I have liked some of them like Bourjois Kabuki Brush, Bourjois Noir Expert Kohl & Contour Noir Expert  but others like Bourjois Prune Morderne aren't good enough.
Bourjois Ombre a Paupieres Eye shadow –Rose Tentation is a unique shade and can be made to work better with a base. To try more from its eye makeup collection . I got this Eye Shadow Trio from Bourjois Smoky Eyes range "Lady Vert De Gris"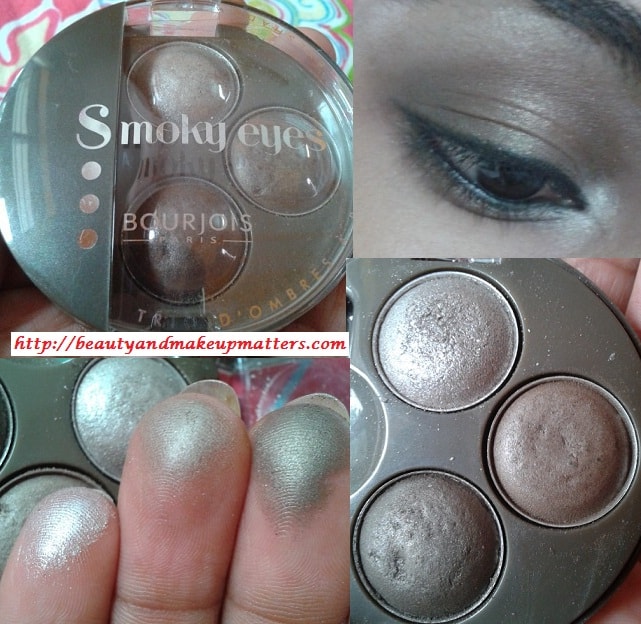 Product Claims: For a failproof, sophisticated smoky eye look that lasts 8 hours!
Contained in a modern and feminine compact case, are three hues of complementary intensity. At the back, professional make up artist tips will help you to achieve step by step a "classic smoky" or a "fashion smoky" eye look.
Manufactured with the same process which has made our Little Round Pots famous since 1863, these eyeshadows possess the same qualities of flexibility and softness: an ultra fine, silky, micronised formula for an amazing blend, lasting 8 hours.
The ergonomic, double-tipped applicator has been specially designed to outline your eyes according to your wishes.
And what's more, its formula respects the delicate eye area :

Enriched with mineral powders
Free of fragrance
Dermatologically tested

6 combinations of 3 shades are now available in store for a different smoky look everyday!
Price:- Rs.700 for 4.5gm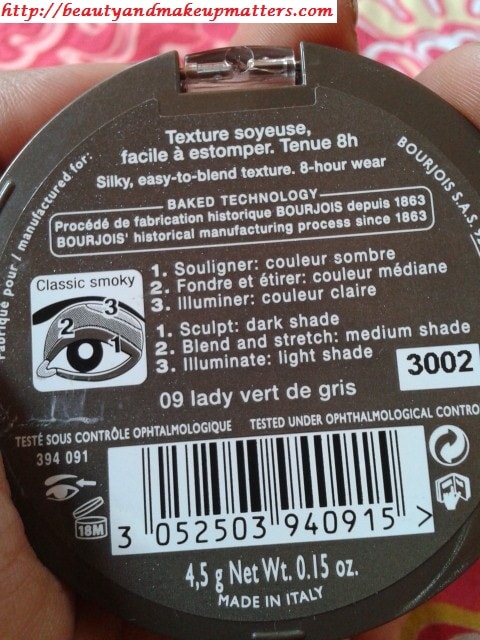 Available 11 gorgeous shades:-
Gris Dandy 01
Or Baroque 02
Mordorne Chic 03
Nude Ingénue 04
Rose Vintage 05
Violet Romantic 06
Bleu Rock 07
Vert Trendy 08
Lady Vert De Gris 09
Bleu Jeans 11
Gris Lilac 12
Packaging:- The eye shadow trio comes in a similar colored round plastic pan with a see through lid to flaunt the colors of the trio. Each eye shadow in the trio is packed like little round pots bulging out of the pan.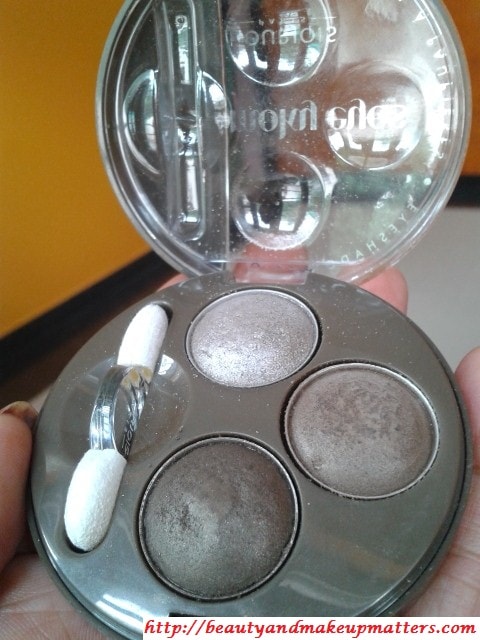 The trio is provided with a small sponge tip applicator which has a special space carved for it in the pan. The pan has a push and open button mechanism which protects the lid from opening while travelling 

My experience with Bourjois Smokey Eye Shadow Trio – 09 Lady Vert De Gris:-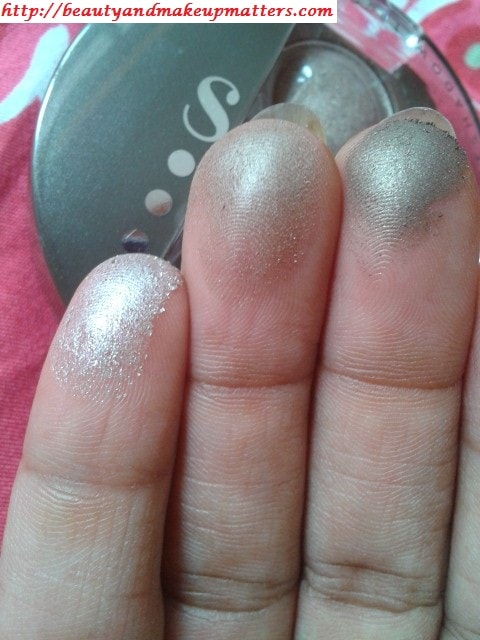 Dark:- The 1st or Darkest shade of the trio is a gorgeous grayish taupe shade with olive(green) undertones with minute shimmer particles of silver, pink and some flakes of green ones too. The shimmers are smooth and give a soft sheen to the color. It has a decent color pay off and is the 2nd most pigmented color of the lot.
Medium:- The 2nd one or is a light brown shade. The shade can be considered as a matte color as the shimmer is not evident. The few specks of silver shimmers that are barely visible can be seen if eyes are burrowed deep in the pot. The color however has some pigmentation issues as it doesn't come up well on my eyes. I rubbed my fingers almost 10 times over this particular shade and still it gave just an indication of the color on fingers. The color- pay off of this particular shade is not up to the mark which was heart breakening.
Light:-The 3rd one is a silverish metallic shade with a hint of brown. It has oozes of silver shimmers with tit-bits of pink and green shimmers in between. The color pay off is surprisingly good and is the most pigmented shade of the trio. I like it much better than the medium one due to sparkly shiny effect it gives to eyes.
Each shade in trio has somewhat different texture with darkest one which is super soft, the medium is a slightly hard and the lightest one has a powdery feel and is extremely chalky with massive fall-out.
Don't Miss to Checkout:
Swatch:-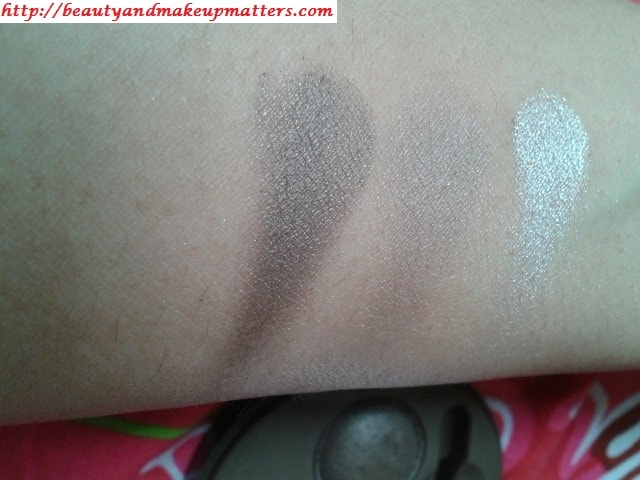 With Flash:-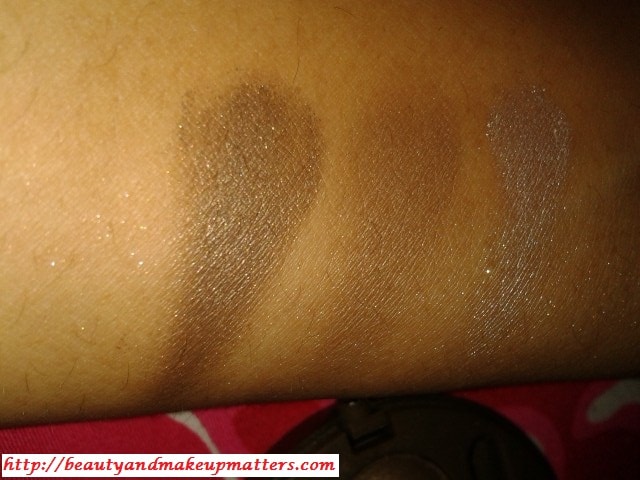 Lady Vert de Gris is baked eye shadow Trio which is supposed to be bit hard in texture but I find them to be soft with a velvety feel. The eye shadows however blend beautifully over the eyes. I totally love the look of darkest eye shadow over my lids.
The lightest and the darkest shade of the trio are very well pigmented and when I tried using them wet they give better color and looked more intense. Even the medium shade gives a better color but still it was lighter compared to the other two shades
I don't have oily lids so the color stayed well on my eyes without any significant creasing but it faded slightly by the day. There is barely any fallout for the dark and medium shades but the highlighter had lots of shimmery fall out.
Pros of Bourjois Smokey Eye Shadow Trio – 09 Lady Vert De Gris:-
Love the way darkest shade looks on eyes.
Decently pigmented dark and highlighter shades
Silky soft texture
Blends beautifully over the lids
Stays pretty well on me.
Bourjois trios are available in large number of shades
Similar colored packaging and see through lid helps in easy selection of the shade.
Cons of Bourjois Smokey Eye Shadow Trio – 09 Lady Vert De Gris:-
Expensive
The highlight color is chalky
Medium shade doesn't show well on me
Fades lightly after 4-5 hours of application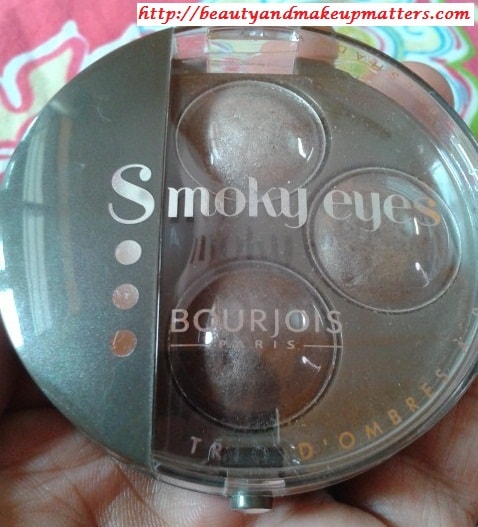 Recommendation:- Bourjois Smokey Eye Trio – 09 Lady Vert De Gris has shades that are just right to create a soft smoky eye look. It has beautiful taupe greenish-grey , light brown and silvery brown shade. The eye shadows are very lightly pigmented but still pretty good considering the colors which natural looking make up look to the eyes with a subtle sheen and can be easily worn during daytime..

If you don't like heavily smoked eyes and prefer softer ones than this is definitely a good one to try. I am not sure whether to recommend this trio because we can get much better quality and more quantity in the similar price range in ColorBar single eyeshadows. But the trios are available in so many shades that it is worth checking out.
Rating:- 3.2/5
Have you tried Bourjois Smokey Eye Trio – 09 Lady Vert De Gris? I am looking to get one more trio from this range. Any suggestion which one to choose?