Bourjois Regard Effet Metallise Metallic Eye Liner – Brun Inoxydable 52 Review, Swatches, EOTD
I have myriad number of eye pencils in various brands and shades out of which Faces Long Wear Eye Pencils are my all-time favorite but to give others a chance and see how they compete with these budget friendly Faces Eye pencils I pick eye-pencils from other brands as well.
This time I bought one from Bourjois Regard Effet Metallics Eye Liner Collecion the "Brun Inoxydable"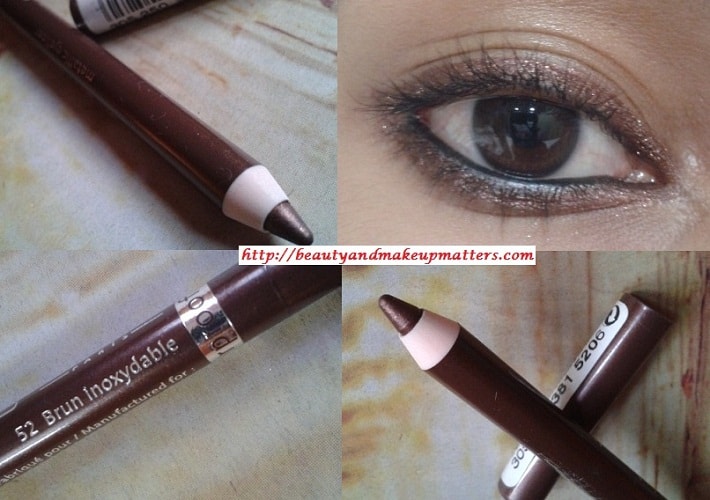 Product Claims: Intense waterproof metallic eye pencils. To create maximum impact at a party, dazzle everyone with a flash of metallic colour on your eyes, with these waterproof metallic pencils. Whether you want to match your eye makeup to your new shiny dress, or make intense eye contact with the party guests, your eyes will not go unnoticed!
Opthalmologically tested
Waterproof
Direction for Use:- Apply in a precise line, just at the base of your lashes to define your look or add a line to the inside rim of the eye for intensity.
Available in 7 Shades:-
Noir Effet Miroir  51
Brun Inoxydable 52
Feuille De Cuivre 53
Bleau Clinquant 54
Vert Pepite 55
Vert Dore 61
Brun Alliage 77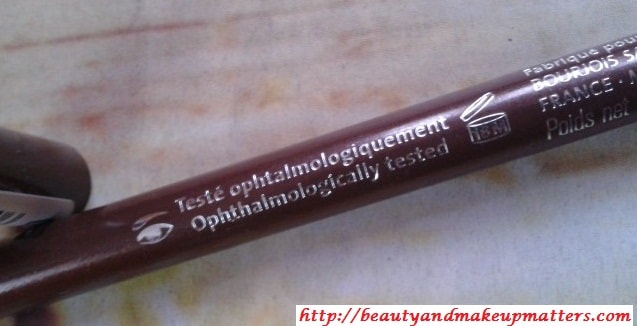 Price:- Rs. 335 for 1.2gms
Brand (Bourjois Paris) :-Bourjois is the mid-priced brands but not all of its products are worth the money. I have tried a few of them like Bourjois 16 hr Kohl & Contour Eye Pencil in Noir Expert which is an absolute love and my favorite Kohl too but Prune Morderne from the same range didn't worked that well for me and have slight pigmentation issues.
Similarly, Bourjois Kabuki Brush is really good but Bourjois Smokey Eyes Trio in Lady Vert De Gris could have been better.
Packaging:- The liner comes in a sharpenable wooden pencil casing with outer body colored exactly same to the shade of the eyeliner. Even the plastic cap that protects the lead carries the shade of the liner. The brand and other product details are engraved on the pencil too. The color coded covering of pencil helps in distinguishing the shades very easily.
My experience with Bourjois Metallic Eye Liner – Brun Inoxydable:-
Brun Inoxydable is shimmery golden brown eyeliner with fine copper and golden shimmers. The liner looks much darker in the pencil but gives a light shimmery copperish brown finish on eyes.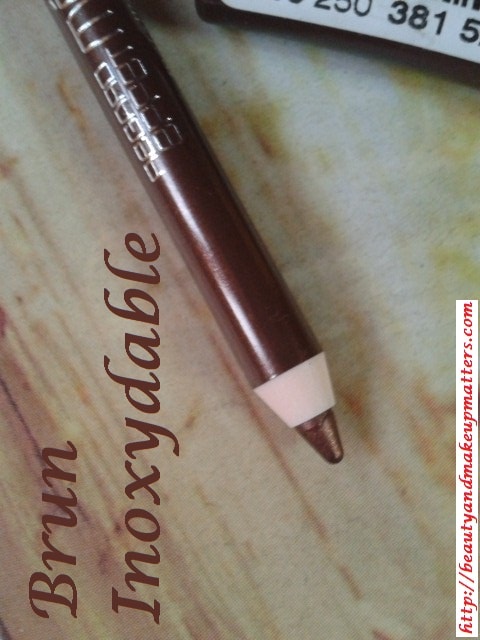 Formula:-The liner is creamy and glides nicely over the lids with zero tugging and pulling. The formula is decently pigmented and shows up well in 2-3 swipes which can be intensified with more number of swipes. Color pay-off is good but not great.
Swatches:-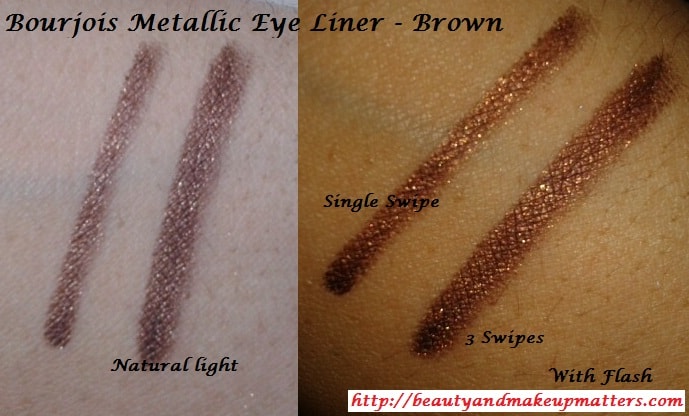 Staying:- The liner needs few seconds to settle completely and become smudge –resistant after that. Another good thing is the liner doesn't transfer or move around the lid area once set. It stays for 7-8 hours easily on me without fading. It is not a smudge – proof eye liner and if rubbed hard it fades away completely leaving only shimmers behind.
Don't Miss to Checkout:
EOTD:-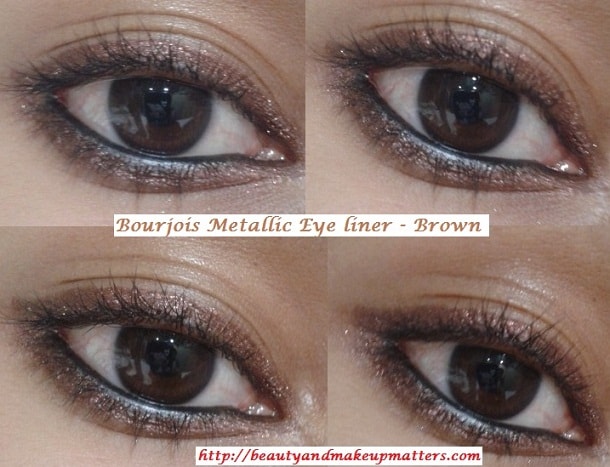 Pros of Bourjois Metallic Eye Liner – Brun Inoxydable:-
Lovely light metallic brown shade
Soft Creamy texture
Glides gently over the lids
Gives a smooth shimmery finish
Stays all day on my eyes without fading
Easily identifiable packaging
Ophthalmologically tested
Cons of Bourjois Metallic Eye Liner – Brun Inoxydable:-
Pigmentation could have been a little better
Claims to be waterproof but I would say it's water-resistant and not water-proof.
Recommendation:- Bourjouis Metallic Eye Liner – Brun Inoxydable is not a rich dark brown shade but a soft brown with prominent copper shimmers which gives a nice shimmery effect to the liner. The liner has soft and smooth formula which glides gently over the lids. It stays in place without smudging or getting transferred to upper lid area even after full day wear. Recommended!
Rating:- 3.9/5
Have you tried Bourjois Regard Effet Metallise Metallic Eye Liner – Brun Inoxydable? Do you like soft or dark brown eye liners?