Bourjois Paris Color Boost Lip Crayon – Red Sunrise Review
Hello everyone,
Today I am going to review another Lip crayon, is my first lip product from Bourjois so I am pretty excited to share it with you, Bourjois Color Boost Lip Crayon – Red Sunrise.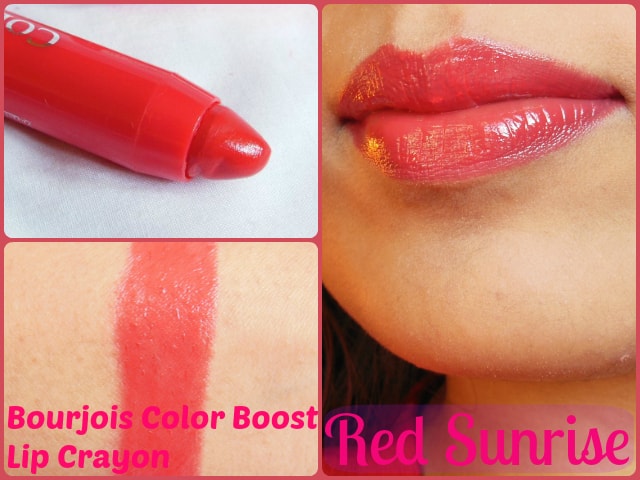 Product Claims: A LIP CRAYON BURSTING WITH VIBRANT COLOR AND IRRESISTIBLE MOISTURE!
With its melting formula, Color Boost leaves a radiant veil of color on the lips with just enough shine and moisture to enhance each shade. A new generation formula that provides a bare lip sensation thanks to its light and non-sticky texture.
With it silk extract formula, Color Boost brings comfort and hydration to your lips for 10 hours*.
Its waterproof color and SPF 15 make Color Boost both practical and beautiful!
Price:– Rs.785  
Shades Available:
Fuchsia Libre
Peach On The Beach
Orange Punch
Red Sunrise
Packaging:- The lip crayon comes in a color-coded crayon packaging with retractable mechanism just like Revlon and other lip crayons so no wastage of product while sharpening and can be identified easily in the stash. The product details are printed on the body in shiny silver letter but this is soon going to rub out. The packaging is easy to use and travel with.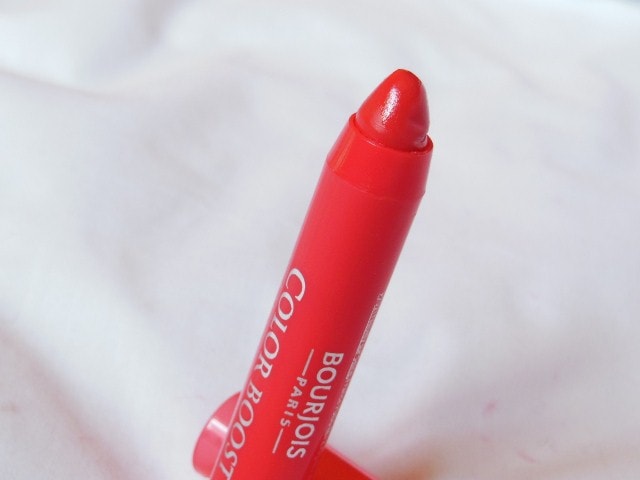 My experience with Bourjois Color Boost Lip Crayon – Red Sunrise: –
Red Sunrise is a medium bright Red with strong pink undertones sans any shimmers or frost. It doesn't look like obvious Red and kept me guessing whether it is more Pink or More Red! Red Sunrise makes a great option for those who are scared of bright Red's and cant risk to wear them in full swing.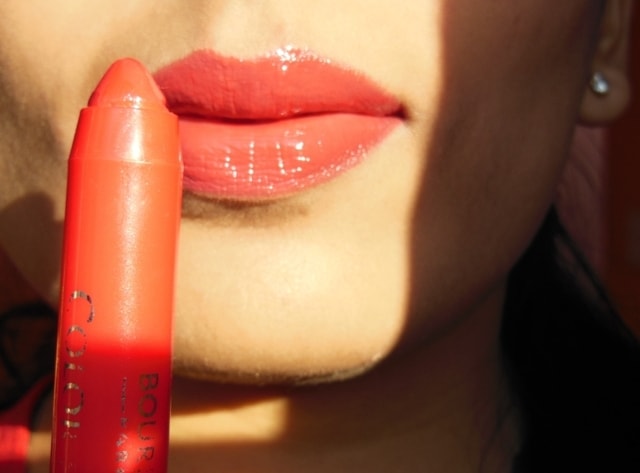 It has a silky smooth texture that just slips around lips leaving a thin layer of color. The formula is extremely light weight which sits comfortably on lips and never feels heavy or looks cakey even with number of swipes. It can be worn lightly as lip tint for hint of color or get that rich red look by swiping it more against the lips. It can be built up to nearly opaque finish but doesn't provide complete coverage as I can spot slightest of the natural lip color peeking through. The lip crayon imparts ultra glossy watery shine to the lips that is here to stay and lasts for 3-4 hours easily on me after which it reduces to a lovely creamy sheen which lasts another one hour or so. It is immensely moisturizing to the lips with texture that is even lighter than most of the lip balms. It starts fading after 6-7 hours of wear and would require a reapplication after full meals as the color recedes from the center of the lips leaving behind lightest of the color hint
It is a beautiful combination of Balm and gloss which gives a mirror like shine to the lips like a gloss without any sticky feel and moisturize lips just like lip balm.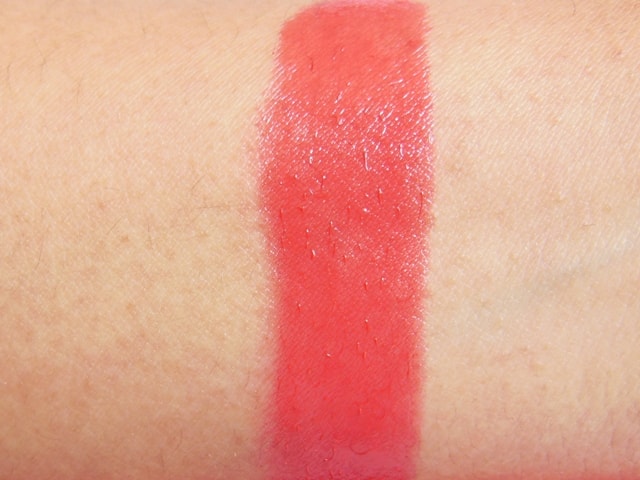 Comparison with the other available lip Crayons available in the Market:
L'Oreal Paris Glam Shine Balmy Gloss: Moisturizing but poor color pay off
Revlon Just Bitten Kissable Balm Stain: Lightly hydrating but lips tends to get dry after few hours, Color pay off is excellent
Bourjois Color Boost Lip Crayons: Extremely Moisturizing, Long lasting glossy shine, Medium color coverage
Don't Miss to Checkout:
Bourjois comes out to be a winner out of three with its supremely moisturising and light weight shiny formula which gives a tough competition to Revlon for color coverage but looses on the staying front to Revlon. Actually, a trade off between Staying span and moisturization.. Choice is yours. L'Oreal ones failed terribly at pigmentation and had those unwanted gritty shimmers too.
Pros of Bourjois Color Boost Lip Crayon in Red Sunrise:-
Glides smoothly
Non-sticky texture
Lightweight formula
High Glossy Finish
Buildable color coverage
Wearable shade of Red
Keep lips moisturised for long
Shine lasts for 4-5 hours
Leaves a faint tint behind
Long wearing
Blessing for Dry chapped lips
Contains SPF 15
Great pick for summers
Coloured packaging
Convenient to use twist up mechanism
Available in 4 shades
Cons of Bourjois Color Boost Lip Crayon in Red Sunrise:-
Bit Pricey
Transfers easily to anything that comes in contact with lips
10 hours wear claim doesn't hold true, lasts for 5-6 hours
Waterproof formula… what does it actually mean for a lip product:P 😛
Recommendation:- Bourjois Color Boost Lip Crayon in Red Sunrise is a risk-free Red with an ample amount of wearable pink in the shade and works wonderfully for those who are yet not convinced to wear red on lips. The formula is far better than creamy lip color and delivers amazingly well when it comes to ease of application and smooth finish. Bourjois Lip crayon wins my heart with its light texture, buildable color coverage, watery glossy shine and tremendously moisturising formula. It can be worn sheer or intense and I don't mind reapplication after 5-6 hours of wear. I am addicted to lip crayons and Bourjois ones are a fabulous alternatives to tinted lip balms. Their supremely light texture makes them an ultimate choice for summers. Highly Recommended!

Now, as I own lip crayons in my favourite shades of Fuchsia and Orange from Revlon and this lovely RED from Bourjois, I am left with a must have neutral peachy shade to add to my lip crayons collection, thinking of "Peach on the Beach"..any suggestions??

I am also drooling over the exquisite looking Bourjois Lipsticks which makes me weak at the knees every time I catch their glimpse.
Rating:- 4/5
Have you tried Bourjois Paris Color Boost Lip Crayon in Red Sunrise? Which is your favorite Lip crayon?