Bourjois Ombre a paupieres Eyeshadow- Rose Tentation Review
Product Claims: Bourjois Ombre a Paupieres Eyeshadow No34 Rose Tentation
Turn up the drama just add water.
Each single, versatile eyeshadow is like getting 3 products in 1
The ultra-fine, light texture is perfect for blending.
Because of the special Bourjois baking process, shades can also be used wet to enhance color intensity and pearly pigments.
Perfectly round pots that match the shade inside how very clever Now with a mirror and applicator for easy on-the-go touch-up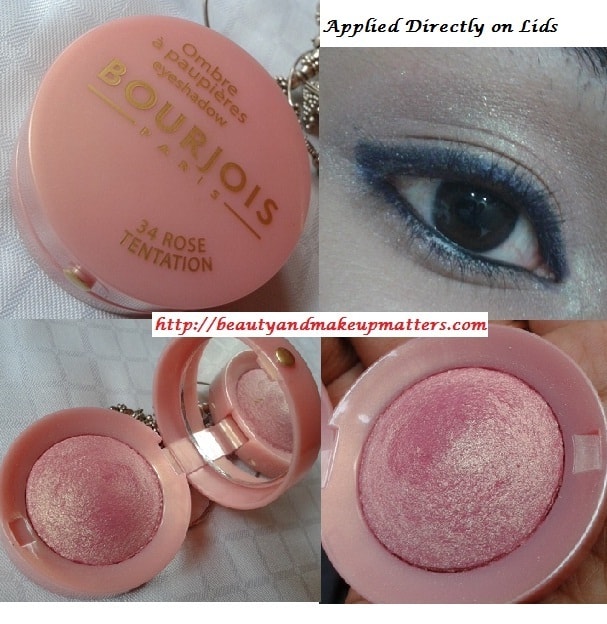 Price:- Rs.380 for 1.5 gm
Packaging:-  The eye shadow comes in a small round pot type packaging.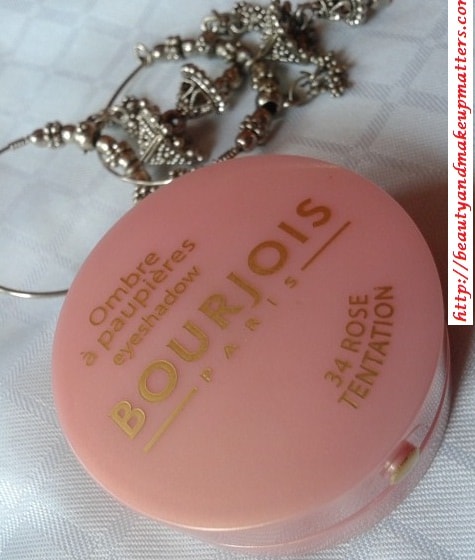 It is an opaque plastic casing but it is painted similar to eye shadow which is as good as having a transparent lid to get an insight to the shade. It also has a small mirror on the inner side of the lid.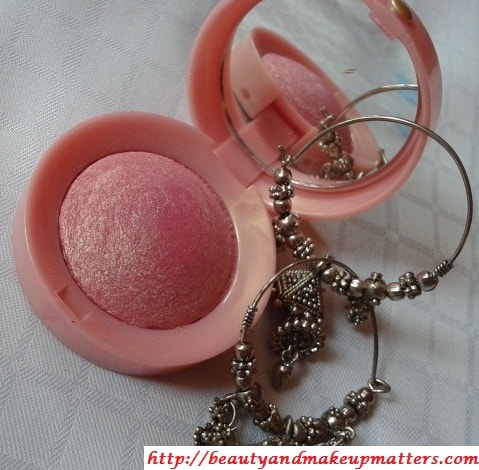 My experience with Bourjois Ombre a paupieres Eyeshadow-Rose Tentation:-
Color:- Rose Tentation is a gorgeous rosy pink shade with lots of green and golden shimmers. The shimmers particles are infinitesimal small and finely milled with the base.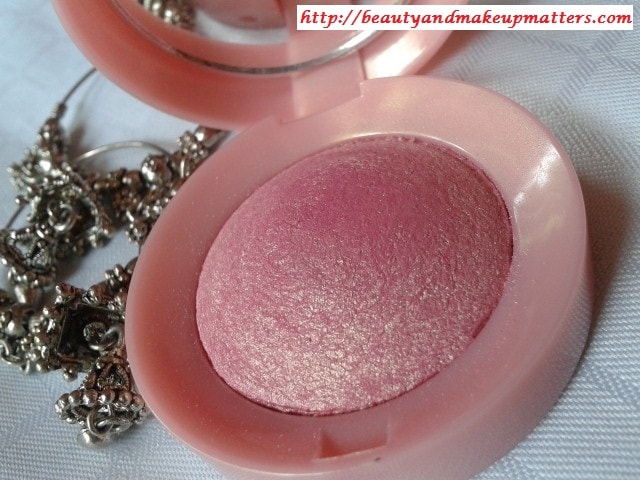 Texture:-It is a baked eye shadow so it is a little hard in the pan but gets picked up nicely with the brush. The texture is soft and smooth which blends flawlessly over the lids. The eye shadow is high on shimmer but they are so well packed with the shade that not even a single shimmer falls out during application.
Pigmentation:-Coming to the pigmentation, baked eye shadows gives better color pay off when used wet and the same is true with this. When used dry it takes time to show its color but when applied with a wet brush the color builds up beautifully to light pink shade with a sparkling golden green metallic finish in 2-3 swipes. The color will look more vibrant when used over an eye shadow base.
Swatch:-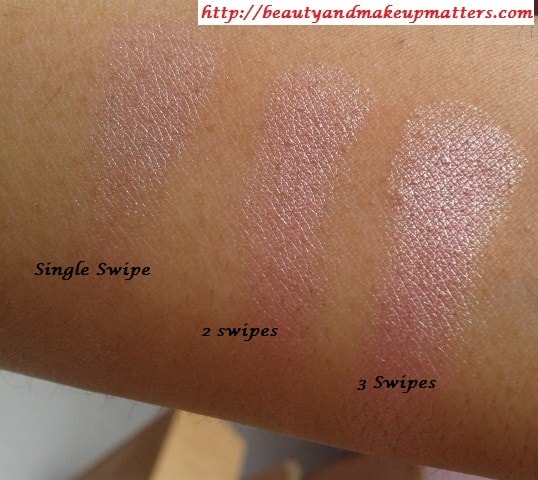 With Flash:-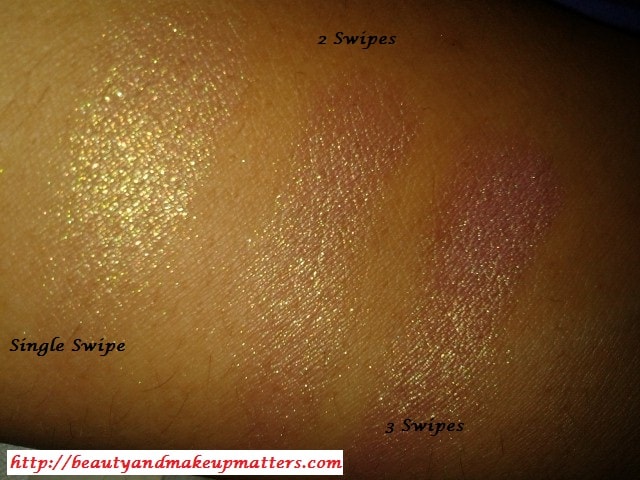 Finish:- It is an absolutely wearable pink shade with a fabulous multi chrome finish. It goes more greenish golden than pink on lids. Shimmers look more radiant when used wet which looks excellent and adds charisma to evening makeup. It is a dynamic shade which is totally a buildable and can be intensified depending on the occasion.
Staying:- The eyes shadow stayed long on my lids without fading or creasing. It has millions of shimmers but they stay put with the base and doesn't move around the eye area.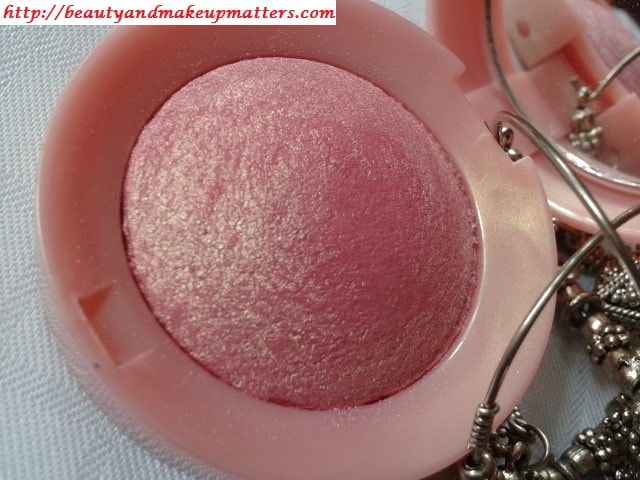 EOTD:- I have used it over NYX Eyeshadow Base In White Pearl (Review coming upp) and lined with Faces Long Wear Eye Pencil in Gray. In Without base I have used Faces Long Wear Eye Pencil in Navy Blue.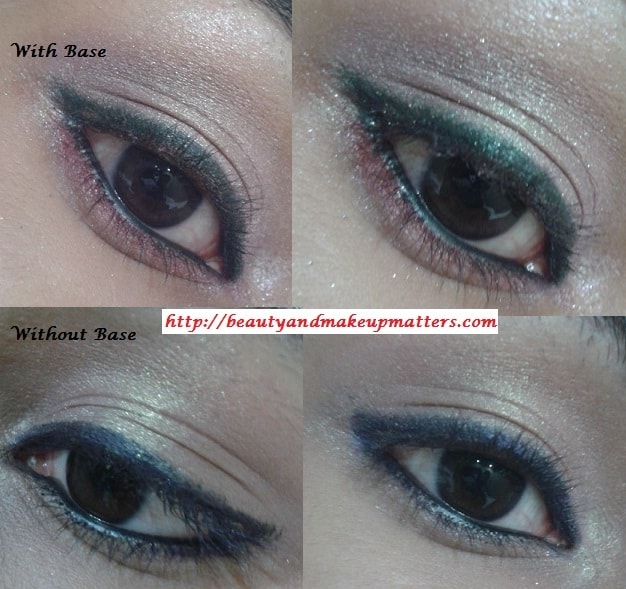 Pros of Bourjois Ombre a paupieres Eyeshadow- Rose Tentation:-
Beautiful pink shade with lots of green and golden shimmers
Looks hard in pan but has silky soft texture which comes up nicely over the brush
The eye shadow is smooth which blends easily over the lids
Can be used both wet and dry as it a baked eye shadow.
Buildable color which shows up well in 2-3 swipes when used wet or when applied over a base. Use it dry for a soft shimmery look.
Long staying with almost zero fallout
Extremely wearable color which can be worn easily during daytime and also makes up a rocking shade for the evening parties.
Can be layered over any matte or boring eye shadow to jazz it up
Cons of Bourjois Ombre a paupieres Eyeshadow- Rose Tentation:-
Bit Expensive for single eye shadow but the quantity would last me long
Bourjois products are not easily available everywhere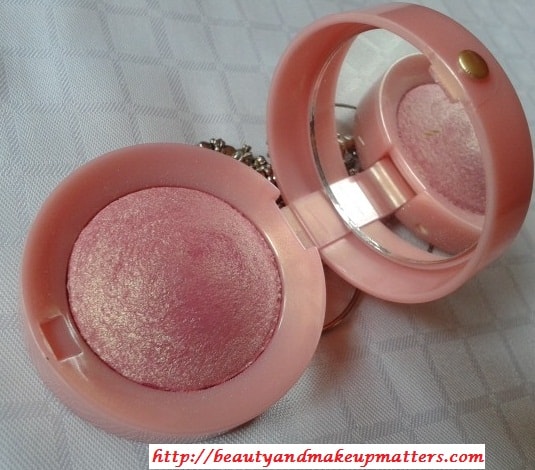 Recommendation:- Bourjois Ombre a paupieres Eyeshadow- Rose Tentation is an eye-catching light pink eye shadow with fine green and golden shimmers. Its silky soft texture blends like a dream over the lids. It comes as a dominant green with a sheer golden and pink shade which gives the feel of getting 3 eye shadows in 1.I was flattered by its stunning multi chrome finish which looks much more beautiful on eyes than the pan. I hadn't seen in any of my other eye shadows. It is really something different form the regular pearl, shimmery or satin finish eye shadows.

Give it a shot and I am sure you will love it. It has become one of my most favorite eye shadow and I will definitely be buying more shades from this range. Highly Recommended!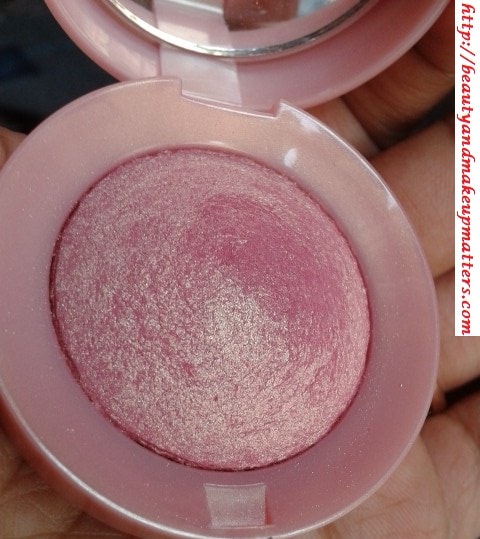 Rating:- 4.5/5
Have you tried Bourjois Ombre a paupieres Eyeshadow- Rose Tentation?