BornPrettyStore Angled Blush Brush Review
Hey Everyone,
Today I will be sharing the newest Brush in my Arsenal which I bought from BornPrettyStore. I was offered to shop makeup products of my choice from the store's online shopping portal. I was browsing through the store when I spotted these SIGMA look a likes and added them instantly to my cart. I was excited to see how will they perform and do they really make an affordable substitute to much loved SIGMA brushes. To start with, I picked up only one out of four available options and leave the rest for next time. So, lets checkout how this BornPrettyStore Angled Blush Brush fared on me.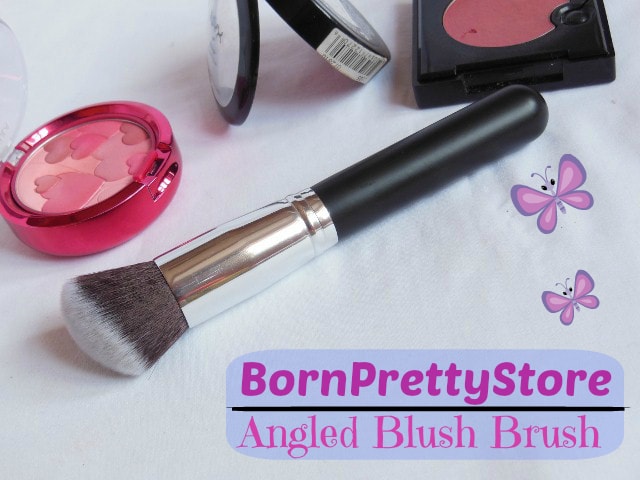 Price: $5.99 (Buy from Bornprettystore.com) – Use coupon code PNH10 to avail 10% discount on your order!)  
Product Description: Perfect for both professional use and personal use!
Material of brush hair: Goat Hair, Artificial Fiber
Color: Black
Pattern: 4 patterns available (Round, Flat, Tapered, Angled)
Packaging: The Blush Brush has a thick chubby handle much like the SIGMA F-80 Kabuki brush with a difference that these have a matte finish while SIGMA brushes have glossy black handles. The bristles are thinner compared to SigmaX bristle but are really soft and the brush is quite dense, comparable to F-80.
My Experience with BornPrettyStore Angled Blush Brush :
The Blush Brush has a duo fiber bristles which are tapered at the top giving it an angled shape. The brush is quite dense (like SIGMA F80 Kabuki ) with nicely packed bristles but it is on fluffier side and is more circular than flat unlike the usual blush brushes.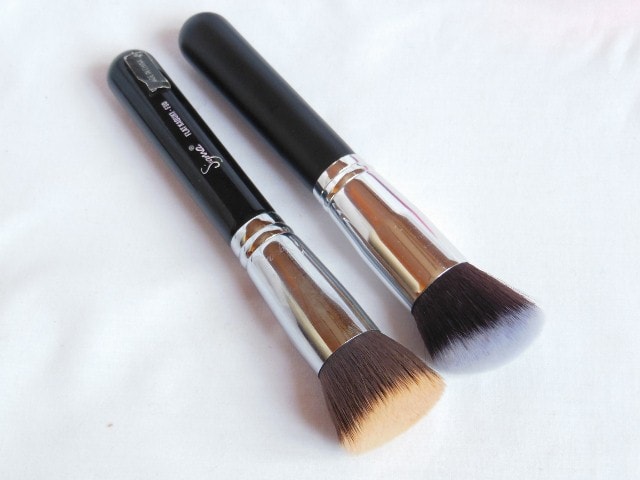 The brush is made of good quality bristles which feels satiny soft on the cheeks and I love to swipe it across just like that ;). It has densely packed bristles so you need to be careful while using highly pigmented blushes as it might pick too much in a single shot. Swipe the brush lightly on the blusher pan, tap off the excess and then gently swipe it on the cheek apples.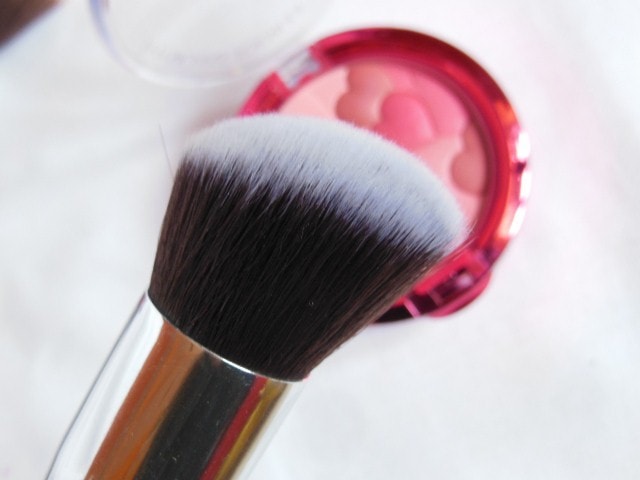 The brush is quite fluffy which gives diffuses the color beautifully on the cheeks and it also aids in building the intensity of the blush without making the application look patchy or streaky. The fluffier shape also helps the brush work well with liquid blushes too as it can be used in stippling motion for an even color distribution.
With that being said, it might not work as a contouring brush as the size is slightly big to fit in the contours of the cheeks but it seamlessly blends in everything for a soft mellowed down look. I have washed it twice and haven't experienced any issues like shedding, dye bleeding or bristles losing their softness. The bristles quality is great and it makes superb blush brush especially for the price paid.
Don't Miss to Checkout:
Pros of BornPrettyStore Angled Blush Brush:
Dense, firm (not too firm) and fluffy
Satiny Soft bristles
Works well with both powder and liquid blushers
Blends the color beautifully
Quality is great for the price paid
Affordable priced
Doesn't Shed
Also available in 3 more versions.
Cons of BornPrettyStore Angled Blush Brush:
Not a multipurpose brush
Recommendation: BornPrettyStore Angled Blush Brush is a great Budget friendly option for a blush brush. It is big, fluffy and has an angled tip with super soft bristles which makes wonderful blusher brush. The brush really stood out both in terms of quality and usage. I am bowled over by its performance and can't stop loving this. If you love SIGMA brushes but think they are a little heavy on pocket these can make a great substitute. These are available in 3 more shapes and are worth picking up. Beginners can build up their brush collection without breaking the bank and even pros will like it for the quality and efficiency.Highly Recommended!
Rating: 4.5/5
Have your tried BornPrettyStore Blush Brush? Which is your favorite Blush Brush?
Disclaimer: The product was sent by PR for consideration. The review is based on my own honest and personal experience with the product.
PS: Born Pretty Store has amazing collection of everything be it jewelry, Cosmetics, accessories, stamping plates, rhinestones and much more at very reasonable rates. They also provides free international shipping and above all this you can get an exclusive 10% on your purchase using code – PNH10. (Here) The code can be used any number of times… Do shop and share with your friends and family.. 🙂
Keep Coming.. Keep Loving
Poo 🙂