Boost Your Brain with Zenith Nutrition Ginkgo Biloba Capsules
Hello Everyone,
Do we ever pay any attention to the most important and busiest organ of our body, "Brain", May be Not. I feel Brain is like "Mom" who is super busy taking care of the family and no one even thinks if she can be unwell as well. And that's the case with Brain who is busy maintaining all other body parts that it doesn't let us think about his wellbeing. So, let's see how these Zenith Nutrition Ginkgo Biloba Capsules can help.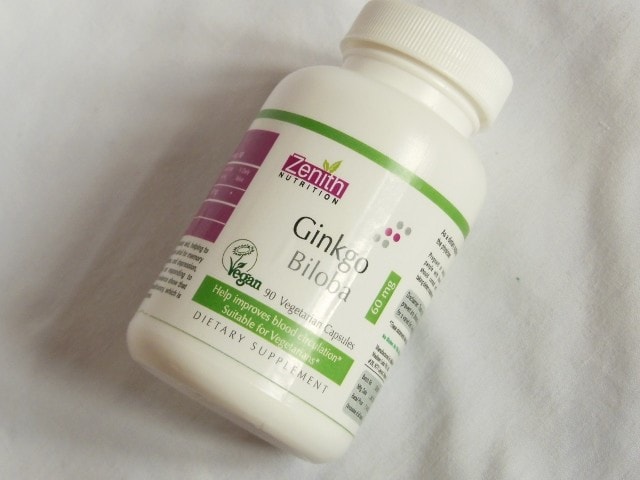 About the Brand: Zenith Nutrition provides Scientifically Advanced Nutritional Supplements. Zenith Nutrition's complete line of nutritional products includes vitamins, minerals, probiotics, standardized herbal concentrates and amino acids.The Company utilizes its industry leading capabilities to produce superior research based formulations that optimize the nutritional value and performance for its customers.
It is vitally important to us to strike a balance between traditional medicine and modern science making us a unique dietary supplement company that can offer traditional herbal supplements, as well as those that are backed by science.
Product Claims:
Quick-absorption ginkgo biloba may deliver brain-boosting effects!
May enhance clarity, concentration and memory. Also provides antioxidant protection!
How does Ginkgo Biloba work? – Ginkgo is a unique, highly bioavailable form of the herb ginkgo biloba. Unlike other ginkgo biloba extracts (GBE).
GBE may enhance blood circulation to the brain, which may promote mental alertness, clarity and concentration. GBE also promotes delivery of oxygen and glucose to nerve cells, for nervous system support.
In addition, GBE is a rich source of antioxidant flavonoids. Antioxidants protect healthy cells from damage caused by free radical (unstable) molecules in the body.
Although the Ginkgo tree has been around for many millions of years, it has only been during the last few decades that its true value has been recognized. Among it medicinal uses ginkgo biloba shows most promise as a circulatory aid, helping to increase blood flow to the brain which may be useful for memory loss, vertigo, tinnitus, disorientation, headaches, and depression, especially in the elderly and the elderly not responding to antidepressant drugs.
Increasing amounts of evidence show that gingko may indeed help to relieve cerebral insufficiency, which is defined as a decrease in blood supply to the brain.
Price: Rs.952 for 90 Capsules
Packaging: Zenith Nutrition Ginkgo Biloba Capsules comes in a white colored plastic bottle with screw lids and are sealed with a silver foil.
My experience with Zenith Nutrition Ginkgo Biloba Capsules:
Zenith Nutrition Ginkgo Biloba Capsules contains 60 mg of Ginkgo Biloba per serving.
Ginkgo is a large tree with fan-shaped leaves. It has been here for millions of years but recently it has been found out that Ginkgo Biloba can help in improving blood circulation in the body. So, if there are conditions due to reduced blood flow in the body or the brain, this wonder help can really help.
It can help in brain related conditions like memory loss, Headache, vertigo, depression and more especially in older people who doesn't much respond to antidepressants. Ginkgo Biloba has shown some evidence in relieving Cerebral inefficiency (decrease in the brain's blood supply).
It also helps in fighting Vision problems in people with diabetes and Leg pain when walking due to poor blood flow.
Other than that this Ginkgo Biloba extracted from Ginkgo Tree's leaves is rich in flavonoid and antioxidants which again help in maintain good health by fighting the free radical damage and preventing cancer.
I like these capsules are Vegetarian and are free from Sugar, Lactose, Flavour, Salt, Gluten, Color, Fish and other preservatives so they are safe for someone who is prone to allergies as well.
So, if you have someone in your family facing any of the above conditions do checkout Zenith Nutrition Ginkgo Biloba Capsules
Disclaimer: These products are not intented to diagnose, treat, cure  or prevent any disease. Always consult with your professional healthcare provider before changing any medication. Pregnant or lactating women shouldn't take it
Have you tried Zenith Nutrition Ginkgo Biloba Capsules? Do you take any supplements?
PS: Product sent by brand for consideration.