Boost Healthy Skin and Eyes with Zenith Nutrition Astaxanthin Capsules
Hello Everyone,
If you have overheard any of your mom's conversation you must know how they painfully tell about their joints issue and that most of it started only after pregnancy. Well, women's body definitely goes through a lot during that period and sometimes they get the lifelong ailments like joints pain. I had my own inhibitions related to pregnancy but thankfully I didn't experienced anything major but if something claims to help you with weak joints, skin and eye sight there is no harm trying it out. So, that why I started with Zenith Nutrition Astaxanthin Capsules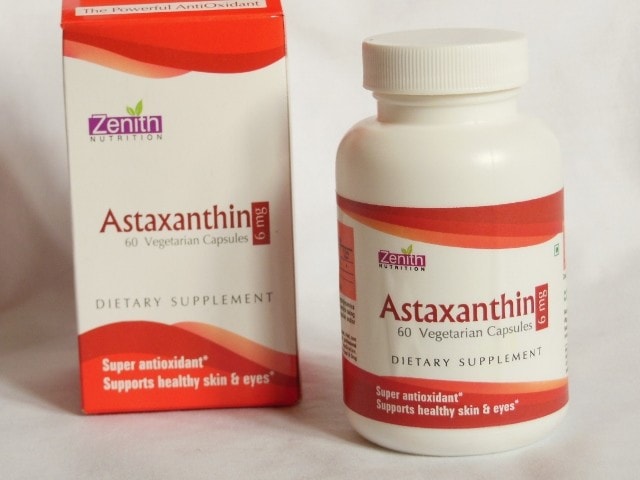 About the Brand: Zenith Nutrition provides Scientifically Advanced Nutritional Supplements. Zenith Nutrition's complete line of nutritional products includes vitamins, minerals, probiotics, standardized herbal concentrates and amino acids.The Company utilizes its industry leading capabilities to produce superior research based formulations that optimize the nutritional value and performance for its customers.
It is vitally important to us to strike a balance between traditional medicine and modern science making us a unique dietary supplement company that can offer traditional herbal supplements, as well as those that are backed by science.
Product Claims:
Promotes a Healthy Inflammatory Response
Supports Skin During Sun Exposure
Supports Joint Health and Eye Health
Antioxidant
Zenith Nutrition Astaxanthin is a natural antioxidant carotenoid derived from the fermentation of the microalgae Haematococcus pluvialis. Clinical studies have demonstrated that Astaxanthin may promote a healthy inflammatory response, supports skin during exposure to sunlight and supports joint and eye health. Most Astaxanthin research has been conducted with daily intakes of between 4 and 12 mg.
Price:- Rs.998 for 60 Capsules
Packaging: Zenith Nutrition Astaxanthin Capsules comes in a white colored plastic bottle with screw lids and are sealed with a silver foil.
My experience with Zenith Nutrition Astaxanthin Capsules:
Zenith Nutrition Astaxanthin Capsules claims to contain natural anti-oxidant carotenoid which will help in protecting skin against Sun damage. Actually, sun rays emit free radicals which connect with skin cells and damage them which causes aging, pigmentation and uneven skin tone but the anti-oxidants protects skin from the free radical damage and helps in maintain beautiful and younger looking skin. I can't sit in Sun for long as it causes me Headache but if you like to soak in Sun during winters than these Capsules will safeguard your skin while you are sunbathing.
Antioxidants not only help with skin but they have many more benefits. The help protecting the eyes from harmful UV rays and also promotes healthy joints. If you don't know yet, the trend of Green Tea is because of anti-oxidants too. So, if I am getting a good amount natural anti-oxidant in a capsule I see no reason to not consume it. I feel everybody should take a good amount of antioxidants in one form or the other to maintain a good health.
I like that these capsules are Vegetarian and are free from Sugar, Lactose, Flavour, Salt, Gluten, Color, Fish and other preservatives so they are safe for someone who is prone to allergies as well.
So, if you do plan to add Anti-oxidants in your routine do checkout Zenith Nutrition Astaxanthin Capsules
Disclaimer: These products are not intented to diagnose, treat, cure  or prevent any disease. Always consult with your professional healthcare provider before changing any medication. Pregnant or lactating women shouldn't take it
Have you tried Zenith Nutrition Astaxanthin Capsules? Do you take any supplements?
PS: Product sent by brand for consideration.