Bobbi Brown Creamy Matte Lipstick Jenna Review
Ever since the launch of Bobbi Brown stores in Delhi, I so wanted to but some bobbi Brown stuff. I didn't get a chance to visit the store in person but I am happy that I got to try this lovely bold bright Orangey Red from the Brand, Bobbi Brown Creamy Matte Lipstick Jenna.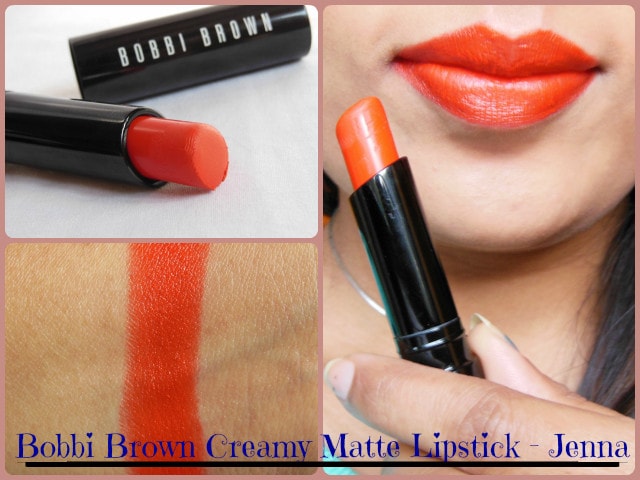 Product Claims: Bobbi's revolutionary new lipstick – Creamy Matte Lip Color combines the look of a classic matte lip with incredible wearability. Creamy and moisturizing, it glides on comfortably and feels light-as-air. Not to mention that it's got staying power, too (it won't budge for 8 hours). Inspired by the looks she was creating for Fashion Week, Bobbi set out to develop the perfect color range, everything from nudes to brights to bolds. We're pretty sure you'll want more than one color.
Directions For Use:
Depending upon how it's applied, this versatile formula can go from full coverage to a stained lip.
You can swipe directly onto the lips from the tube or use a Lip Brush for a more precise application.
Ingredients:-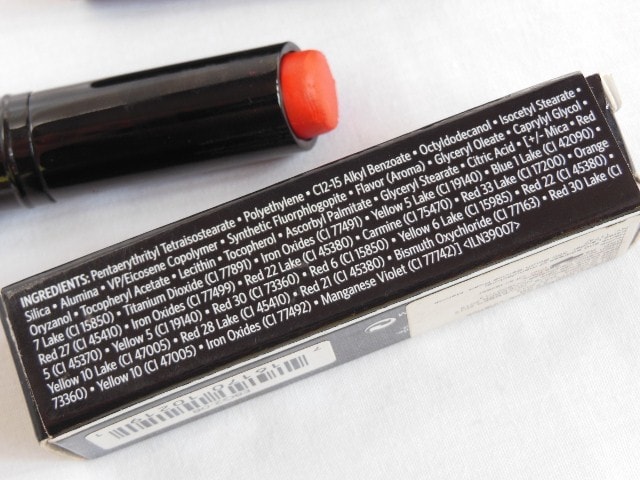 Price:- Rs.1390 for 3.6 gms
Shelf Life:-3  years from the Mfg date.
Packaging:- These creamy Matte lip colors comes in a sleek black glossy round shaped bullet packaging. The metallic case is strong and sturdy which shuts tightly but the slippery surface sometimes makes it super-difficult to open it with freshly moisturized hands. Also, I miss any shade indicator on the packaging 😛
My experience with Bobbi Brown Creamy Matte Lipstick Jenna:-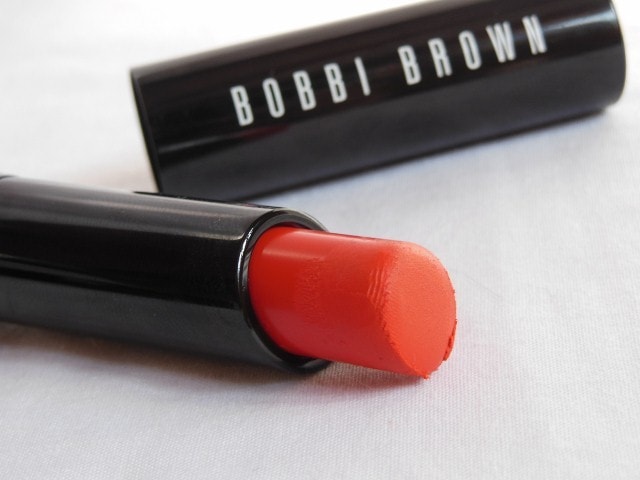 Shade: Jenna is a bright tangerine orange lips colour with warm red undertones and a satin matte finish. It is bold and beautiful orange which brightens up my complexion. The rounded tip might trouble some for a precise application, so few might prefer using a lip brush but it did work really well for me
Formula: The creamy matte lipsticks have an amazing light-weight texture that glides on effortlessly on lips. It looks a bit creamy initially but settles to a soft matte finish within few minutes of application. The formula is neither drying nor hydrating so it wore comfortably for hours.
Pigmentation: Jenna is beautifully pigmented which gives a rich red stain kind of look in a single swipe but it goes absolutely opaque in second providing complete coverage to lips. I was happy to see that it doesn't accentuate lip flakes (unlike MAC Matte formula) and moved rather smoothly on lips.
Staying Power: It is a long wearing formula which sets to an almost transfer proof finish once blotted and needs a good makeup remover to get the rich red stains out of lips. It lasts for 5-6 hours on me but the finish deteriorates after meals/snacks as it starts filling in fine lines and looks little flaky. So, the best way to wear any matte formula is to exfoliate and moisturize lips well in advance.
Pros of Bobbi Brown Creamy Matte Lipstick Jenna:-
Bright warm orangey red lipcolor
Doesn't tug or pull during application
Light weight texture
Comfortable Matte formula
Rich color coverage
Doesn't feel drying
Nearly transfer-proof
Wore well for 6 hours
Leaves rich red stain on lips
Available in 17 exciting shades
Cons of Bobbi Brown Creamy Matte Lipstick Jenna:-
Settles in lip lines after 5-6 hours
Round top might be difficult to achieve precise application
No shade indicator on outer packaging
Recommendation:- Bobbi Brown Creamy Matte Lipstick Jenna is a bold and bright warm orangey red shade which sets to a soft matte finish few mintues post application. I find these creamy mattes much better than MAC Matte finishes as it applies much more evenly and smoothly without accentuating much of the lips imperfections. I didn't experience any tugging or pulling during application. It wears comfortable on lips and stays put in place with no slipping or smearing around lips. It is richly pigmented providing opaque coverage and lasts for 5-6 hours before it starts fading and settling in lip lines. Overall, a great matte formula. Recommended!
Rating: 4.2/5
Have you tried Bobbi Brown Creamy Matte Lipstick Jenna? Which is your favorite Matte Lipstick Formula?