Blend of Skincare and Makeup: Grid Solution CC Cushion Foundation SPF50+ PA+++ 
Hello Everyone,
As you all know Cushion Foundations are the new "It thing" in the world of makeup and every brand is coming up with their own version. Though still we don't have much around here in India but I am sure the market will be flooded with them sooner or later. Well, the trend I guess started from Korea only (** correct me if I am wrong) and what would be better to get a chance to try a CC foundation from there only… yes!! I am super excited to share with you a CC Cushion foundation which is made in Korea, Grid Solution CC Cushion Foundation SPF50+ PA+++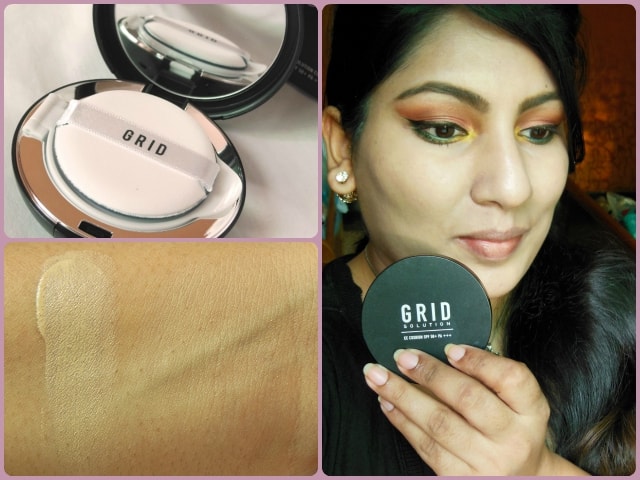 Product Claims: Grid solution is  an exciting and revolutionary all in one cc cushion.
That does not require the use for foundation, primer or powder setting, grid solution  provides all this in one application.
Our new technology  allows your skin to glow and breath and provides  coverage  to all skin complexions from light, medium to tanned skin,
Containing superior antioxidant and sun protection against UVA and UVB of SPF 50 PA +++,
Grid solution is also 100% waterproof, anti allergy, spots and blackheads  and provides instant hydration.
This formula fills in micro lines and ensures  a smooth and  even appearance.  and the non-absorbing puff applicator cools and soothes the skin for a refreshing finish every time.
Ingredients: Check below 🙂
Price: $31
Shelf Life: 6 months from the date of opening
Packaging:  Grid Solution CC Cushion Foundation comes in a classic matte black box carrying all the details of the foundation. The foundation is housed in a chubby round pot with dual lids to protect the foundation from drying. It is provided with a good quality sponge so you skip carrying a brush for application. I find the packaging portable and convenient to use like throwing it in my bag and dash out of the house 😉
My experience with Grid Solution CC Cushion Foundation SPF50+ PA+++:-
First thing I noticed about this Grid Solution CC Cushion Foundation is its SPF, gosshh it comes with a whooping SPF 50 with PA+++ protection so I guess I can definitely skip on one layer of sunscreen while working with this foundation, a bliss for summers and even in winters when I just don't feel like applying one 😉
While unboxing the foundation I was a little surprised to see the white cushion.. and thought they must have forgot to put the foundation in there but no.. that isn't the case. The foundation formula is nicely secured beneath the cushion which fills with foundation once pressed. D
Formula: The formula is on the thinner side and I can easily compare it to my MAC Face and Body. I feel it is just tad thicker than MAC but thinner than the most of the other liquid foundation we have around.
Owing to its thin formula, it blends in with the minimum effort, just few brush stroked and this CC formula cushion foundation is all blended in. The foundation is water-proof so you must be expecting it to feel sticky or like an unwanted layer on the face but trust me it doesn't feel like one. Initially, I can feel the stickiness and something on my face but in next 20-30 minutes I can easily forget that I have this on my face. So, one can enjoy her Pool party without worrying about foundation melting and getting tanned as it takes care of both.
Shade: This is the trickiest part of this foundation because is only available in one shade that is shades lighter than my actual skin tone. Immediate after application I thought it is going to look all ashy and it will make me look like a ghost but wait …. That's not the case. The foundation adjusts to the skin tone few minutes post application and will be most forgiving everyone with NC 35 or less. On my NC 40 skintones it looks a shade lighter so I have to take it all to the neck if I plan to go out wearing this because otherwise anybody can make that I am wearing something lighter than my actual skin tones
But I found another use for this beauty.. as a highlighter!! I have obsessing over creamy highlighters after watching incessant videos on instagram for those super chiseled cheek, this is going to be a great pick for highlighting my high points.
Don't Miss to Checkout:
Coverage: For me it light-medium coverage which can be built up to medium. I like how seamlessly it blends into the skin feeling super light so I need to worry about layering it! It doesn't feel heavy or cakey with layering
Finish and Staying: The foundation faces the heat and sweat quite well. It doesn't melt or gets shiny like other foundations and gives a sort of healthy dewy finish that looks comfortable and not greasy. I don't feel the need to set it with a powder as claimed but if you extend the application to under eye area you might need to follow with a loose powder. I love how smooth and radiant my skin looks with this and the pores around my nose are barely visible!
Recommendation:- Grid Solution CC Cushion Foundation SPF50+ PA+++ is an amazing mix of skincare and makeup where it serves the purpose of a moisturizer, sunscreen, primer foundation and pressed powder. It comes with a non-absorbent sponge which works wonderfully in giving a seamless finish and I don't need to carry a foundation brush along :P. The coverage is light-medium which will cover mild pigmentation or blemishes but if you use a concealer underneath, a single layer of this would be it. I love the gorgeous dewy finish of this foundation which makes my skin all glowy and radiant. It blurs out the imperfections giving a smoother and even looking skin tone. The formula is lightly hydrating and doesn't need to be set with powder.. so no need to choke your skin with layers of makeup 😀 and also its 100% water-proof so Yayyy!!!. I just wish it had more shades to suit to medium and olive skin tones better but other than that I love everything about it. Recommended!
FYI: The foundation has SPF 50+ so don't go for it if you will be undergoing flash photography as it will give a white cast on your face in flash because of SPF content.
Rating:- 4/5
Have you tried Grid Solution CC Cushion Foundation SPF50+ PA+++? Which is your favorite Cushion Foundation?
PS: Product Sent by Brand for Consideration